Monterey County is overflowing with Halloween events (and lots of candy)! Get into the spooky spirit with an event suited for grown goblins and tiny scarecrows. Click here for a list of other harvest and fall events.
Saturday, October 17 & Saturday, October 24
Get in the Halloween spirit with a haunted ghost tour through the eerie Point Sur Lightstation in Big Sur. Enjoy the incredible sunset over the Pacific Ocean followed by a buffet dinner in the barn. Afterwards the fun begins with a spooky tour of the un-restored triplex, ghost stories and topped off with dessert and beverages. Children under 6 are not permitted on the tour. 5:15pm. Highway One, 19 miles south of Carmel. $85.
Saturday, October 24
Businesses in downtown Pacific Grove get decked out for the 4th Annual Downtown PG Trick-or-Treating Extravaganza. Just look for the Halloween ribbons and pumpkins outside participating downtown businesses and enjoy live music, entertainment and lots of treats throughout the day! 10am-4pm. Lighthouse Avenue, Pacific Grove. Free event.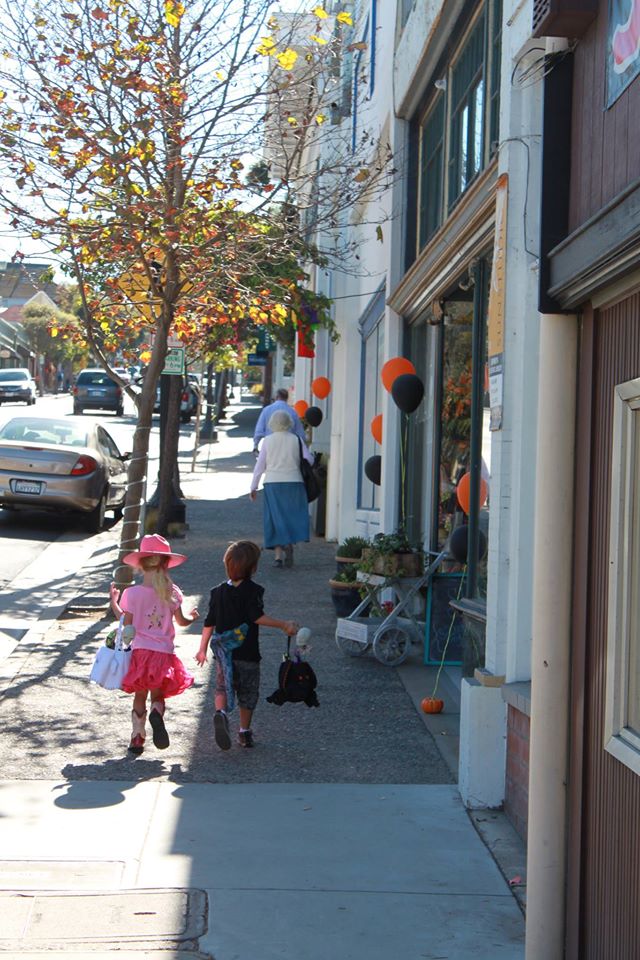 Test out your killer Halloween costume tonight at the Pre-Halloween Party at 201 Main in Salinas. The Ticino dance floor and patio will be popping with a live DJ, dancing and $6 Sailor Jerry and Jack Daniels cocktails all night long! 10pm-2am. 201 Main, Salinas. $10.
Monday, October 26
Creep yourself out with a viewing of "The Night of the Living Dead" tonight at the Golden State Playhouse in Carmel-by-the-Sea. This 1968 independent black-and-white horror film is sure to get you in the Halloween spirit. 7pm. Monte Verde between 8th and 9th, Carmel-by-the-Sea. $8-$15.
Friday, October 30
It's Pumpkin Pandemonium today at the Del Monte Shopping Center. Celebrate Halloween with the whole family with trick or treating, balloon art and a pumpkin patch. 2:30pm-4:30pm. 1410 Del Monte Boulevard, Monterey. Free event.
Get ready and get set for the Nightmare 5K Run at the Monterey County Fair & Event Center. Run for your life at this thrilling 5K where Halloween costumes are encouraged and partake in the afterlife party! Run begins at 7:30pm. 2004 Fairgrounds Road, Monterey. $35.
Saturday, October 31
Did you know the City of Carmel-by-the-Sea was incorporated on Halloween? This year they have decided to spend their 99th birthday in style with a Halloween Parade down Ocean Avenue at 11am. Afterwards head over to the Sunset Center for a $5.00 hot-dog lunch with all the fixin's plus chili, chips, drink, ice cream and birthday cake! 11am. Ocean Avenue, Carmel-by-the-Sea. Free event.
Things get creepy at the Pacific Grove Museum of Natural History today. Science Saturday will be full of all sorts of crawly spiders sure to give you the heebie-jeebies. Daring tots can hold a live tarantula, sample spider eats (bugs!), make a spider web, trick-or-treat around the museum and enjoy crafts. 11am-3pm. 165 Forest Avenue, Pacific Grove. Free event.
Lighthouse District shops, restaurants, and boutiques welcome little goblins with special treats on Halloween. Dress up and come on down to Lighthouse Avenue for an afternoon full of fun and trick-or-treating. 2pm-5pm. Lighthouse Avenue between Reeside and David, Monterey. Free event.
Celebrate Halloween with the City of Seaside! Their annual Halloween Bonanza includes a costume contest, bounce houses, games, crafts, candy and a Haunted House! 6pm-9pm, 986 Hilby Avenue, Seaside. Free event.
It's only fair that Monterey County's hottest nightclub hosts the hottest Halloween Party! Tonight 201 Main premieres their brand new Exchange Night Club with an incredible costume contest complete with VIP tables, bottle service and killer cocktails. 10pm-2am. 201 Main, Salinas. $20.