The Salinas Valley, fondly nicknamed the Salad Bowl of the World, offers up much more than just agricultural bounty. Rock climbing, museum tours, wine tasting, cattle drives, and shopping are all just a sampling of the wealth of activities that can be found here.
Whether you are planning the perfect getaway vacation or just looking for a day trip out of town, Salinas Valley makes for a perfect stop. To take the guessing work out of planning your next visit, we put together a list of the top 10 things to see and do in the Salinas Valley.
V6 Ranch
Nestled in the quiet community of Parkfield is the family owned and operated V6 Ranch. The V6 Ranch aims to give adults and children the opportunity to get on a horse, get their hands dirty, and experience ranch life. V6 also features a selection of special events throughout the year including cowboy academies, cattle drives, and ranch weekend retreats for men and women alike.
For those just looking for a peaceful getaway the ranch offers other activities such as hiking, scenic photography, camping and bird watching. The property also houses the Parkfield Lodge and Café, offering country-style accommodations and delicious food made from scratch.
Pinnacles National Park
Pinnacles National Park was set aside as a National Monument in 1908 by President Theodore Roosevelt and is the newest National Park after being signed into effect by President Obama in 2013. The Pinnacles offers a bevy of activities including over 30 miles of hiking trails, bird watching, camping, cave exploring, and rock climbing.
Encompassing an area of about 26,000 acres, the park is home to an abundance of plant and animal life for visitors to enjoy. On a lucky day, you might even spot the highly endangered California Condor soaring above the park. This National Park makes for a great weekend getaway or day trip as it is a convenient 90 minute drive from Monterey.
Larger than Life Works of Art
Salinas is home to unique public works of art that are a reflection of the individual characteristics of The Salad Bowl of the World. Some of the most iconic pieces are the giant wooden sculptures by local artist John Cerney. These sculptures pay tribute to the hard-working farming community in the Salinas Valley and depict scenes such as lettuce harvesting and a farmer inspecting the soil. You can find many of these life-sized sculptures by The Farm's produce stand off of Highway 68.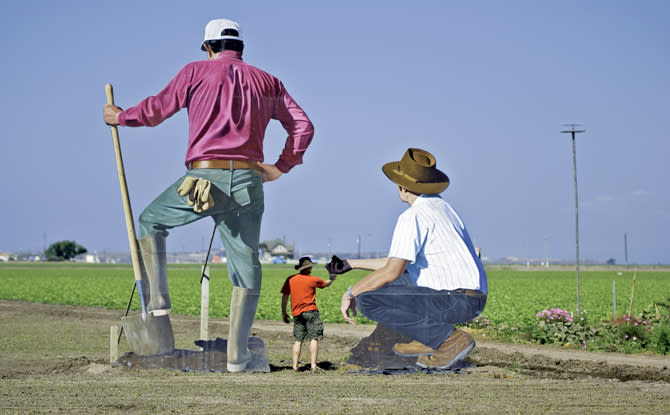 Another oversized sculpture situated in Salinas is the "Hat in Three Stages of Landing" which was erected in 1982 by world-renowned artist Claes Oldenburg. The newly renovated hats currently reside in Sherwood Park as a focal point for Salinas residents and visitors alike to enjoy.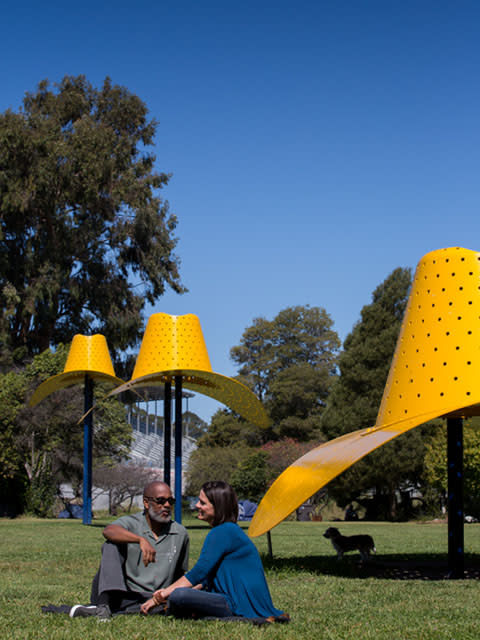 Oldtown Salinas
In the heart of historic downtown is Oldtown Salinas, a collection of businesses and attractions to satisfy just about any need. Whether you are an athlete, a movie goer, hungry for beer and a bite to eat, or shopping for a new wardrobe chances are you will find what you are looking for in one of the many restaurants and boutique shops in Old town Salinas. Oldtown also boasts attractions like the National Steinbeck Center and is home to community events such as a Farmer's Market hosted every Saturday.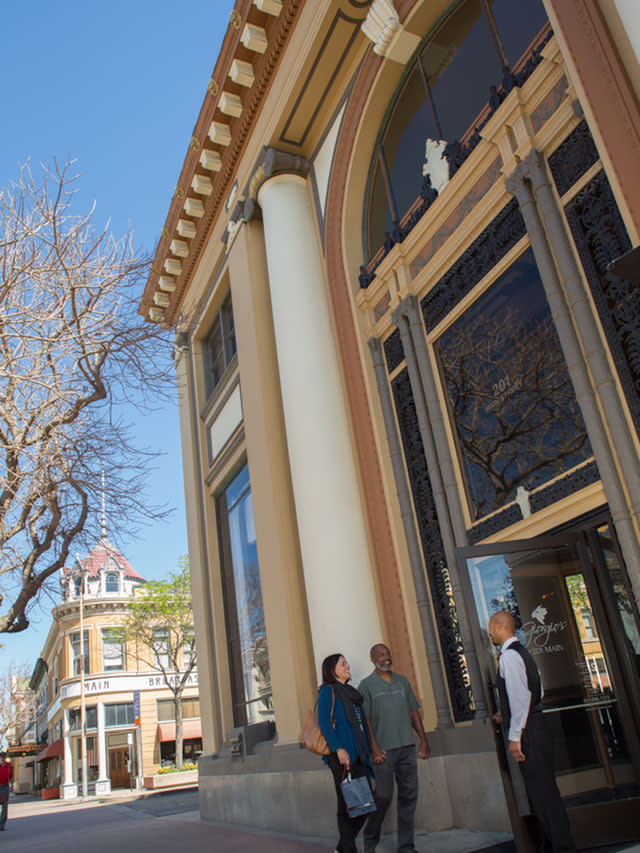 Monterey Zoo
The Monterey Zoo started out as a company that offered the services of trained animals for TV and movie filming. Since then, it has transitioned into a sanctuary for animals who can no longer participate in entertainment and also helps to educate the public.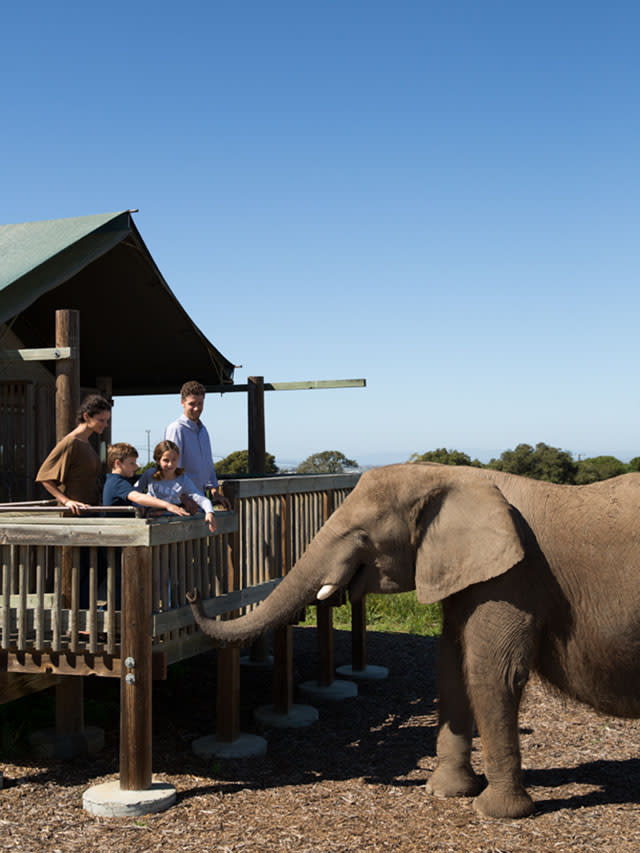 Situated on a ranch just above 50 acres in Salinas, the Monterey Zoo is a wonderful place for an afternoon family trip to see a variety of exotic animal species such as lions and elephants. If you are looking for a unique weekend getaway, the onsite bed and breakfast, Vision Quest Safari offers safari-style bungalow accommodations that are only yards away from roaring tigers and lions. Did we mention an elephant delivers breakfast straight to your bungalow?
River Road Wine Trail
Right above Salinas Valley and stretching across the base of the Santa Lucia Mountains is the River Road Wine Trail. This boutique collection of Monterey County tasting rooms and wineries features intimate wine tasting opportunities with some of the best wines that Monterey County has to offer. The River Road Wine Trail features over 10 different wine tasting rooms and if you're lucky you might be able to talk shop with the winemaker themselves!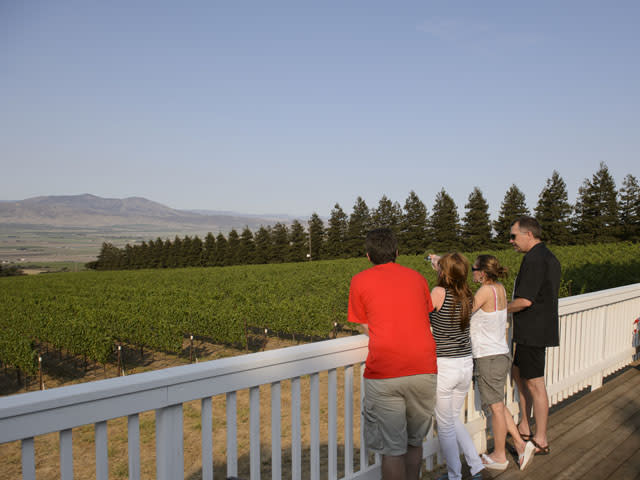 California Missions
A huge part of the rich California history is the chain of missions in Alta California erected between 1769 and 1833 that served as military and religious outposts for the Spanish settlers. The Salinas Valley is home to two of the 21 missions in the Alta California chain, Mission Nuestra Señora de la Soledad and Mission San Antonio de Padua.
Mission Nuestra Señora de la Soledad is located amongst vineyards and lush agriculture fields in the heart of Salinas Valley. The Soledad Mission's chapel has recently been restored and a small museum has been set up which is kept open daily for visitors and is free of charge.
Located approximately 22 miles southwest of King City is the small area of Jolon which holds one of the mission system's crown jewels. Mission San Antonio de Padua is still an active parish which is also open to the public.
The Farm
The Farm is an agricultural and education center located on the outskirts of Salinas. The Farm is certified organic through the California Certified Organic Farmers organization and grows around thirty differ crops due to the unique and fertile conditions in the Salinas Valley.
Guests are welcome to visit the farm stand for fresh produce, take a farm tour, and participate in one of the many family activities hosted throughout the year. There is something for visitors of every age including cooking demonstrations, pie and jam tastings, sing-alongs, and hayrides.
The National Steinbeck Center
The National Steinbeck Center is a must when in the Salinas region! The museum is located at the end of Main Street in Oldtown Salinas which is the birthplace of Nobel Prize-winning author John Steinbeck.
Here you can find an array of exhibits that include a gallery based off of the works of Steinbeck and several art and cultural exhibitions that represent the rich culture of the Salinas Area. The museum is open year-round seven days a week so you can stop by anytime to immerse yourself in a bit of history
For a truly immersive Steinbeck experience head down the street to John Steinbeck's childhood home. The Victorian-era Steinbeck House is not only a historic landmark but a delightful stop for lunch and tea!
Ag Venture Tours
Want to learn more about the Salad Bowl of the World? See where your produce comes from and book a trip with Ag Venture Tours, run by agriculture industry professional Evan Oakes.
There are several ag-related tours to choose from ranging from half-day wine tours to full-day agricultural education tours. One of the most popular offerings is the full day Salinas Valley Wine Tasting Tour where guests get a chance to visit 3 tasting rooms, enjoy a picnic lunch, tour a vineyard/winery and learn about the wine making process from the pros.