Looking for a way to celebrate Easter weekend in Monterey County? Overwhelmed with options? We've cherry-picked the best Easter brunches and events just for you. Keep your eye on this post for updated information.
Easter Events
Easter egg hunts are not just for kids anymore! Peter B's Brew Pub at the Portola Hotel & Spa hosts an Eggstravaganza for those 21 and older on Friday, March 29th. Don't miss your chance to win great prizes like t-shirts, gift cards, CDs and concert tickets. The event will be held from 4:30pm-6:30pm and will include plenty of food and drink specials. Bring the kids out to Old Fisherman's Wharf for an Easter Bunny Scavenger Hunt on Saturday, March 30th! An Easter bunny will help guide families along the way as they visit local storefronts on the wharf for clues and prizes. The event is 10am-4pm and free for all! Paraiso Vineyards in the hills of Soledad is holding a "Paraiso In Bloom" event on March 30th, featuring wine tasting, a farmers' market and flower market and a grown-up Easter egg hunt. The event runs from noon to 4pm and admission is $10. Hop on over to the Del Monte Shopping Center on March 30th for an Easter Parade at 12:30pm, sweet treats, fun activities and more! Families can also stop by the Bunny Hut from 1pm-3pm for a free picture with the famous rabbit.
Easter Brunches
Please note that all Easter brunches take place on Sunday, March 31, and prices do not include sales tax or gratuity.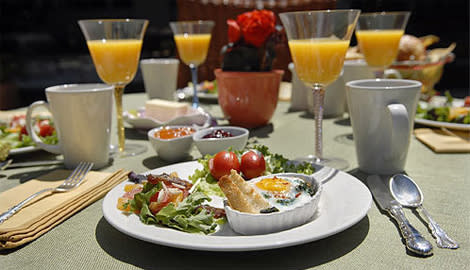 Carmel-by-the-Sea
Bring your friends and family to Mission Ranch for a lovely Easter Champagne Buffet Brunch. Brunch runs from 10am to 2pm. The buffet is $45 for adults and $21 for children ages four through 12. Call 831-625-9040 for reservations. France meets California for Easter Brunch at Andre's Bouchee. A three-course prix-fix menu will be available with items like crème of wild mushroom soup, lobster ravioli, rack of lamb and profiteroles . Brunch will be served from 11am-3pm and for $39 per person. Call 831-626-7880 for reservations. Aubergine Restaurant at L'Auberge Carmel will host an Easter Brunch. Enjoy a gourmet appetizer buffet and order your entree for service at your table. Traditional Easter desserts are also included. Brunch will be served from 11am-2pm in the main dining room, wine cellar and courtyard. Brunch is $75 for adults and $32 for children. Call 831-624-8578 to reserve.
Carmel Valley
Carmel Valley's Bernardus Lodge features locally grown fruits and vegetables, naturally raised meats and farmhouse cheeses at their Easter Brunch. The Easter Bunny will be there for the entire event for picture and an Easter Egg Hunt. $75 for adults 13 and up, $32 for children five to 12 and free for children under 5. Brunch runs 11am-3:30pm. Call 888-648-9463 to reserve. Enjoy Easter Brunch served at Edgar's Restaurant from 9am-3pm. Kids can even search for the golden egg on the green just outside of the restaurant. For reservations call 831-620-8910. Enjoy a delicious Easter Brunch Buffet at Carmel Valley Ranch in their Redwood Room. Highlights from the menu include prime rib, salmon, omelets and champagne! The buffet is $68 for adults and $34 for children ages 5-12 (plus tax and gratuity). Call 831-620-6427 for reservations.
Monterey
Monterey's Portola Hotel and Spa is holding a festive Easter Brunch Buffet at Jacks Restaurant. Brunch, which will be served from 11:30am to 4pm, includes made to order omelets, glazed ham and a carving station among other dishes. The buffet costs $39.95 for adults (13 to 54), $34.99 for seniors (55+), $19.95 for children ages five through 12 and is free for children under five. Call 831-647-4805 to reserve. The Sardine Factory will feature a brunch menu served 11pm-2pm for $32.95 per person. Menu highlights include artichoke soup, lamb leg, filet mignon, Alaskan halibut and crème brûlée. The regular dinner menu will be served beginning at 5pm. Call 831-373-3775 for reservations. The Monterey Plaza Hotel and Spa has an ocean view Easter Brunch Buffet from 10am to 3pm in the ballroom. Several stations will serve up eggs, pasta, seafood, ham, beef, desserts and much more! The buffet is $50 for adults age 12 and up and $23 for children under 11. Call 831-646-1700 to reserve.
Pacific Grove
Pacific Grove brunch favorite Fandango has a diverse menu prepared for their Easter Brunch, including roast leg of lamb Provencal, honey glazed baked ham, eggs Benedict Florentine and more. The buffet is $34.75 for adults (12 and over) and $18.75 for children under 12. Call 831-372-3456 to reserve.
Pebble Beach
Stillwater Bar & Grill in Pebble Beach hosts a delicious Easter Brunch overlooking the 18th hole at Pebble Beach Golf Links. Bring the family for a fresh and seasonal specialties including a seafood station, omelet station, carving station, salads and plenty of desserts. The brunch runs 10am-3pm and is $85 for adults and $42.50 for children ages 5-11. For reservations call 831-625-8524. Overlook Spanish Bay while enjoying an Easter Brunch at Roy's at Pebble Beach. The Hawaiian-fusion eatery serves an Easter Brunch featuring Hawaiian french toast, sushi, omelets and more. Brunch runs from 11:30am-2:30pm and is $42 per person and $22.50 for those 10 and under. Call 831-647-7423 to reserve. STICKS at Spanish Bay will be serving specialties from their standard menu as well as a few Easter additions including petite filet and lobster, rotisserie pork prime rib and green eggs and ham. For reservations call 831-647-7470. Pèppoli offers delicious Italian a la carte menu items and special seasonal additions for the holiday. Call 831-647-7433 to reserve.