Craft beer, micro greens, in-house charcuterie, artisan bacon — artisan, farm-to-table and produced-in-house aesthetic is alive and well in Monterey County.
Alvarado Street Brewery serves its own hand-crafted beers; Montrio Bistro features its executive chef's own artisan bacon, Baker's Bacon, Tarpy's Roadhouse has its own garden where it sources greens and herbs for its dishes and Cantinetta Luca has its own curing room which produces house-made sausage and prosciutto.
But artisan beef jerky? Yes, Beefy Boys Beef Jerky Co. has been selling its hand crafted beef jerky since 1999, when two Salinas High School graduates who had been making their own beef jerky for family and friends since they were 10 and 11 years old decided it was time to launch the Beefy Boys brand under USDA inspection.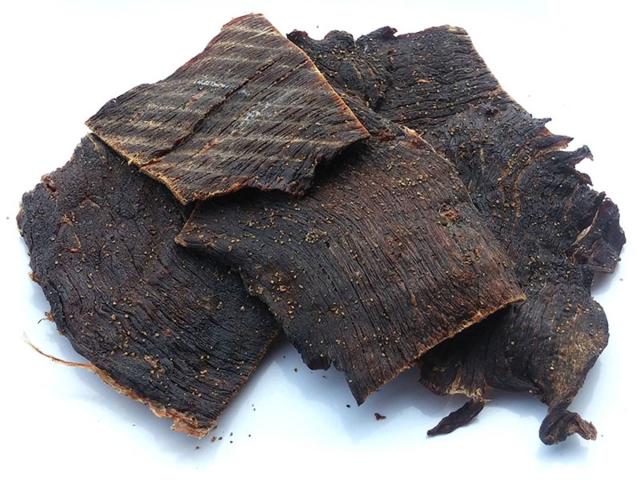 In 2013, Top 10 Produce LLC, a local company owned by beef jerky aficionado John Bailey (who was also Beefy Boys best customer) purchased the Beefy Boys brand, retaining the craftsmanship and expertise of original co-founder and chef Craig Bray. Craig has not changed the original recipe, and continues use all local ingredients.  But the Beefy Boys brand does not intend to sell out.  Craig and John plan to stay true to their Monterey County roots for the long haul.
"We don't want to be on 'Shark Tank'," says Bailey, referring to the investment reality show for folks hoping their company or idea strikes it rich. "Craig and I don't want to just make and sell jerky, we want it to be better and better and keep it local and serve our local community. We could do more, but we refuse to lose our craft roots." 
Here are 4 reasons you should try Beefy Boys Beef Jerky:
1. Every year, Beefy Boys takes 50,000 pounds of locally sourced top round beef to make its seven different flavored beef jerkies (the eighth is a different cut).  While each flavor is unique, each is derived from the original family recipe dating back to 1963.
2. The seven flavors include the Reserve, Jamaican, Teriyaki, Peppered, Hot Peppered, Sweet Garlic and Original. And there's a Luke Cut of the Original flavor, named after a customer in Carmel Valley. (Bonus points to anyone who knows Luke!)  The most popular flavor is the Peppered, but the Hot Peppered has the most fervent fans.  
3. Beefy Boys jerky is only distributed in Monterey County, at 100 locations, from mom-and-pop stores to large supermarket chains, and in one or two high end stores in San Jose, so it's truly a local product.
4. If it's really a local product, how local is it? The jerky is made in Salinas, by residents of Salinas, locally distributed, with the wine used in the marinade for the Reserve and Jamaican beef jerky coming from Monterey County's Scheid Vineyards and the garlic sourced from nearby Gilroy. You couldn't get any more local than that unless you made it in your own kitchen!
Beefy Boys jerky, true to its roots in the Salinas Valley, is considered a Western-style jerky, which is slightly firmer and drier than commercially made jerky from large multi-national corporations. That also makes it stand out from all the big-name, mass-produced jerky.
The name Beefy Boys, by the way, comes from the two co-founders of the brand, who were both a little beefy as young boys and made great beef jerky, so the name seemed like a natural fit for their beef jerky brand.
Click here to learn more about Beefy Boys Jerky.