All Weekend
Friday and Saturday head out for an invigorating hike through Asilomar State Beach. The "Asilomar Ramble" tour covers all sorts of natural and cultural historical tidbits of this coastal refuge. The free one hour walking tour begins in the Phoebe Apperson Hearst Social Hall at the Asiomar Conference Grounds. Friday at 9:30am and 4pm and Saturday at 9:30am. 800 Asilomar Avenue, Pacific Grove. Free event.
The Monterey Bay Aquarium stays up past its bedtime for Evenings by the Bay! This summer the aquarium stays open until 8pm on Saturday and Sunday nights for live music, wines by the glass and light appetizers. On Saturday guests will enjoy live music from Bill Spencer's Triple Trouble and Sunday's event will feature jazz musician Kenny Stahl. 6pm-8pm, 886 Cannery Row, Monterey. Free with admission.
Friday
Happy 4th of July! Celebrate Independence Day (and your day off) this year where California was first born! Monterey, Pacific Grove, Carmel-by-the-Sea and Spreckels are each throwing their own hometown bashes.
CLICK HERE for a full list of 4th of July events.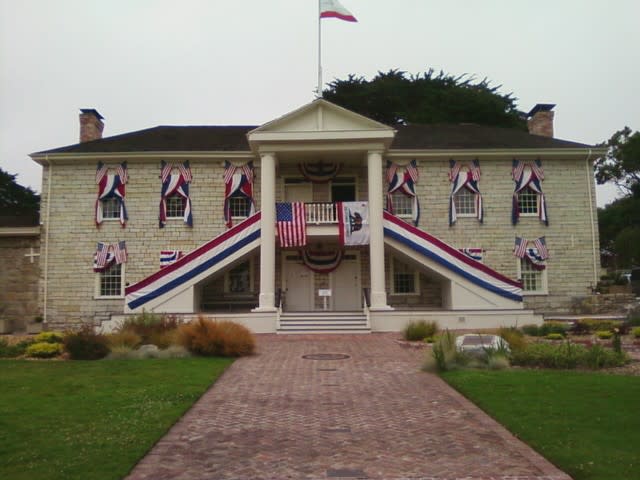 The Sandy's and Nicholas Aires stop by Fernwood Tavern for a night full of great live music! 10pm, 47200 Highway One, Big Sur. Free event.
Saturday
Celebrate the day California became a part of the United States during Sloat's Landing Reenactment Ceremony. The City of Monterey celebrates the 168th Anniversary today at Custom House Plaza near Old Fisherman's Wharf. 10am. 4 Custom House Plaza, Monterey. Free event.
Architect and author Mickey Muennig is at Henry Miller Library this afternoon for a book release and signing of "Dreams and Realizations for a Living Architecture." You have most likely seen some of his work in Big Sur which includes Post Ranch Inn and the baths at Esalen. 3pm. 48603 Highway One, Big Sur. Free event.
The CSU Summer Arts program is back at CSU Monterey Bay all summer long! Tonight's program features comedians Razowsky, Grace, Seely and Craig who will have you laughing until your sides ache! 7pm. 100 Campus Center, Seaside. $18-$20.
Comedian Kabeezy stops by Planet Gemini for a hilarious night of stand-up. He has headlined everywhere from SF Punchline to the Hollywood Laugh Factory! 8pm. 2110 Fremont Street, Monterey. $10.
Head to the Fernwood Tavern tonight for a performance from Miss Lonely Hearts. This Central Valley honkey-tonk band knows how to rock n roll! 10pm, 47200 Highway One, Big Sur. Free event.
Sunday
Hit the trails with knowledgeable guides from the Monterey Peninsula Regional Parks District! Today they scope out Garland Ranch's West Side. The 2.5 mile hike is expected to last 2 hours. Don't forget to bring water and snacks and to wear comfortable hiking shoes. 9am, 700 West Carmel Valley Road, Carmel Valley. Free event.
Relax under the Big Sur redwoods tonight and listen to an audio story at the magical Henry Miller Library. Bring a blanket and enjoy the sounds from "the Moth." 8pm. 48603 Highway One, Big Sur. Donations welcome.