With the holiday season quickly approaching, it's the perfect time to get a head start on holiday shopping. Whether you're shopping for family, friends, or that special someone, featured here are 8 unique holiday gift ideas from renowned Monterey Peninsula merchants.
From luxurious jewelry and designer shoes to bucket-list experiences and one-of-a-kind, custom-made decorations, these unique holiday gifts will surely dazzle and delight the people in your life.
Because every stylish gentleman should have a signature scent that adds a dash of debonair sophistication to his outfit, this holiday season, The Club Carmel is carrying limited edition boxed gift sets featuring three Robert Graham Blended Essences: Courage, Fortitude, and Valour. These exceptionally crafted and distinctive blended essences are the product of a singular blending and aging process that yield a flight of rich and expressive scents. These decadent fragrance sets will not only make your man smell divine, he'll also enjoy displaying the exquisite fragrances on his vanity. These boxed sets are the perfect gifts for the Robert Graham collector in your life.
Situated on Ocean Avenue in the heart of Carmel-by-the-Sea, The Club Carmel is a premiere boutique that carries designer clothing and accessories for men and women. The boutique prides itself on carefully curating a unique collection of on-trend, classic, and luxe pieces that make a stylish statement.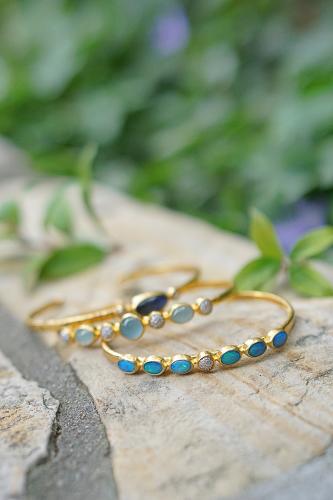 If you're shopping for the ultimate luxury lover, look no further than Ladyfingers Gallery in Carmel-by-the-Sea. Their gorgeous new collection of amulet bracelets by Gurhan is not only glamorous and eye-catching, since the pieces are fabricated from 24k gold, they'll keep this luxe lady looking chic for years to come. If you can only choose one, the highlight of this extraordinary collection is the opal bracelet, which is set with six oval cabochons of fine Australian opal and accented by a center cluster of diamonds. What makes these bracelets especially versatile is that they can be worn individually or stacked as bangles.
As seen in Departures Magazine, LA Style, and other publications, Ladyfingers Gallery has been recognized as one of the top jewelry boutiques in Carmel-by-the-Sea for the past 35 years. In addition to receiving the award for "Top Designer Gallery of the Year" from The Contemporary Design Group, Ladyfingers has made its name catering to discerning clientele and jewelry collectors from around the world.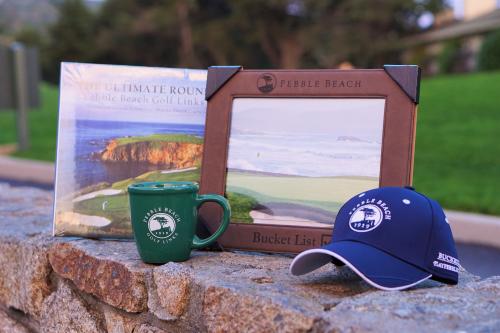 For the golf aficionado in your life, nothing scores a hole in one like a memorable experience at the world famous Pebble Beach Resorts. Take a piece of the course home this holiday with the Bucket List Gift Set from The Heritage Shop at Pebble Beach Resorts. These gifts include a Pebble Beach Hat (available in Navy or White), a Photo Frame (which comes in three sizes), a Pebble Beach Mug (in Green or Black), and The Ultimate Round, an inspiring hardcover book featuring majestic photography of Pebble Beach by Joann Dost.
Renowned by professional golfers and golf spectators around the globe, the award-winning Pebble Beach Resorts has been ranked by Golf Digest as the #1 America's Greatest Public Courses, and one of the most challenging (and picturesque) golf courses in the world. In addition to these honors, Pebble Beach hosts the highly-publicized annual AT&T Pebble Beach Pro-Am Golf Tournament and has been host to five U.S. Open Championships.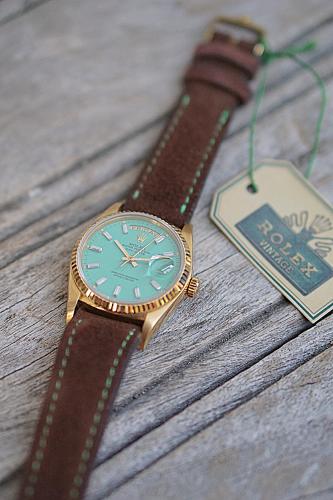 Because the holidays are a time to cherish the ones you love, gift that special someone with a vintage watch from Fourtané Jewelers that will remind her of all the times you've shared together. Introduced in the 1970s, the mesmerizing Day-Date Stella Rolex Watch is a beautiful timepiece that is known for its playful color and rarity. "Stella" dials are made of unusual lacquers and precious stones, making it a truly unique holiday gift for a luxury jewelry collector. This delightful sea foam green watch (which has been kept in pristine condition) features an elegant display of baguette diamond markers on 18kt Yellow Gold.
Synonymous with opulence, luxury, and timeless beauty, Fourtané Jewelers in Carmel-by-the-Sea has been offering unique jewels and timepieces since 1950. As one of the leading estate jewelry, vintage watch and authorized Rolex and Cartier retail stores in the country, this family-owned and operated business caters to clientele around the globe.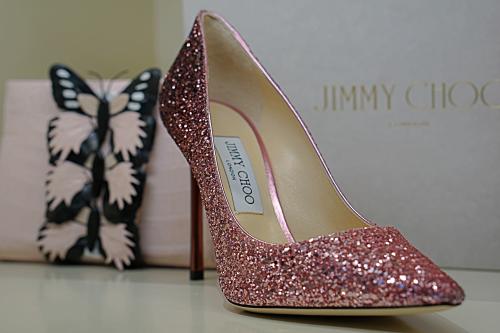 Since every woman deserve to sparkle during the holidays, light up her life this season with these sensational Jimmy Choo Pumps from Augustina's Designer Boutique in Carmel-by-the-Sea. Made in Italy, this classy, pointed-toe pump features a stiletto heel and is finished with pink and Bordeaux glitter dégradé fabric. These outstanding designer heels will surely make her feel like Cinderella when she slips into these magical pumps.
To elevate the boutique shopping experience in Carmel-by-the-Sea, Augustina's Designer Boutique offers exquisite style and sophistication by bringing designer clothing and accessories from Oscar de la Renta, Michael Kors, Carolina Herrera, and other top designers to the Monterey Peninsula. The store's knowledgeable personal stylists not only welcome clients into the cozy boutique, they offer impeccable service to each client, helping them find flattering pieces that fit their lifestyles.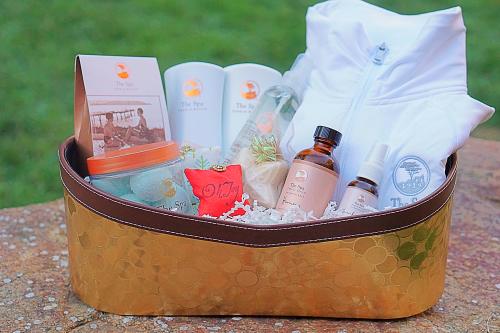 As the holiday season often leads to frazzled nerves and stress, help your loved ones relax and rejuvenate in style with the Spa Gift Basket from The Spa at Pebble Beach. This deluxe gift basket provides everything you could wish for to de-stress and soothe your mind, including: Stress Relieving Mist, Harmony Bath & Body Oil, Pebble Beach Room Mist, Holiday Soap, Lavender Hanging Gift Tags, Rosemary Bath Bombs, Pebble Beach Body Wash, Pebble Beach Lotion, Pebble Beach Bath Salts, and an Under Armor Pebble Beach Jacket.
Heralded as one of the top destination spas on the Monterey Peninsula, The Spa at Pebble Beach is truly a haven for visitors, both near and far. As one of only 47 spas in the world to receive the coveted Forbes Five-Star Award, the Pebble Beach Resorts' spa offers exceptional service in an elegant, Mediterranean-style estate setting.
What better way to say "Merry Christmas" than with a Custom Christmas Tree from Carrigg's of Carmel?! From whimsical accents (like majestic peacocks) to traditional touches, their creative and talented team of designers will make your holiday wishes come true. Designed by a professional staff, these magical trees will transform any setting into a breathtaking holiday spectacle.
As one of the most inspiring home décor stores in Carmel-by-the-Sea, Carrigg's of Carmel has been a top destination spot for tourists and locals to find beautiful home furnishings and accessories for over twenty years. Their friendly, helpful staff also assists clientele with interior design services, making them a valuable resource to homeowners on the Monterey Peninsula.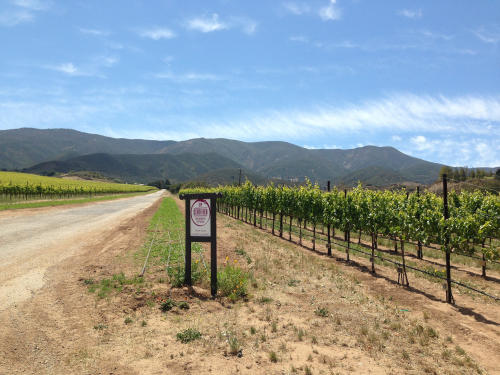 If you're shopping for a wine aficionado who enjoys exciting adventures, what could be better than an ATV Tour at Hahn Winery? Buckle up and get ready for the ride of a lifetime! This thrilling gift includes a memorable cruise in an open-air, all-terrain vehicle through the beautiful estate vineyards at Hahn Winery in Soledad. In addition to the ride, a hands-on educational tour, visit to the wine cellar, and wine tasting is also included in this package, making this one of the most memorable, unique holiday gifts you could ever give.
Producing delectable, fruit-forward wines, Hahn Family Wines creates a range of top quality wines, including Cabernet Sauvignon, Pinot Gris, Merlot, and other palette-pleasing varietals. With four estate vineyards based in the Santa Lucia Highlands and two vineyards in the Arroyo Seco area, Hahn's line of sustainably-farmed, award-winning wines are a wonderful representation of Monterey County's wine country.
Instead of shopping online or heading to a nearby department store, if you're on the hunt for unique holiday gifts this season, look no further than local Monterey Peninsula merchants.