With roots dating back to 1925 and an 18-hole course designed by Jack Fleming it is no wonder why the Salinas Golf & Country Club is a favorite amongst Monterey County locals. The feasible and fair course, fully stocked pro shop and delectable on-site restaurant are just a few of the luxuries at this friendly club; best of all, you currently don't have to be a member to experience it!
Tucked away in the Salinas Valley, the Salinas Golf & Country Club is easily accessible from Highway One off of the Boronda Road or Crazy Horse Road exits. The well manicured course is an oasis surrounded by shady oak trees, colorful roses and swans.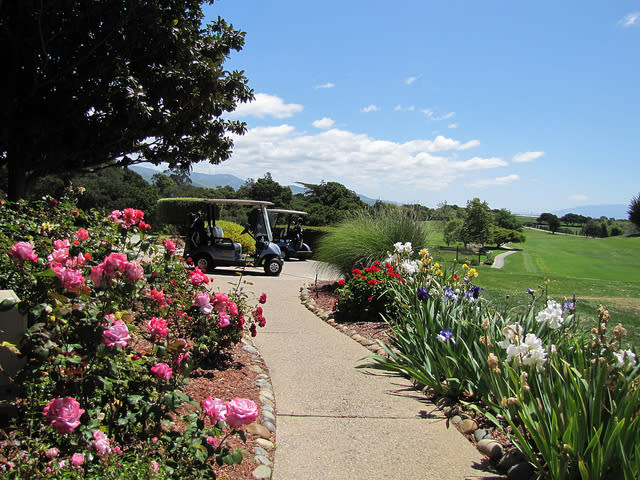 Tee times here are easy to secure and certainly among the most reasonable right now from Club Board approved weekday rates starting at $25 in an effort to showcase the Club to non-members coining it as "one of the best values in Monterey County."
The spacious country club's ranch-style clubhouse is an ideal party venue with multiple dining rooms, full bar, outdoor patio and sensational food! I can fully attest to the grub as I had the privilege of dining at the Clubhouse last week. The menu is full of all sorts of comfort foods like the patty melt, calamari sandwich and chicken club which are all under $12.
I opted for the Mediterranean salad with chicken, a masterpiece in its own right. Huge chunks of feta and fresh mozzarella cheeses, whole kalamata olives and seasoned chicken breast was scattered about crisp Salinas Valley greens. Everything was so fresh I didn't even feel the need to add dressing!
While letting my food digest I found myself dazing off into the expansive views of the course from my table. You can't beat the vistas of surrounding farmland, soothing pond and lush rolling hills in the distance.
The clubhouse is open for use by the public and is a festive venue for any event you might have planned including reunions, weddings, meetings and birthday parties. The golf course and clubhouse will also be getting an upgrade and name change in the coming months. Stay tuned for updates!
Interested in becoming a member? Click here.