"Does it matter that I have never fished? Will I catch anything? Will I get sick?" These were the questions I had on my mind when I learned that I would be embarking on my first ever deep sea salmon fishing trip, which was my first fishing trip of any kind. I'm not one for outdoorsy adventures, but I decided to step out of my comfort zone and give this male-dominated past time a shot, especially since it was on Dad's dime.
I set out with my crew of 6 (Dad, Grandpa, boyfriend, brother and brother's girlfriend) and arrived at Randy's Fishing Trips at 5:30am for a departure time of 6am. None of us had gear or fishing licenses, but Randy's made it painless for newbies like me — we rented gear and got one-day fishing licenses for an extra $32 each. We proceeded to load the boat, aka "Chubasco," with our other fellow passengers, 17 total (only 2 of whom were females). The boat was extremely clean with plenty of room to roam around. More importantly, the restroom was also extremely clean.
The boat left Fisherman's Wharf right on time. It took us just under 40 minutes to reach our first fishing spot. On our trip out I asked our deckhand, Josh, for a few fishing tips for a first timer. He said that it's most important to "always listen to your crew and to be patient." Boy was he right about the patience! It took our group several fishing spots and several hours just to get our first bite. Luckily we had gorgeous views of Monterey Bay to distract us from the lull in fish. Finally we reached a "sweet spot" and the excitement really picked up. You could hear the words "Fish on" almost every few minutes. When someone yelled those magic words, the captain and deckhand would rush over with a net and instructions on reeling in the catch. Meanwhile the rest of the boat (okay, me) looked over in extreme jealousy. After watching several others on board get lucky I finally had my chance. This first time fisher woman caught one of the largest salmons on the trip! Throughout the day I had several other bites, too, but they either got away or were too small in size to keep.
 After 9 hours on the open sea we headed back to Fisherman's Wharf. On the journey back Josh, the deckhand, gutted all of the fish. Once on the wharf, the crew offered to cut our catch into steaks and fillets. My salmon alone delivered 8 steaks and 2 fillets! At the end of the day I was ecstatic with my catch. Plus my freezer is now full of fresh salmon steaks! I would definitely recommend this trip, no matter whether you're male or female, a first timer or a seasoned fisherman. I'm already planning on buying a California fishing license and trying out the Rock Cod Fishing Trip; the season begins May 1!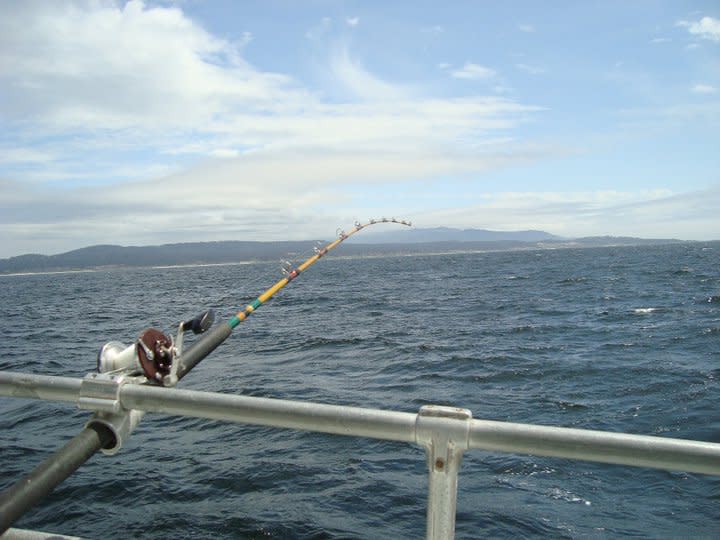 The Do's & Don'ts of Deep Sea Fishing:
Do:
Make a reservation: trips can fill up and nothing is worse than waking up at 5am for nothing
Wear warm clothes: it may seem warm on the dock but the ocean air can get frigid!
Bring lots of food, water & beer: the boat is not equipped to serve food and beverage so guests are on their own for lunch, snacks and drinks (including beer)
Bring magazines, books, iPod, etc.: when the fish aren't biting there is an ample amount of down time
Bring motion sickness medication: if you are prone to motion sickness bring your own meds
Don't:
Be late for the boat: it leaves promptly at 6am
Bring glass containers: they can be hazardous on the boat, so stick to plastic or aluminum cans
Dress to impress: it's too early and you are bound to get dirty
Worry if you have never been fishing: Randy's makes it easy with gear, license and assistance!