Warm up winter with a romantic rendezvous in Monterey County. From charming B&Bs to dips in 6,000-year-old hot springs to sun-splashed coastal views, the treasure trove of couple-focused fun and pure scenic bliss found in the Central Coast will make your hearts soar. Consider these love-inspired ideas to create the ultimate romantic getaway.
Your Romantic Refuge
Amid Pacific Grove's breathtaking coastal scenery, experience the romance and charm of the Victorian era when you stay at historic Centrella Inn. Enter your private cottage or elegant Lover's Loft where the fragrance of a dozen roses greets you, along with chilled Champagne and chocolate-covered strawberries to share. When you decide to venture out from your antique-furnished room, enjoy a complimentary fresh breakfast each morning, witness the sunrise together at Lovers Point Park, and take in magnificent Monterey Bay panoramas with strolls along the coast-hugging recreation trail.
Fall asleep to the whisper of waves and awaken to birdsong when the two of you enjoy a unique "glamping" experience at Ventana, a dreamy hideaway amid the alluring Big Sur coastline. Book a luxurious new "glampsite" in the resort's Redwood Canyon. Connect with nature as you cozy up around the fire pit and dine on fresh dishes from their nearby restaurant. Hike among redwoods at Pfeiffer Big Sur State Park and then dip your toes in the river at the Big Sur River Inn.
Dining for Two
With the churning Pacific Ocean 800 feet below and Santa Lucia Mountains above, cliffside restaurant Nepenthe invites you to celebrate your love over a romantic dinner. Dine on the terrace, toast each other with glasses of wine, and savor their signature Ambrosia burger followed by generous slices of four-layer chocolate fudge cake for dessert.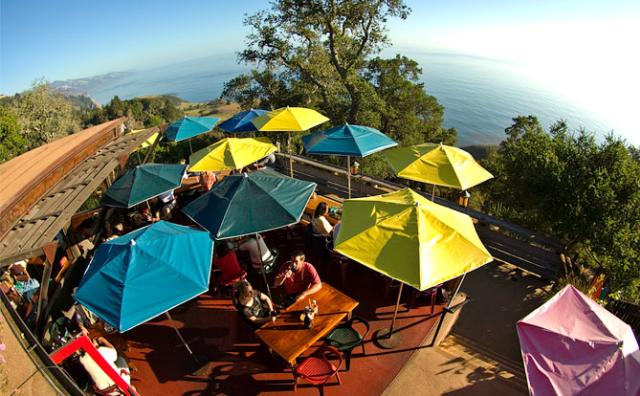 A relaxed and romantic dining experience awaits at the Beach House at Lover's Point. Perched on an outcropping that juts into Monterey Bay, massive windows and a heated outdoor patio immerse you in endless vistas of azure blue sea and glowing red sunsets. Arrive early and savor "Sunset Special" menu selections such as rigatoni tossed with fresh pesto cream sauce, bacon-wrapped meatloaf or grilled salmon served with a lemon beurre blanc.
Grab a romantic table for two at Carmel-by-the-Sea's charming Anton & Michel. You won't be disappointed with European offerings like maple leaf duck breast, paella Valencia and rack of lamb. Be sure to arrive beforehand to shop along the quaint storefronts on Ocean Avenue.
Romance by Land and by Sea
Sail beside sea lions and playful porpoises while soaking up the vibrant hues of a gorgeous Monterey Bay sunset on a romantic sunset cruise. Glide through translucent waters abundant with sea life during a tandem kayak ride. And for a truly magical way to light up your night, paddle by starlight through the sparkling bioluminescence of Elkhorn Slough, one of California's largest wetlands.
For a more intimate wine-tasting experience, sample award-winning Pinot Noirs and Chardonnays with a visit to one of the many boutique tasting rooms like Twisted Roots  in Carmel Valley. And unwind with your love in the stunning cliffside setting of Big Sur's Esalen Institute. Experience a soothing outdoor massage for two inspired by the rhythm of the ocean waves, and immerse yourself in the healing waters of millennia-old natural hot springs.
Hike to a secluded vista at Jacks Peak County Park for a private picnic, take in sweeping ocean views when you cruise along Highway 1, or soar with the eagles over the beautiful Central California coast during a heart-stopping drop with Monterey Bay Skydive.
Whatever your perfect romantic getaway looks like, cozy up this winter in Monterey County, and transform your dreams into reality.