Click here for a current list of Christmas dinners in the area
Leave the stress of the holidays to the fabulous restaurants in Monterey County! Several eateries remain open on Christmas Eve and Christmas Day to serve up delicious seasonal meals. Keep an eye on this page as we update it throughout December!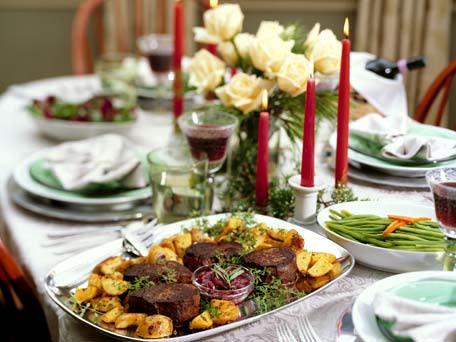 Carmel
Aubergine at L'Auberge Carmel will serve dinner on both Christmas Eve and Christmas Day. The award-winning restaurant offers a 4-course dinner menu available with and without wine pairings. Guests can choose from an array of indulgent dishes and desserts. 5pm-9pm, $115 per person and $89 extra with wine pairing. Call 831-624-8578 to reserve.
Monterey
Just down Cannery Row, The C Restaurant at The InterContinental the Clement Monterey offers a delectable Christmas dinner with a great ocean view. The four course meal includes an array of entrée options including lamb, duck and rib eye. $85 per person. Call 831-375-4800 to reserve.
Jacks Restaurant at the Portola Hotel & Spa serves breakfast, lunch and dinner on Christmas Eve & Christmas Day. Breakfast will be served 6am-12pm and lunch will be served from 12pm-2pm. Dinner will begin seating at 5pm with regular menu items and special holiday add-ons like beef wellington. Call 831-649-2698 for reservations.
Schooners Coastal Kitchen & Bar at Monterey Plaza Hotel & Spa offers a special holiday menu on Christmas Day. In addition, to our regular menu, we will feature a four-course dinner with wine pairing. Experience kale salad with orange, goat cheese, and candied macadamia nuts, wild mushroom soup with truffle oil, roasted pheasant breast or grilled pork chop. Finish with a selection of dessert; brown sugar crème brûlée, pumpkin pie or blueberry cheesecake strudel. Enjoy ocean view dining. $55 per person, $80 per person with wine pairing. Call 831-372-BOAT (2628) for reservations.
Pacific Grove
Fandango's in Pacific Grove remains open on Christmas Day with dinner served from 3pm-8pm. Items from their fantastic standard menu as well special Christmas add-ons like Roast Tom Turkey will be served. Lunch and dinner will also be served on Christmas Eve. Call 831-372-3456 to reserve.