Looking for a way to celebrate Easter weekend in Monterey County? Overwhelmed with options? Don't worry we've cherry-picked the best Easter brunches and events just for you.
Easter Events
Easter Egg hunts aren't just for kids anymore! On Thursday, April 17th Peter B's Brewpub invites those ages 21+ to an Adult Easter Eggs-travaganza. From 5pm-7pm participants can sign-up to for the hunt where each egg includes a prize with everything from gift cards, CDs, swag and concert tickets!
The Easter Bunny makes an appearance at MY Museum on Saturday, April 19th from 1pm to 2:30pm. Kiddos can hop along with the furry guy, decorate eggs and get their face painted!

Easter Brunches
Please note that all Easter brunches take place on Sunday, April 20, and prices do not include sales tax or gratuity.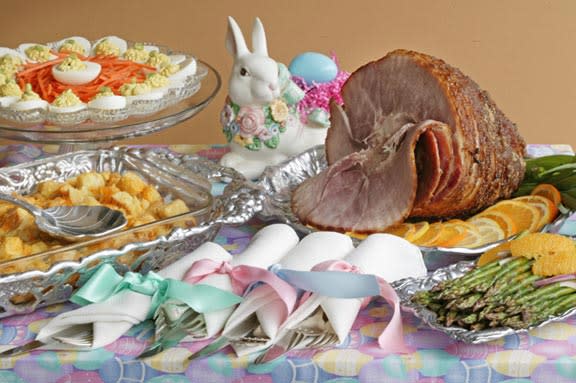 Carmel
Bring the whole family to Edgar's at Quail for a festive Easter Brunch Buffet and Easter Egg Hunt from 11am-1pm! Brunch includes items like corn beef hash, French toast and a dessert bar. Brunch is served from 10am-3pm and is $45 for adults, $15 for children ages 4-12 and free for children 3 and under. For reservations call 831-620-8910.

Aubergine Restaurant at L'Auberge Carmel hosts an Easter Brunch from 11am-2pm. Enjoy a gourmet appetizer buffet and order your entree for service at your table. $110 per person, call 831-624-8578 to reserve.
Bring your friends and family to Mission Ranch for a lovely Easter Champagne Buffet Brunch. Brunch runs from 10am-2pm and is $51 for adults and $24 for children ages four through 12. Call 831-625-9040 for reservations.
Carmel Valley
Carmel Valley's Bernardus Lodge features locally grown fruits and vegetables, naturally raised meats and farmhouse cheeses at their Easter Brunch. The Easter Bunny will be there for the entire event for photos ops and Easter egg hunts at 11:30am and 2pm. $75 for adults 13 and up, $32 for children five to 12 and free for children under 5. Brunch runs 11am-3:30pm. Call 831-658-3500 to reserve.
Enjoy a delicious Easter Brunch Buffet in the Clubhouse at Carmel Valley Ranch from 10:30am-2pm. Highlights from the menu include prime rib, mesquite smoked bacon, omelets and Chocolate pot de crème! The buffet is $70 for adults and $35 for children ages 5-12. Call 831-620-6427 for reservations.
Monterey
Monterey's Portola Hotel and Spa is holding a festive Easter Brunch Buffet at Jacks Restaurant. Brunch, which will be served from 11:30am to 4pm, includes made to order omelets, honey glazed ham and a carving station among other dishes. The buffet costs $39.95 for adults, $34.99 for seniors (55+), $19.95 for children ages five through 12 and is free for children under five. Call 831-647-4805 to reserve.
Monterey Plaza Hotel & Spa has an ocean view Easter Brunch Buffet from 10am to 3pm in the Monterey Bay ballroom. Several stations will serve up seafood, omelets, sushi, pasta, roasted New York strip loin, desserts and much more! The buffet is $55 for adults age 12 and up and $23 for children under 11. For reservations, call 831-646-1700.
The Sardine Factory features an Easter Sunday three-course menu from 12pm-8pm. Menu highlights include seafood bisque, leg of lamb, Alaskan halibut and crème Brûlée. The prix fix menu is $52 per person. A regular menu with a la carte items will also be available for reservations call 831-373-3775.
The C Restaurant at InterContinental The Clement Monterey will serve an Easter Brunch Buffet from 11am-3pm. Guests will dine on a seafood buffet, omelet station, dessert display and more. The buffet is $48 for adults and $19 for children ages 12 and under. Call 831-375-4500 to reserve.
Pacific Grove
Pacific Grove brunch favorite Fandango has a diverse menu prepared for their Easter Brunch, including roast leg of lamb Provencal, honey glazed baked ham, eggs Benedict Florentine and more. The buffet runs 11:30am-2:30pm and is $36.75 for adults (12 and over) and $18.75 for children under 12. Call 831-372-3456 to reserve.
Take in the views of the Pacific Grove Golf Links while enjoying a delicious Easter Brunch at Point Pinos Grill from 10am-2:30pm. The buffet includes a carving station, omelet station, desserts and more. The buffet is $35 per person and $12.95 for children under 12. Call 831-648-5774 for reservations.
Seaside
Enjoy spectacular views of the golf course and Monterey Bay while you dine on an Easter Buffet spread at Seaside's Bayonet and Black Horse. The buffet includes a build-your-own-omelet station, crab cakes and more. The Easter Bunny will pay a visit from noon to 2pm. Children can also join an Easter Egg hunt at 1pm. Brunch runs 11am-3pm and is $31.95 for adults 13 and over, $14.95 for children ages six to 12 and free for children five and under. Call 831-899-7271 to reserve.