It's that time of year again! September is California Wine Month. Join us in experiencing all the incredible wines that Monterey County has to offer. Did you know Monterey has one of the longest growing seasons due to chilled marine air from Monterey Bay producing vibrantly ripened fruit with dynamic flavors? From Salinas Valley to Carmel-by-the-Sea, explore the variety of wineries and tasting rooms in the area.
Must-Attend Events
Learn, swirl, sip, and enjoy at Hyatt Carmel Highlands! Meet the winemakers and enjoy a four-course dinner with wine paired with each course. The food will be from Pacific's Edge seasonal, locally sourced menus and winery partners include Bernardus Winery, Albatross Ridge, I. Brand & Family Winery, Twisted Roots, CRŪ Winery. Reservations are required.  
For a taste of the wild west, visit Galante Vineyards' "Laissez Les Bons Temps Rouler" Concert on September 10th at the Monterey County Fairgrounds! It is a fundraiser for the Monterey County Sheriff's Advisory Council in support of the Sheriff's Office. Food will be available from Spicy Roy's Caribbean Grill and Galante Vineyards Wine will be available for purchase.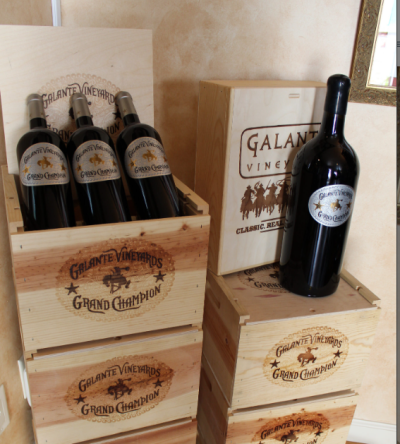 Photo Credit: Galante Vineyards 
Ride through the vineyards at Holman Ranch on September 27th! Holman Ranch is partnering with VineCycle for an eBike Tour of Holman Ranch Estate Vineyard and Winery! The bike ride will finish with a tasting of four wines on their historic Hacienda patio.  
Must-Experience Wine Tours  
Have you ever wondered what it is like to take a tour on an old-school Volkswagen bus? Now you can with Kombi Tours! With its limited space for up to 6 passengers, it is the perfect intimate experience to explore the different wineries and breweries on the Monterey Peninsula and Carmel Valley!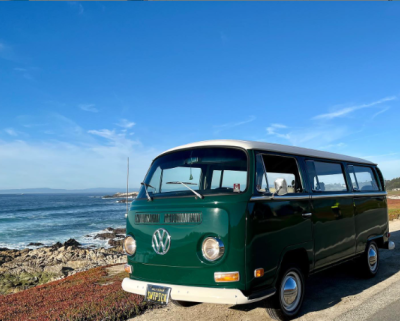 Photo Credit: Kombi Tours 
Adventure Tours specializes in wine tasting, sightseeing, and agricultural education! You have the option of a half-day van or walking tour and a full-day tour for groups up to 12.  
Other wine tours to check out are Monterey Guided Wine Tours which offer various packages such as a "Wine Tour for Two" or a "Wine Connoisseur's Package" and Behind the Scenes Wine Tours that takes you behind the scenes to visit wineries, vineyards, tasting rooms, and the opportunity to meet owners and winemakers!  
Must-try Local Wine Producers
While not every wine producer in the county hosts events in September, you can still celebrate by paying a visit to the various vineyards and wineries in the region. 
Meanwhile, Marta Kraftzeck of Scheid Vineyards is a wine industry veteran with more than 30 years of experience. As the first female winemaker in Monterey County, Kraftzeck brings her worldliness and knowledge of the best fruit to every bottle, which is made in Scheid's state-of-the-art wine-producing facility. This facility has a crushing capacity of 30,000 tons. Scheid also has tasting rooms open to the public, including one in Carmel-by-the-Sea and another in Greenfield. 
Just down the road, Parsonage Vineyards allows for premium flights of five wines or reserve flights of three. 
As Monterey County's first vineyard, Chalone Vineyard grows and bottles everything at its estate which is located in Soledad near Pinnacles National Park. Their main focus is on Chardonnay and Pinot Noir, but they also produce limited amounts of Pinot Blanc, Chenin Blanc, and Syrah.
Pierce Ranch Vineyards' tasting room is another great stop—housed on Cannery Row. Here guests can taste everything from their port to Albarino.  
Talbott Vineyards also has a popular tasting room. Open daily from 11 am to 6 pm, enjoy its Sleepy Hollow Chardonnay or Pinot Noir as well as the fun motorcycle museum run by the owner just down the road Joyce Vineyards should also be on your itinerary, its tasting room is open daily and offers weekly tasting flights of its releases as well cheese pairings.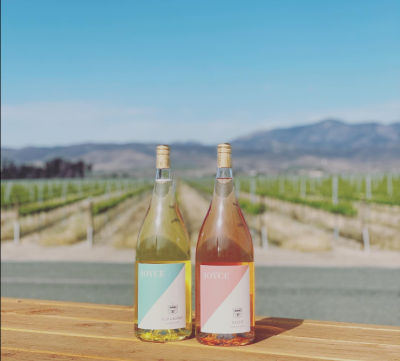 Photo Credit: Joyce Wine Co.
Sustainability
Monterey County works hard to make our communities the very best places to live and to visit; support healthy lifestyles, create jobs, and surround ourselves with a thriving environment for years to come. We understand the responsibility we have to manage our resources and ensure harmony between all aspects. Our viticulture industry understands this responsibility and works day to day to ensure they are using the most effective practices for sustainability. Vineyards such as Di Tierra Vineyards and McIntyre Vineyards are sustainability in practice certified along with Scheid Family Wines which has 4,000 acres of sustainability-certified vineyards and a wind turbine to assist with their commitment to sustainability. 
No matter where you go in Monterey County during the month of September, you're sure to stumble upon an impressive vineyard or winery—and the perfect spot to celebrate wine month. So, book a private tour, grab a ticket for a wine harvest event or simply sip some wine alfresco while listening to live music. For more information, check out the newest wine tasting map & brochure from Monterey County Vinters and Growers and learn more about Monterey County wine on their website.