Click here for a current list of Christmas dinners in the area
Leave the stress of the holidays to the fabulous restaurants in Monterey County! Several eateries remain open on Christmas Eve and Christmas Day to serve up delicious seasonal meals. Keep an eye on this page as we update it throughout December!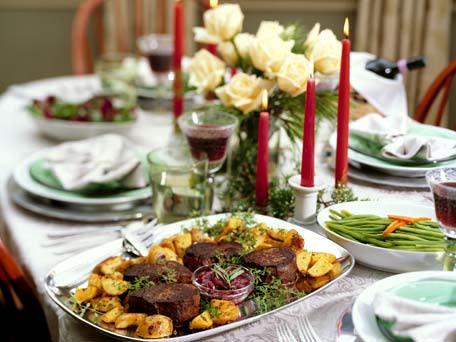 Carmel
Aubergine at L'Auberge Carmel will serve dinner on both Christmas Eve and Christmas Day. The award-winning restaurant offers a 4-course dinner menu available with and without wine pairings. Guests can choose from an array of indulgent dishes and desserts. 5pm-9pm, $115 per person and $89 extra with wine pairing. Call 831-624-8578 to reserve.
Enjoy panoramic views of the Pacific Ocean at Pacific's Edge this Christmas. The award-winning restaurant located at the Hyatt Carmel Highlands offers a prix fixe 4-course Christmas menu. Dinner will be served from 5:30pm-9:30pm and is $110 for adults and $55 for children. Call 831-622-5445 to reserve.
Pacific Grove
Fandango's in Pacific Grove remains open on Christmas day with dinner served from 3pm-8pm. Items from their fantastic standard menu as well special Christmas add-ons like Roast Tom Turkey and Duckling a l'Orange will be served. Lunch and dinner will also be served on Christmas Eve. Call 831-372-3456 to reserve.
Pebble Beach
Pair your Christmas day lunch, or early dinner, with epic views of the world-famous Pebble Beach Golf Links. Stillwater Bar & Grill offers up a delicious Christmas Day Buffet from 11am-6pm. The buffet is $85 for adults, $42.50 for children 5-12 and free for children under 12. Call 831-625-8524 for reservations.
The Tap Room, The Bench, STICKS, Peppoli and Roy's at Pebble Beach stay open Christmas day with their regular menus as well as seasonal specials. Call 800-654-9300 for reservations.
Early risers can enjoy breakfast and/or lunch at the Gallery Café. Regular menu items as well as a few special Christmas additions will be served from 6am-2pm. Call 831- 625-8577 for reservations.
Monterey
Jack's Restaurant at the Portola Hotel & Spa serves breakfast, lunch and dinner on Christmas Eve & Christmas day. Breakfast will be served 6am-12pm and lunch will be served from 12pm-2pm. Dinner will begin seating at 5pm with items like butternut squash bisque, roasted duck breast, seared scallops and chocolate peanut terrine. The six-course prix-fixed menu is $75 per person. Call 831-649-2698 for reservations.
Cafe Beach Restaurant at the Beach Resort celebrates Christmas with a special prix fixe lunch and dinner menu. Lunch will be served from 11am-1:45pm for $32 per person. Dinner will be served from 5:30pm-9:30pm for $39 per person. Entree options include turkey, prime rib, sea bass and more. For reservations call 831-899-4544.
Enjoy ocean views and a special holiday menu on Christmas Day at Schooners Coastal Kitchen & Bar at the Monterey Plaza Hotel & Spa. The menu will feature Mary's Sage and Dry Rub Roasted Organic Turkey and broiled Niman Ranch Rib Eye in addition to the regular menu. Dinner service begins at 12:00pm on Christmas Day. Reservations suggested, call 831-372-BOAT.
Enjoy a mix of Tuscan and Californian cuisine this Christmas at TusCA Ristorante at the Hyatt Regency Monterey. A 3-course menu will feature items like lobster ravioli, prime beef short ribs, scallops and chocolate vanilla bean cake with peppermint bark gelato. Dinner will be served from 5:30pm-10pm and is $59 for adults and $27.50 for children. For reservations call 831-657-6675.