The seventh annual Oktoberfest Monterey Bay, one of the best and largest festivals celebrating Bavarian culture on the Central Coast, returns to its roots Sept. 16-17 when it moves back to The Barnyard Shopping Village in Carmel.
This year's festival will be in honor of the event's founder, restaurateur Andre Lengacher, who passed away last year after a long battle with cancer. Lengacher owned and operated the Lugano Swiss Bistro in The Barnyard for 23 years. His wife Nargis will continue his legacy, moving the event back to its original home.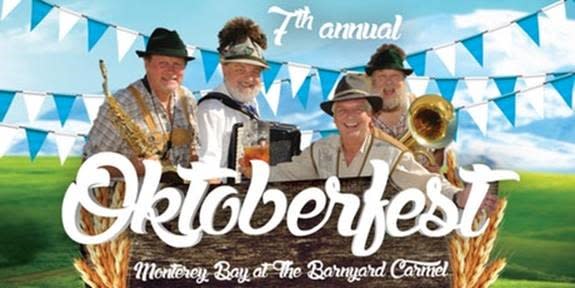 For the late Lengacher, Oktoberfest was simply a way to celebrate the Bavarian culture with plenty of beer, live music, dancing, wearing of traditional lederhosen and dirndl outfits, parades and competitions.
"To me, Oktoberfest is a great time of camaraderie, beer, dancing, lederhosen, fun…it's just fun," he used to say. "It's all about the experience!"
This year the event will not only feature the above festivities, but the naming of Miss Oktoberfest (on Saturday) and Miss Junior Oktoberfest (on Sunday), a return of the popular San Francisco "oompah" band The Internationals, a beer stein-holding contest sponsored by Hofbrau Beer from Chrissa Imports on Saturday and a four-man beer keg team relay race sponsored by Alvarado Street Brewery on Sunday.
There's also a charity component to the event this year, also in honor of Lengacher.
"To continue Andre's strong legacy and commitment to helping the community, Oktoberfest 2017 welcomes its non-profit collaborator and beneficiary," says Nargis. "Net proceeds from the event are designated to the Monterey County Chapter of the American Cancer Society. Donating to the American Cancer Society, supports the free patient services, programs and research of this excellent organization."
The seventh annual Oktoberfest Monterey Bay will be held from noon-6 p.m. Saturday, Sept. 16, and noon-5 p.m. Sunday, Sept. 17, at The Barnyard Shopping Village in Carmel.
Tickets are $20 for Saturday, $15 for Sunday and available on Eventbrite. For information, go to the website at www.oktoberfestmontereybay.com or facebook.com/oktoberfestmontereybay. Contact Nargis Lengacher at (831) 917-3779 or by email at: nargis@sdcreations.org.