It's all green at Basil Seasonal Dining and it's not just coming from the name of the restaurant. Basil is the area's first (and only) green-certified eatery meaning they are environmentally friendly and source the best of local, organic and sustainable ingredients.
The "green goddess" is tucked inside one of Carmel-by-the-Sea's quaint courtyards on San Carlos Street, just down Ocean Street. The colorful dining room oozes with energy which permeates from the modest kitchen just on the other side of the wall. Most of its seating is along their charming outdoor patio (blankets and heating lamps included) which sits between several wine tasting rooms.
Be sure to stop by next door neighbor Manzoni Cellars and taste their stellar Pinot Noir. Don't just take it from me; Wine Enthusiast gave it a solid 93 points!
As the name Basil Seasonal Dining implies, the menu is seasonal and consistently changes with fresh and local bounty. Although menu items vary the hospitality from Chef Soerke and owner Denis remain consistent as they have been in business together for the past 7 years.
Another consistent feature, their uber-popular complimentary bread and addictive pesto sauce; the fresh aroma alone is sure to tee up your appetite.
I suggest starting off with lamb meatballs and local abalone. The lamb meatballs are as unique as they sound and somehow resemble a Basque lamb stew crafted in a magical meatball, covered in rich tomato sauce and topped with creamy goat cheese.
Abalone is a true delicacy in Monterey County and Basil's rendition does not disappoint. Pieces of fresh abalone are scattered about butternut squash and parsnip in a vermouth butter sauce. Did I mention it's served in an abalone shell and topped off with white truffle? Truly decadent!
I typically avoid venison due to my hypersensitivity to gamey flavors but Basil knocks this hard to cook meat out of the park! Their tender house smoked venison melts in your mouth and doesn't even require a knife, although you might want one to avoid awkward stares. The accompanied port reduction sauce is the prefect compliment to this perfect dish.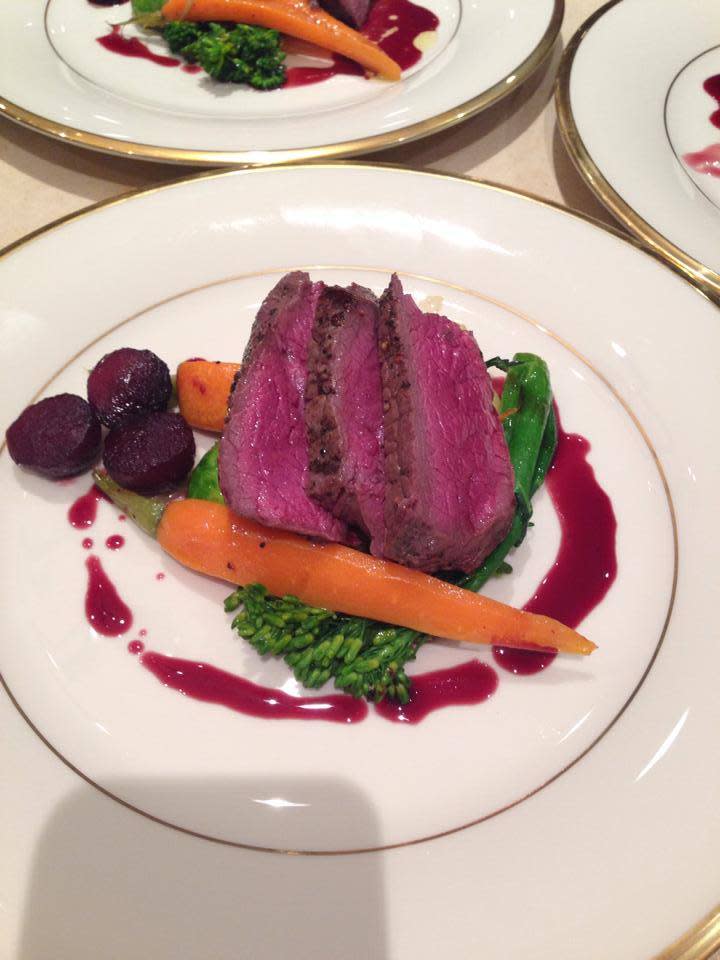 Don't skimp on dessert! Their after-dinner menu is extensive and all options are amazingly $7. Might I suggest their apple strudel with Fuji apples, figs and pine nuts served with cinnamon gelato?