As social distancing keeps the country at home, it doesn't mean you can't taste the local flavors found throughout Monterey County. To help you travel by the sense of taste, here is a roundup of our favorite culinary offerings that you can enjoy in the comfort of your home.
Old Fisherman's Grotto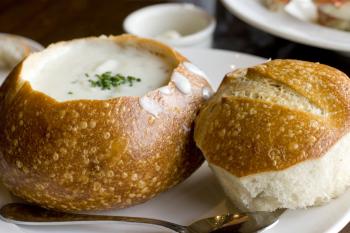 Clam Chowder from Old Fisherman's Grotto - just add sourdough bread!
Clam chowder is basically its own food group in Monterey County. Luckily, Old Fisherman's Grotto ships its thick and creamy chowder for at-home enjoyment. The Grotto has been perfecting their "Monterey-Style" clam chowder for over 50 years! Unfortunately, bread bowls are not included.
Pezzini Farms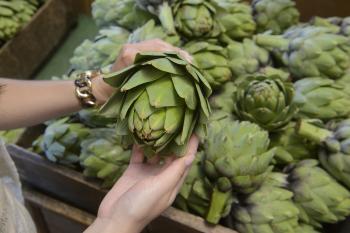 Artichoke at Pezzini Farms, Castroville, CA.
For many, a wood-grilled artichoke is a favorite Monterey County appetizer.  Pezzini Farms in Castroville, also known as the "Artichoke Capital of the World," ships seasonal farm fresh artichokes and all things artichoke year-round. While heirloom artichokes are currently available for pre-order, many other savory treats - from pasta sauce to dip mix and bruschetta spread - are ready and waiting to be added to your cart.
Real Good Fish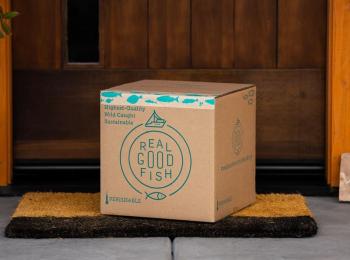 Sustainable Seafood from the Monterey Bay to Your Doorstep Courtesy of Real Good Fish.
Fresh and sustainably caught seafood is synonymous with the Monterey Bay. Residents of the western United States can have Monterey Bay seafood shipped directly to their doorstep. Real Good Fish is a community-supported fishery that provides the highest quality seafood directly from the fisherman to consumers like you.
43 Ranch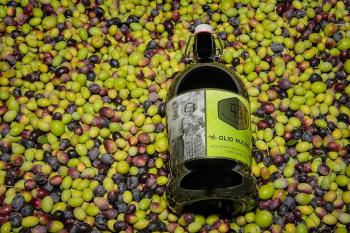 Awarding-winning and World-class Olive Oil from Monterey County.
Located in San Ardo in southern Monterey County is 43 Ranch. Home to 5,000 olive trees and  the only olive oil mill to operate in Monterey County, 43 Ranch produces world-class and award-winning olive oil that can be shipped directly to your door. Earlier this year, 43 Ranch won the top award at the Los Angeles International Olive Oil competition and were the first North American producers to win any international olive oil competition in the world!
Carmel Honey Company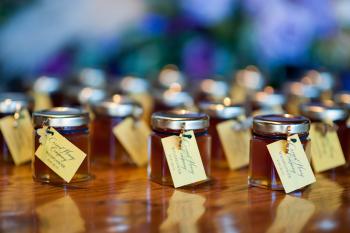 Specialty Premium Honey -- Straight from the Hive!
Carmel Honey Company grew out of passion for bees and good grades. What started as a fifth grade homework assignment has transformed into a full-fledge business. Carmel Honey Company operates two retail stores, the flagship location in Carmel-by-the-Sea and its recently opened second store on Cannery Row in Monterey. While you can't currently visit the stores for honey tasting and bee education, you can purchase honey and a plethora of bee inspired products online.
Happy Girl Kitchen Co.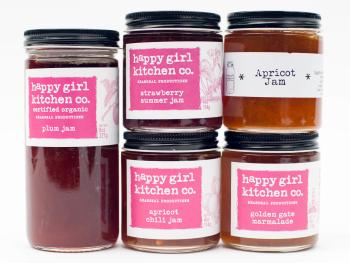 Happy Girl Kitchen is dedicated to simple, delicious and farm-driven foods. The vegetarian and vegan-friendly cafe has a huge following and even won the praise of Reese Witherspoon during the filming of Big Little Lies. Happy Girl Kitchen ships a wide variety of its house-made products. We recommend the pickles, as well as any of the preserves and jams.
Revival Ice Cream

Sustainable and Thoughtful Ice Cream.
For dessert, have scoop (or pint!) of locally sourced, sustainable, handcrafted Revival Ice Cream. Their award-winning Bee's Knees ice cream combines burnt honey, beeswax and bee pollen with creamy organic custard and a crunchy honeycomb candy. Planning a shelter-in-place birthday celebration? Order an organic ice cream cake for a unique and delicious sweet treat.
Monterey County Wines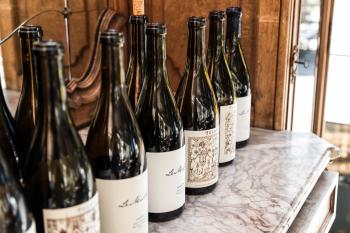 Purchase Wines from Folktale Winery and Vineyards Online.
No taste of Monterey County list would be complete without mention of the region's premiere wines. With 32 varietals from 45,000 acres of planted vineyards throughout the County, there is no shortage of great vintages to try and many are available for online purchase. Start with a Wrath Pinot Noir from the Saint Lucia Highlands or a sparkling rosé from Carmel Valley. Folktale Winery and Vineyards is offering $1 shipping for any online purchase of four bottles or more.
We hope you enjoy a taste of Monterey County from home. And when the time is right, we hope you are able to visit firsthand to experience the soothing rhythmic sounds of lapping waves...and a fresh piping hot bowl of clam chowder prepared and served to you by one of our award-winning restaurants.