It's a fantastic feast for the senses – sights, sounds, flavors, colors and more! Bring your family and friends to enjoy dozens of exciting international performances and unique cultural activities at the free 5th Annual Language Capital of the World® Cultural Festival on Sunday, October 6, 2019 from 10:00 am – 5:00 pm. Convenient (paid) parking is available in the City of Monterey Waterfront, East Garage and West Garage parking lots.
Held in the heart of historic Old Monterey, adjacent to Downtown Monterey and Monterey's Old Fisherman's Wharf in the Custom House Plaza, the 5th Annual "Language Capital of theWorld® Cultural Festival" highlights Monterey's rich language, culture, and international affairs capabilities, as well as its Sister City relationships. Fun for all ages, the free Festival features hundreds of performers of dances and authentic music from a variety of international cultures that represent many different languages. The Festival offers an array of ethnic crafts, interactive exhibits from the flagship foreign language and culture institutions of higher learning, as well as many language and culture mini-lessons. There will be delicious international food offered by many vendors from around the world.
Attendees will be treated to an array of fabulous international dances, music and colorful costumes. This year encompasses nearly three dozen international performances reflecting many different languages and cultures: America (dance theatre), China (ethnic dances, fan dance, kung fu, song), India (Bollywood-style dance), Iran (folk dance), Korea (choir, fan dance, taekwondo), Japan (song), Mexico (folk dance), Middle East (Egyptian belly dance, Lebanese music), Philippines (folk dance), Polynesia (Hawaiʻian folk dance), Russia (song, folk dance), Taiwan (puppetry), Turkey (folk dance), Vietnam (regional cultural dances).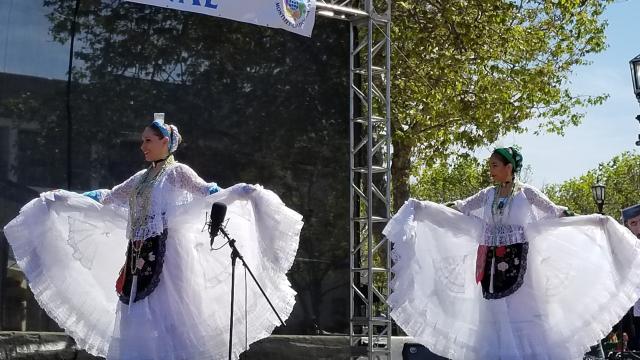 Understanding other languages is important in today's global marketplace. Festival attendees can take a mini-language lesson in Korean, Japanese, Spanish, Greek, Russian, Arabic and more!
Cultural and Informational Exhibits
There will be an array of fascinating international cultural and informational exhibits. All ages will enjoy seeing exhibits and talking with representatives from The Pacific Grove Chinese School, Om Shanti Indian Group, Nine Star University of Health Services, Creative Education Foundation - Great Auntie Creative Taiwan School, Persian Cultural Group, Mexican Cultural Group, Middlebury Institute of International Studies, Naval Postgraduate School, CSUMB School of World Languages and Cultures, Monterey Peninsula College, and EF Education First Educational Programs and Travel Abroad and the International Language and Culture Foundation (ILCF).

International Food
All kinds of delicious mouth-watering international ethnic food will be available for sale reflecting various languages too, including Maha's Lebanese Cuisine (Mediterranean - Lebanese), Big Sur Tacos (Mexican), Indian Gourmet (Indian), Lumpia Lady (Filipino), Maido Catering Service (Sushi - Japanese), Kitja's Kitchen (Thai) and Kona Ice (Shaved Ice - Polynesian/Hawaiian).
International Crafts
The holidays are fast-approaching so come shop at our international crafts booths including beautiful items from Seif Egyptian Gifts, Tibet Creations, CulturArts from Oaxaca, Mexico, A Touch of Glass and more.
Many Monterey County organizations play an important role in providing translation (written word) and interpretation (spoken) services around the globe such as Language Line Services andMediaLocate among others. Organizations such as the Defense Language Institute at the Presidio of Monterey, Middlebury Institute of International Studies, Monterey Peninsula College, CSUMB and other local entities provide instruction in many languages. The Naval Postgraduate School has hosted students from more than 100 nations and provides professional, service- oriented educational programs for the U.S. armed forces and international militaries. Monterey County is also a very popular destination from visitors throughout the world who will enjoy this very special cultural Festival!
More information: www.lcowfest.com or call (831) 633-4444.