While much of the country slumbers beneath blankets of winter snow, sunny Monterey County is awake and alive with winter wildlife. Whether it's the delicate, migratory monarchs, abundant birdlife or those gentle giants of the sea, the incredible biodiversity of Central California creates unique winter homes that entice you to come and explore.
Winter Monarch Mecca
Witness fluttering clouds of orange and black descend upon charming Pacific Grove, also known as Butterfly Town, U.S.A. California's central coast is the only place in America where monarch butterflies migrate to overwinter. They begin arriving in October and stay through February, creating spectacular effects as they flit and float through the air, and hang in clusters from eucalyptus, pine and cypress trees in Pacific Grove's Monarch Grove Butterfly Sanctuary. Because monarch butterflies have a lifespan of less than one year their migration remains a mystery. They arrive each year, never having been to this destination before. Visit in the early afternoon, the warmest time of day, to see these delightful creatures when they're most active.
Whale Watching by Land and Sea
Winter is prime time for spotting whales along California's central coast. From December through mid-April, giant gray whales travel more than 10,000 miles from the icy Alaskan waters to the warm birthing lagoons of Baja California and Mexico. They're often accompanied by pods of orcas, and a variety of dolphins (lured by tempting anchovy treats filling Monterey Bay). Hop aboard a Discovery Whale Watch cruise for up-close views of these gentle giants. Landlubbers can stroll along sandy beaches in places like Garrapata State Park and Marina State Beach to view breaching whales clearly from the shore when they come to feed in the Monterey Submarine Canyon, the third largest in the world.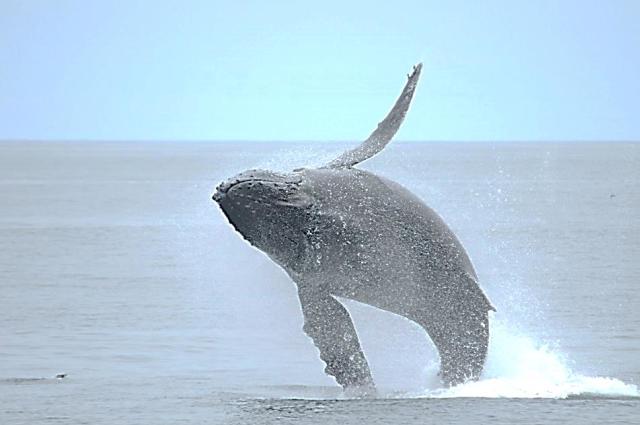 Monterey County is For the Birds
Monterey County is part of the Central Coast Birding Trail. So, birding enthusiasts: pack up your spotting scopes to view an intriguing mix of wintering birds such as rhinoceros auklets (cousin to the puffin), murrelets and uniquely beaked northern fulmars. Elkhorn Slough is one of the last remaining coastal wetlands in California, providing varied habitats for wintering shorebirds such as black turnstones, surfbirds, brown pelicans and dozens of duck species, including buffleheads and mergansers. You can kayak amid diving loons and grebes, or enjoy a free birding tour along boardwalk trails the first Saturday of each month.
Dark-eyed juncos and towhees flutter and forage around willows and underbrush in Pinnacles National Park. And the park's rocky peaks are home to migrating raptors and smaller birds, like the acrobatic violet-green swallow. Fragrant forest of rare Monterey Pine in Jacks Peak Park offers breathtaking ridgetop vistas and the potential to glimpse migrating hawks and swifts. The Marina Dunes Preserve and sandy shores of Carmel River State Beach play host to wintering flocks of threatened snowy plovers, and the beach's freshwater lagoon attracts many wintering species including champion-flyer Arctic terns. 
Baby Seals, Sea Lions & Otters, Oh My!
Monterey Bay National Marine Sanctuary is one of the best places in the world to see seals, sea lions and sea otters. You can typically hear the piercing bark of playful, raucous sea lions before you see them, packed together on rocks, jetties and under wharfs. Shy harbor seals can be seen resting on rocks and secluded beaches just offshore. While sea otters float on their backs near kelp forests – newborns cuddled on their mother's tummies. From late winter through spring, witness the antics of their adorable pups at places like Elkhorn Slough, Point Lobos State Natural Reserve and all along the Monterey Bay Coastal Recreation Trail.