There's a new BBQ sheriff in town and his name is Famous Dave. Famous Dave's BBQ is one of Salinas' finest new restaurants and one of the few BBQ joints in Monterey County!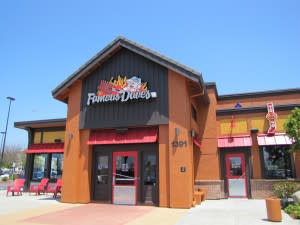 Needing my fix of finger lickin' pork ribs and beef I ventured over to Davis Road in Salinas where this barbeque haven lays. Before my three buddies and I even approached the entrance, our mouths began to water. I was hypnotized by the aroma of hickory smoke that seemed to overwhelm the parking lot.
Once inside, I felt like I was at southern pit stop along Route 66. Neon signs and license plate frames cover the walls and create a cozy atmosphere. The classic rock jams in the background put me in the mood to dominate some serious carne. The welcoming atmosphere definitely gave me the vibe as a place where I could let loose and not feel too embarrassed about smearing BBQ sauce on my face. Thank goodness!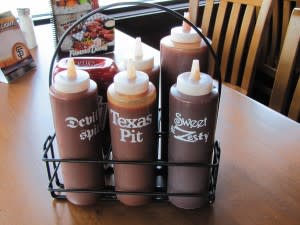 Friendly staffers, who use the word "famous" before their first names, sat us at a table near the window. Famous Amiee left us alone with our menus and a plethora of meaty options. My gang I decided to kick things off modestly with dainty starter salads. Fresh greens came perfectly accompanied with tomatoes, cucumbers, bacon bits and cheddar cheese in a delicious BBQ honey sauce. I was surprised by the large size of the salad but was sure to leave room for some serious protein..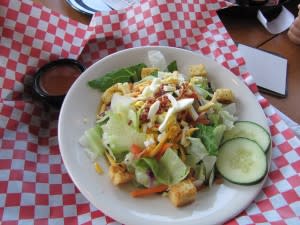 On to the main event. When ordering we asked ourselves, "What would famous Dave do?" Naturally we agreed on Dave's Famous Feast. We certainly didn't regret our decision once Famous Aimee brought out the monstrosity. The all-American meal came complete with a full slab of St. Louis-style spareribs, a whole country-roasted chicken, 1/2 lb. of Texas beef brisket, coleslaw, famous fries, Wilbur beans, corn-on-the-cob and corn bread muffins.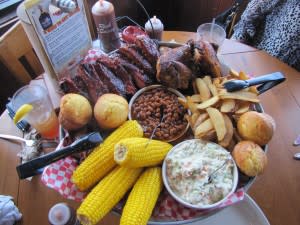 After filling my plate I had a difficult time deciding where I would begin. I started off with the greens. The coleslaw was super creamy with an awesome punch of sweetness. I then ventured over to the meaty side of things. The brisket was calling my name! I was sold at the first mesquite bite. The savory beef literally melted in my mouth like butta'. I wasn't sure how the ribs could stand in comparison but they certainly did not disappoint! I smothered those puppies in some of the "Sweet & Sassy" BBQ sauce and thoroughly enjoyed the perfectly smoked pork that fell so seamlessly off of the bone.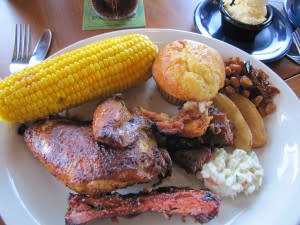 Did I mention Wilbur's beans? These home-style legumes were everything I had hoped for, with sausage, brisket and pork added in the mix! I finished off the massive meal with corn on the cob and cornbread. You better believe I slathered on the creamy butter and honey. After making a slight dent in the meal, my team and I had to throw in the towel. We weren't even up for the famous bread pudding we had heard so much about. The entire spread is recommended for four to six guests but I would argue that it's enough for eight! Luckily there were plenty of leftovers which I am already looking forward to. Famous Dave's is open daily for lunch and dinner. Want a fix of BBQ but don't have time to dine in? Take it to go! View Larger Map