Save the date! Be sure to bring your family and friends this holiday season to create wonderful memories at Monterey's Old Fisherman's Wharf!
What: 
Fisherman's Wharf Association is proud to sponsor and hold its "4th Annual Christmas on the Wharf" weekend festivities on Old Fisherman's Wharf in Monterey. 
"Christmas on the Wharf" will feature holiday musical entertainment including choirs and community caroling, a dazzling array of beautiful holiday lights and decorations, a 23-foot Christmas tree, silhouetted lit trees, tin soldiers, free sweet treats, free Santa "meet and greet" visits, photo ops with Santa, lovely holiday princesses, local book authors and much more. There will also be giant holiday-lighted sea life animals and holiday-themed inflatables on display.
Families are encouraged to come meet Santa and his elves to create special memories. Enjoy free Santa visits at his "house" and have a photo op for kids and family. Christmas holiday princesses will also be on hand to greet the children and for photo ops. There will also be a toy drop at Santa's house for Salvation Army - Monterey Peninsula Corps.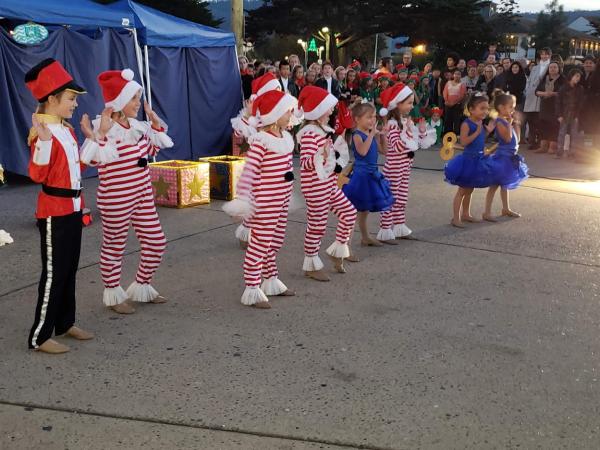 Each weekend of Christmas on the Wharf, there will be complimentary hot chocolate, coffee, hot apple cider and cookies (Friday, Saturday and Sundays – specific hours below) at the Wharf tent courtesy of Fisherman's Wharf Association.
There will be free drawings for a dinner for two and more. Christmas carolers and other live entertainment will be featured each weekend. There will also be great Christmas shopping, dining, whale watching, fishing, watching marine life and more fun this holiday season on the Wharf.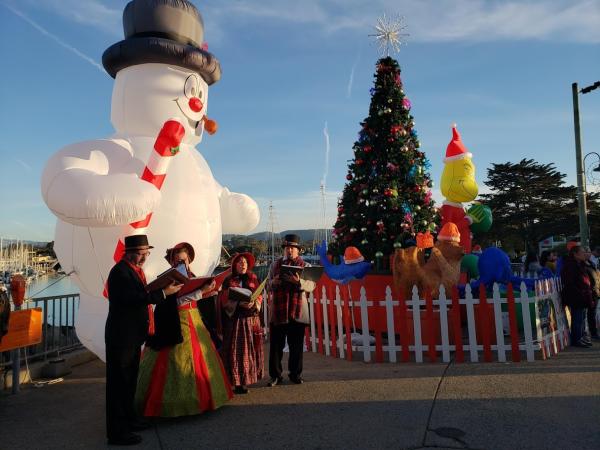 The Wharf businesses will be beautifully decorated with hundreds of colorful holiday lights and a majestic lit Christmas tree. There will also be many Christmas specials provided by Wharf merchants.
On Saturday, December 7th there will be Holiday Safety Afternoon during Christmas on the Wharf with representatives and a fire truck from the Monterey Fire Department and representatives from the Monterey Police Department. Free children's fire hats will be handed out, too!
On December 13th and 14th, the Wharf will be a stop off during the Christmas in the Adobes tours in Downtown Monterey. The Wharf is also a great place to view the Monterey Yacht Club's Lighted Boat Parade on Sunday, December 8th.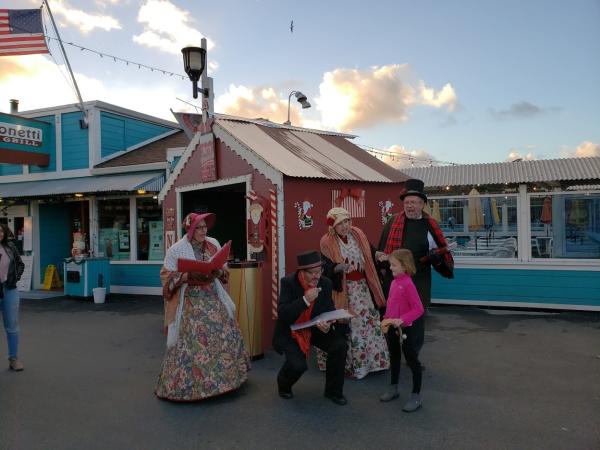 When:
Christmas on the Wharf will span Friday, December 6th through Sunday, December 22nd including free weekend entertainment, Santa visits, Holiday Princesses and more
Friday evenings (December 6th, December 13th, December 20th) from 5:00 p.m. – 9:00 p.m. 
Free cookies, cocoa, coffee and cider at the Wharf Tent from 5:00 pm – 8:00 pm.
Saturdays (December 7th, 14th, 21st) from 9:00 a.m. – 9:00 p.m. 
Free cookies, cocoa, coffee and cider at the Wharf Tent from 5:00 pm – 8:00 pm.
Sundays (December 8th, 15th and 22nd) at the Wharf Tent from 1:00 p.m. – 6:00 p.m. 
Free delicious holiday cookies, cocoa, coffee and cider from 1:00 pm – 4:00 pm
And by popular demand, Santa will be at the Wharf on Monday, December 23rd from 10 am - 5 pm
Where:
Old Fisherman's Wharf in Monterey, California. Directions: GPS to 101 Washington Street. Parking in the Waterfront Lot adjacent to Old Fisherman's Wharf is available and locals with Monterey County ID can park free for 2 hours daily from November 29th - December 24th courtesy of the City of Monterey. 
Parking is also available in the nearby City of Monterey East and West Garages in Downtown Monterey. Take the convenient MST Trolley to the Wharf daily until 7 pm from the Garages. Rent a bicycle or ride your own, rent a Segway or simply stroll to the Wharf via Downtown Monterey or the Rec Trail.
For more information visit www.monterywharf.com  or call (831) 238-077