Want to explore your creative side? Or need a place to really let loose? Well, Open Ground Studios in Seaside is a top spot to get your craft on. It's a hub for working artists and creative adults to dig into a variety of art projects, whether it is painting, drawing, printmaking, textiles, framing, copper etching, or book arts.
Open Ground Studios is home to up and coming artists like Katie Crawford, a recent transplant from the east coast. She moved here and joined OGS less than three months ago, but within that short amount of time has made numerous connections, sold her art and found a community of artistic support which she craved when she first arrived on the Monterey Peninsula. The welcoming committee is headed by Denese Sanders, owner of Open Ground Studios, who is also an accomplished practicing artist. Rounding out her credentials, she is a master printer, trained educator and arts education specialist.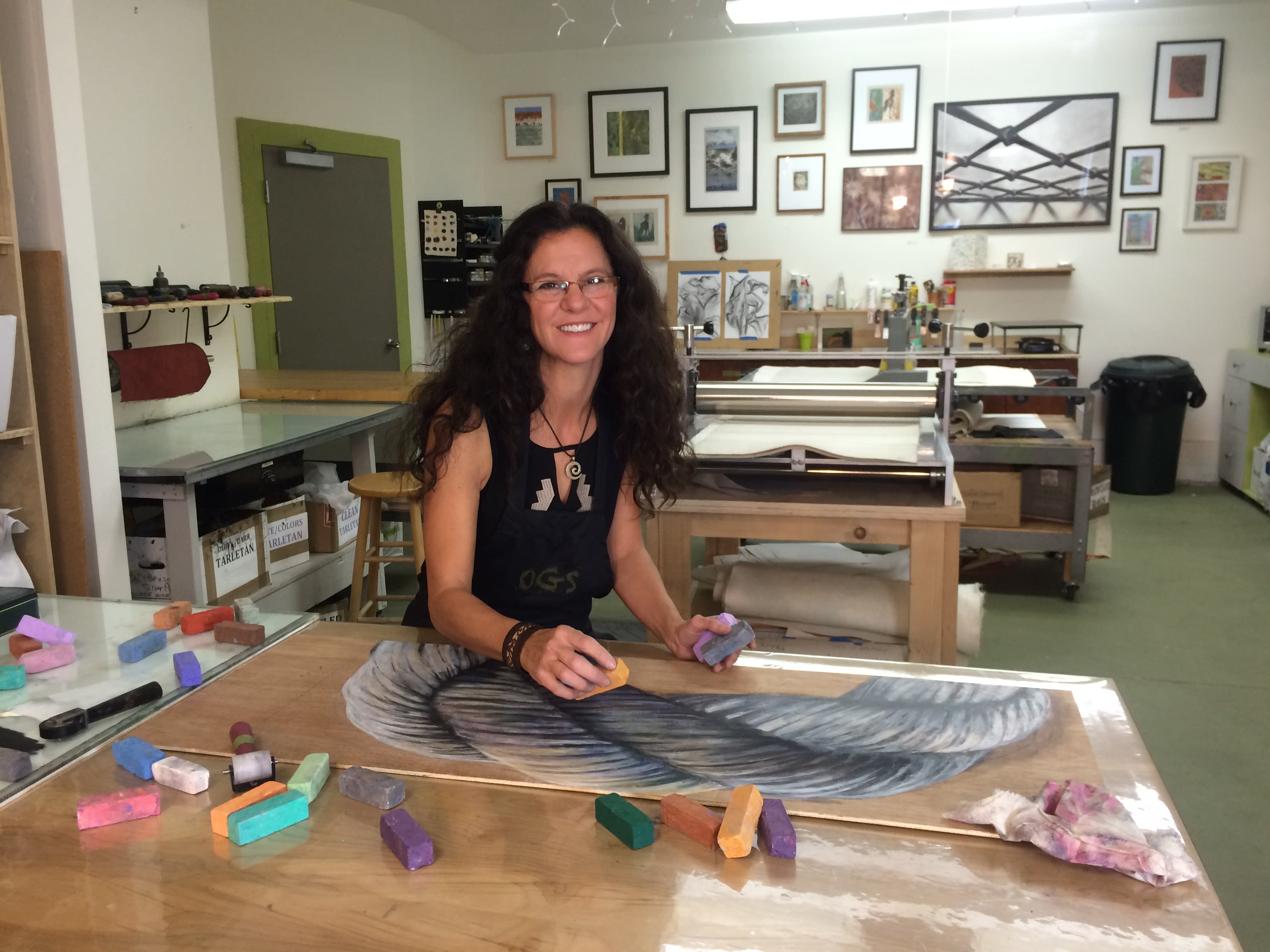 Denese hails from Minnesota, with big California dreams. She's been here for 12 years, and two years ago built Open Ground Studios. Recently, she entered the limelight of the community's art scene and was nominated to participate in the Community Palette Artist Showcase competition. Community Palette is an organization devoted to promoting and supporting economic growth for local artists. Denese walked away a winner, with $7000 and a front page spread in the Monterey Herald. Not bad for a girl from the Midwest!
Building on the dollar and cents of an artistic venture, Denese has developed a space for creative professionals, too. In the 2000 square foot studio space, the front room houses a gallery, which also doubles as a coworking office. "Coworking" is the buzz word that describes the up and coming "shared office" phenomenon, and Open Ground Studios is the first one to make headway in Monterey. It is an office space that spices up the hum-drum of the coffee shop scene and is available for creative professionals to get to work, meet clients, receive mail, or conduct meetings and interviews. Open Ground Studios offers a daily rate, and an assortment of membership plans that meet your needs. Oh, and you get access to all the amenities like Wi-Fi, printers, ergonomic chairs, a well-stocked kitchen, a high end espresso machine and an artsy vibe to boot.
Open Ground Studios is a welcoming spot to work on art, writing, projects or business, and to connect with a great batch of people in the art community. There's always an array of things to do here- check out their classes, workshops and membership options. Or just call Denese directly at 831-241-6919.