Monterey Bay is steeped in history and famed internationally for its marine life. The area is shrouded in an atmosphere of sentimental significance or, at the very least, fog. The mist may never be too far away, but it keeps itself at bay often enough for people to enjoy the natural loveliness and vintage charm of the county. The place imbibes mystery and beauty; it's no wonder so many creatives have chosen to make Monterey their home. In fact, hie off southward to Carmel-by-the-Sea and you will find yourself in a precious little coastal town mayored once by screen legend Clint Eastwood.
Its rich past may be the stuff seedy and entirely too enjoyable pulp fiction is made of, but Monterey has since fashioned itself into one of the most alluring holiday destinations in the world. The industrial feel, a remnant from its sardine canning heyday, may still be present in many sections of the city, but the aquarium, the quaint seaside town attraction, as well as the natural gorgeousness of the region blend well with it to produce Monterey's unique character, a curious mélange of grace and a very captivating je ne sais quoi.
Families, lovers, business travelers, compulsive wanderers, and such find themselves drawn to this section of the Golden State. You get your conventioneers and wealthy tourists who readily check themselves into the best five-star hotels in Monterey, CA. You also get your frugal 2.5 families hoping to experience a life of travel at a budget. They have plenty of options as well for cheaper accommodations, from the lace-and-flower B&Bs to practical motels and travel lodges. They may not be located in the heart of the city, but with a vehicle at their disposal, their access to Monterey's best is far from limited.
Monterey Bay hotels come in all sizes and kinds. There is certain to be something for every traveler. Location usually dictates the rates. Understandably, hotels near Monterey Bay Aquarium are more expensive, but you don't need to stay near the aquarium to be able to enjoy an entire day of marine-oriented amusement. You'll find many comfortable, reasonably priced rooms a short distance from the downtown hub.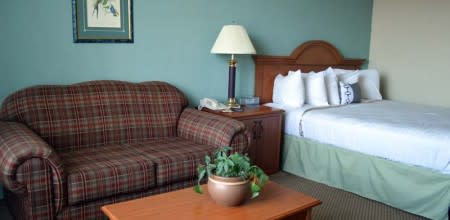 Of course, you need to do your research on your intended lodgings since you do not want to mar your Monterey experience by staying somewhere unpleasant. Find out as much as you can, compare and contrast before making an informed decision, and you can bet your last dollar that your due diligence will reward you.