The Monterey area is known as one of the most beautiful areas on the western coastline. It is a visitors paradise due to the natural beauty and the attractions that natures coast offers. But for a first time visitor it can be overwhelming to try and see everything. Plus without knowing the area well, how do you know what to make a priority for your visit?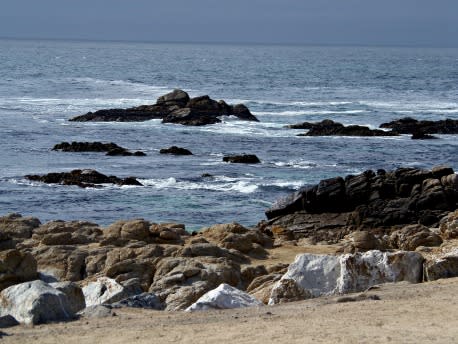 Let's look at some of the more popular places in Pebble Beach that are a must see on your first visit to the Monterey area.
17 Mile Drive - It is not a visit to Pebble Beach without taking the drive. This is a toll road but definitely worth the small admission fee to meander through the spectacular coastline and the magnificent trees. The beautiful homes that line the drive are also a bonus.
The Lone Cypress - Located on the 17 Mile Drive, this 250 year old tree has been captivating visitors since the Drive was founded and opened. Its stunning and simplistic beauty is worth the effort to see.
Bird Rock - This area on the coastline near the golf courses is a wonderful place to relax, watch the tide and listen to the seals and sea lions talk while they congregate just offshore on Bird Rock.
Spanish Bay - a lovely location to sit and relax or explore the beautiful shoreline. Take your lunch and enjoy the peaceful sounds of the crashing waves.
Golf Courses - Pebble Beach is world renowned for its golf courses. It is worth the time to visit Spyglass Hill, The Links at Spanish Bay and Pebble Beach Golf Links for a once in a lifetime round of golf. The beauty surrounds you and you may just find yourself playing next to a few celebrities.
Shopping - Shopping at The Lodge at Pebble Beach and The Inn at Spanish Bay offer superior products that will help you remember your visit. Beautiful sportswear, specialty shops, jewelry, and accessories will round out your must have treasures. Then stop by some of the locally owned shops in Pebble Beach for a unique, one of a kind momentos.
Schedule extra time when visiting so you can see all of the beauty this area has to offer. Plus, make sure to bring your camera on your first trip to Pebble Beach. You will want to remember your trip over and over in your photographs until you can get back and see it in person. It is one area that people come back to time and again to enjoy the amazing beauty of the coastline.