If cooler weather and gray skies have you California dreaming, why not consider planning a vacation to Monterey? This casual and laid-back destination has lots to offer history buffs, families and animal lovers alike. Here are some tips for visiting this historic and relaxed seaside escape.
It's a good idea to make your first stop at the city's Visitors Center, located at Lake El Estero. Here you can pick up maps, pamphlets and a visitor's guide. If you don't feel like stopping, you can always get lots of information about Monterey highlights from SeeMonterey before you arrive in town.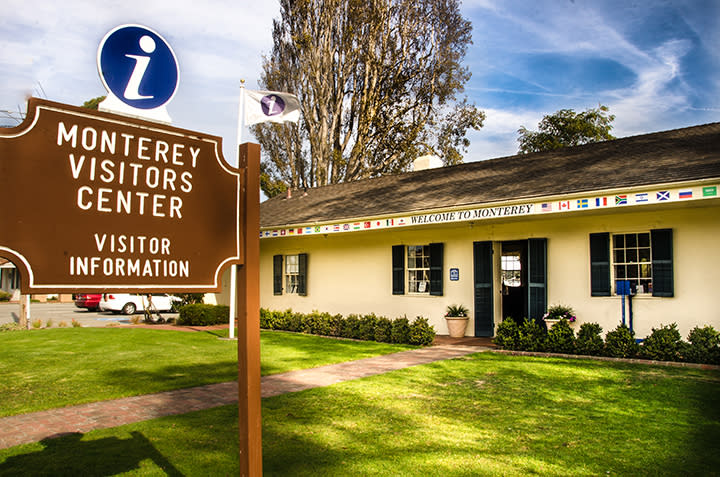 Dive Into History
Neighborhoods not to be missed while in Monterey include Cannery Row and Fisherman's Wharf. As its name suggests, Cannery Row was once home to a sardine-packing operation, which was immortalized by writer John Steinbeck in 1945. Today, this waterfront destination offers top restaurants, great places to shop and an exciting nightlife scene. It has a charm all its own, and you can still see sardine-processing equipment along with classy hotels. You don't need a business degree to note how many tourist dollars are raked in at this popular destination!
Fisherman's Wharf is a wooden fishing pier that features gift shops, seafood restaurants and fish markets. This busy and popular area provides stunning views of the sea, complete with sea lions that like to kick back in the kelp. An observation deck at the end of the bay is a great place for photos. While at Fisherman's Wharf, you can book a seafaring boat tour, or simply hang back with some clam chowder and enjoy the view.
A Little Fishy
A must-see destination while in Monterey is the Monterey Bay Aquarium. This major family attraction draws nearly 2 million visitors each year, and with good reason. This aquarium is home to more than 350,000 diverse marine animals and plants; about 550 species in all. A massive, indoor three-story tank and a 1.2 million-gallon Outer Bay tank featuring open ocean life await visitors. There's even a beach and petting zoo that children will love. Don't miss the Giant Octopus exhibit!
Whale-watching is a popular pastime in Monterey, and there are several tour companies that will take you out in the bay for a glimpse of these sea giants. You may see gray whales, killer whales or humpbacks while on your excursion. Don't forget your camera!
Get Active
Monterey's waters are great for scuba diving and fishing. Cod and salmon are common catches here, and there are plenty of public fishing boats you can charter for a day of reeling them in. Another great activity to try in the bay is kayaking. You can take a tour to learn about the region's natural history, or simply rent a kayak and enjoy paddling on your own.
Not fond of the water? Simply rent a bike and explore the Monterey Bay Coastal Recreation Trail. This 18-mile, waterfront trail offers spectacular scenery and plenty of places to take a breather and enjoy a picnic. Keep your eyes peeled for sea lions, sea otters and even blue whales if you're lucky!
Plan Your Visit
With so many things to see and do in Monterey, you'll want to be sure you time it right. Fall and spring are great times to visit, with clear skies and scant crowds. Summer is not always the best time, however, due to the marine fog that tends to hang over the shoreline in June and July. Now is the perfect time to plan your visit!
There are myriad lodging choices in Monterey, everything from hotels to bed-and-breakfasts to camping sites. Monterey is also home to an array of fantastic restaurants, and of course, the specialty is fresh-caught seafood.
Whenever you are planning to visit, keep these sites in mind as you put your itinerary together. Enjoy all this charming, beach town has to offer and make the most of your time away.