When cold weather sets in, we're more likely to hunker close to home and less likely to be out socializing. That's what makes winter-time festivals so welcome -- they're a chance to get out and see our friends and neighbors. As the days get shorter, perhaps you would like to take in a few favorite celebrations in the Monterey area. Festivals offer a welcome change from the four walls of your home and the opportunity to enjoy the company of like-minded folks.
Big Sur is a magical place and you can experience much of this magic at the Big Sur Food and Wine Festival on November 7th through the 10th at Hyatt Carmel Highlands. Wine tasting and food delights are just the beginning. See rare condors in flight, hike the hills and view the views. The ocean's beautiful sounds are a backdrop to a weekend of pure fun. This will be a unique culinary getaway that will remain in memory for years to come!
Head to Cannery Row for an amazing treat at Steinbeck Plaza! This is the Cannery Row Tree Lighting Ceremony on November 29, with free admission and a wide variety of family entertainment. The kids will want to watch for Santa Claus as he arrives during this event and wants to meet everyone. A magical elf provides more entertainment and the reindeer add a special Christmas touch. The holiday spirit runs high at this ceremony and you won't want to miss it.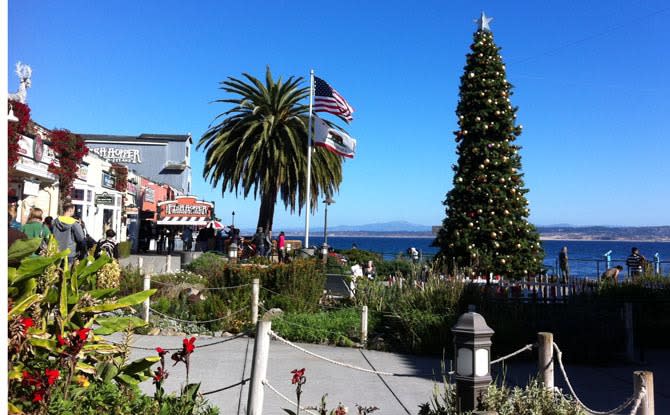 Now, back to Oldtown Salinas for the Holiday Parade of Lights on December 1st! This is an old-fashioned and fun event for those of all ages. Thousands come to start off their holidays the right way and you can join in this fabulous event and feel the love. First go to Maya Cinemas to let the children meet with Santa Claus. Free popcorn is a treat and getting face painting is an adventure! Then to the parade of lights - and not just lights in this parade! You will see marvelous floats, classic cars, marching bands and much more.
In Pacific Grove, everyone gathers for the Monarch Film Festival on December 11 and 12. Cinema art is at its best at this festival and builds a new appreciation for film and film makers. Then on the 13th, head to the Monterey Cowboy Poetry & Music Festival and Cowboy Art & Western Marketplace. This event runs through the 15th and offers a truly one-of-a-kind experience. Enjoy the poetry and song of the cowboys, with plenty of western music, art and other treats. The marketplace provides lots of cowboy gear that you may want to take home with you.
Once the New Year begins, you should determine to get out and about to have some more fun, despite the chilling breezes that may be blowing. The Monterey Swingfest will have you up and dancing and keeping warm. From January 17 through January 21, you can attend the 20th annual Swingfest and take part in workshops, open dancing and competitions. There couldn't be anything quite as much fun as swing dancing!
The year is just really getting started and what better way to see it in than to go to the Whalefest Monterey and get in some whale watching as well as other fun activities. It all is happening on the Old Fisherman's Wharf and is completely free. The gray whales are migrating and provide incredible sights. Be sure to bring a camera!
With a winter filled with terrific festivals, you won't be able to remain indoors any longer. Get out and about and enjoy the Monterey area with the whole family. You will be so glad you did!