For a list of 2014 Halloween Events Click here
All Weekend
Things get spooky at Wild Things this weekend! Children can dress up in their favorite costume and set out on a Howl-O-Ween Safari. Tricked out tots can trick-or-treat amidst the exotic animal neighborhood and enjoy a Halloween themed animal show, costume contest and lighted pumpkin path! Friday and Saturday 6:30pm-8pm, 400 River Road Salinas. $24 for adults and $16 for children. For reservations call 831-455-1901 x3.
Friday
MY Museum gears up for Halloween today during a Pumpkin Harvest Hoedown! This fun pumpkin carving and decorating event will get your kids in the spirit for candy and costumes! 3pm-4:45pm, 425 Washington Street, Monterey. $5. Call for reservations to reserve a pumpkin, 831-694-6444. Head out on a special Sunset Cruise with Elkhorn Slough Safari this afternoon. Warm up in the brisk fall weather with hot chocolate and refreshments while watching playful sea otters and learning about shorebirds. 3:45pm, Elkhorn Slough, Moss Landing. $38. The Monterey Museum of Art La Mirada hosts an opening preview celebration for the new Pop Icons: Andy Warhol and Roy Lichtenstein exhibit. Guests are encouraged to don their finest pop icon attire. 6pm, 720 Via Mirada, Monterey. $25 or $10 for MMA members. Free wine and entertainment? Sign me up! Downtown Pacific Grove stays up late tonight for the popular Wine, Art and Music Walk. Many downtown businesses open their doors for special art displays, refreshments and live music. 6pm-9pm, Pacific Grove. Free admission. Bullwacker's presents 5Deep on the patio. Grab a drink and enjoy their rock n' roll vibe. 8:30pm, 653 Cannery Row, Monterey. No cover. London Bridge Pub on Fisherman's Wharf will host Rex Wheeler tonight. Bring your friends and enjoy Rex's smooth electric acoustic tunes. 9pm, 256 Figueroa St., Wharf #2, Monterey. No cover.
Saturday
Time to wake up for a hike through Fabulous Ferns and Redwoods! Guides from the Monterey Peninsula Regional Parks District will set out on a 3.3 mile hike in the Garzas Canyon to enjoy an array of wildlife. Don't forget to bring water, snacks, lunch and good hiking shoes. 9am, East Garzas Trailhead, Carmel Valley. Carmel-by-the-Sea combines its 95th birthday and Halloween today for a special parade around the commercial district on Ocean Avenue. Adults, children and their pooches are encouraged to dress up in their favorite costumes. Participants can also enjoy a $5 hot dog lunch at the Sunset Center and trick-or-treating at Carmel Plaza. 11am-3pm, Ocean Avenue, Carmel-by-the-Sea. Looking for a fun Halloween activity for the kids that is also educational? The Pacific Grove Museum of Natural History will teach tots about snakes and spiders at today's Science Saturday. Kids can even get their hands on these live creatures and afterwards trick-or-treat around the museum. 11am-3pm, 165 Forest Avenue, Pacific Grove. Free admission. Earthbound Farm gears up for Halloween with a workshop on Fanciful Pumpkins and Corn Husk Dolls. Watch as master pumpkin carver Tami Williams transforms the look of these ordinary gourds with unique techniques. You can even purchase your own pumpkin and try these new tricks for yourself or learn how to make a doll using corn husks! 11am-3pm, 7250 Carmel Valley Road, Carmel. Free admission. Kids in need of a sugar fix? The Lighthouse District in Monterey will be passing out sweet treats to kiddos in costume during Halloween on Lighthouse. Look for participating businesses with balloons and posters. 3pm-5pm, Lighthouse Avenue, Monterey.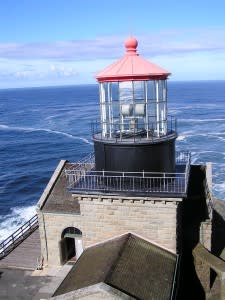 Caution, this next event is not for the easily spooked! The Point Sur Lightstation in Big Sur will set out on a special Ghost Tour in the spirit of Halloween tonight. Actors and story-tellers will recount frightening sightings of spirits and poltergeist activities. Good luck going to sleep tonight. 5:15pm, Highway One, Big Sur. $60 donation. For reservations call 831-649-7139. The Mucky Duck in downtown Monterey hosts Blues at Eleven tonight on the patio. Come out and see why this lively group won 2010's Monterey Bay Blues Festival Battle of the Bands! 6pm-9pm, 479 Alvarado Street, Monterey. Free admission. Have you ever been scared by music? The Ensemble Monterey Chamber Orchestra plans to scare the audience with their performance tonight! Music to be Scared By will include David Del Tredici's Dracula, Michael Daugherty's Dead Elvis and Bach's Toccata and Fugue in D minor at Monterey Peninsula College Music Hall. Don't miss a special pre-concert talk from Conductor John Anderson at 7pm. 8pm, 980 Fremont Street, Monterey. $28 for adults, $20 for seniors and students. An earth-shattering number of bands rock the house tonight at Jose's Underground Lounge. Thirty9FingerS, Cold Morning, Death Alley Motor Cult, DWP and Death Alley Motor Cult celebrate Halloween a little early with head-banging tunes. Costumes encouraged. 8pm, 638 Wave Street, Monterey. Blind Pass performs live tonight at Bullwacker's. The eclectic group focuses on covers from alternative rock, hip-hip, classic rock and more. 8:30pm, 653 Cannery Row, Monterey. No cover. Microtonic Harmonic performs at Fernwood Tavern tonight. This diverse quartet sticks to their bluegrass roots but aren't afraid to dabble in gypsy jazz and funk using a banjo, guitar, string bass and mandolin. 9pm, 47200 Highway One, Big Sur. Free admission. Casey Frazier plays original Americana and folk music tonight at London Bridge Pub. 9:30pm, 256 Figueroa St., Wharf #2, Monterey. No cover.
Sunday
Head on over to the Carmel Plaza and enjoy music from local "Up and Comers". Today's performance will be from young harpist Liyanna Sadowsky. 2pm-4pm, Ocean Avenue and Mission Street (next to Carmel Coffee & Cocoa Bar), Carmel-by-the-Sea. Free admission. Rest up for Halloween tomorrow and relax at the Mucky Duck during Reggae Sunday with Tony Miles. Tony is a one-man reggae band that does not disappoint! 4pm-8pm, 479 Alvarado Street, Monterey. Free admission.