This year's Monterey County Fair theme, "High Tides and Carnival Rides," encompasses a lot of the county's favorite things: beaches, cars, surfing, the fair's popular livestock displays and its carnival rides.
The fair's official poster perfectly captures this theme with its whimsical take featuring critters from the fair's popular livestock displays and auctions, including a cow, horse, goat, rabbit, ewe, rooster and pig frolicking on the beach with a "woodie" station wagon and surfboards with the fair's carnival rides in the background.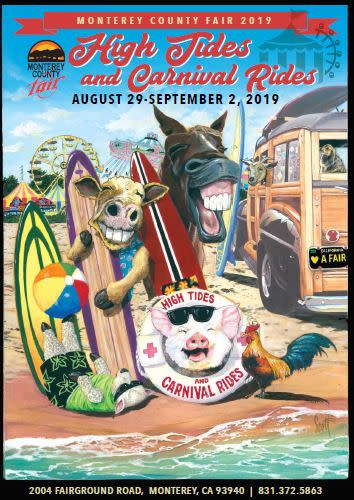 The poster was designed by artist Scott Westmoreland, who is well known for his surf, ocean, and woodie car-themed work. He also created official posters for the fair in 2009, with "Reel in the Fun," in 2013 with "At the Heart of it All," and in 2015, with "Farm Fresh Fun."
Westmoreland began his career as an illustrator in the entertainment industry as an artist for major theatrical productions nationwide, including the Broadway stage. He has also worked with the Walt Disney Company and MCA Universal, later becoming a full-time staff artist at Disney. Westmoreland created numerous marketing, merchandising and collector edition pieces for Disney, as well as countless conceptual and developmental campaigns for Michael Eisner.
Westmoreland later rejoined the freelance world and is known as a "top 100" seller on Art.com. Westmoreland has been featured by television shows like Fox's "Trading Spouses," ABC Family's "Knock First," and in publications like "Decor" and "Total Art Licensing."
Westmoreland's Monterey County Fair art will be featured through the course of the 2019 Fair as the Fairs' graphic identity. His Monterey County Fair art will be seen as the 2019 poster and shown in all of the merchandise, including T-shirts, sweatshirts and souvenirs.
"We are thrilled about the 2019 Monterey County Fair theme, it ties in a lot of our favorite things, including the beach, surfing, livestock and carnival rides," says Kelly Violini, Monterey County Fair CEO. "We hope that everyone can come out and join us for this year's fair."
The 2019 Monterey County Fair will run from Thursday, Aug. 29-Monday, Sept. 2, at the Monterey County Fair & Event Center, 2004 Fairground Road, in Monterey.