Monterey County works hard to make our communities the very best places to live and visit; to support healthy lifestyles, create jobs and surround ourselves with a thriving environment. We take personal responsibility to protect our destination's incredible natural assets and pristine landscape, recognizing the importance of sustainability. To that end, we've put together a few easy tips to travel like a local and help keep each moment that you enjoy today as pristine for the visitor of tomorrow.
Explore the Road Less Traveled
Yes, Monterey County is full of Instagram-worthy bucket list sites. The world-famous Bixby Bridge in Big Sur and the iconic Lone Cypress in Pebble Beach are just a few examples. But consider exploring the lesser known gems to avoid the crowds, while still experiencing authentic Monterey County. Discover the River Road Wine Trail in the Salinas Valley, which is dotted with award-winning wineries and picturesque valley views. Continue on to Pinnacles National Park to witness its unique towering rock spires and a diverse range of flora and fauna including the California condor. You'll be glad you ventured off the beaten path, as Robert Frost concluded in his iconic poem The Road Not Taken, "I took the one less traveled by, and that has made all the difference."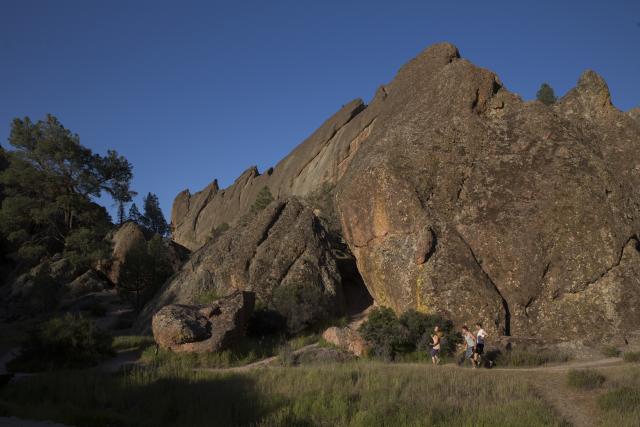 Plan Ahead
Before your next trip be sure to do your homework. Research routes, parking and rest stops or stop by the Monterey Visitors Center to gain local knowledge and insider tips. For example, did you know that Monterey has a free trolley? Yes, a free trolley that runs between downtown Monterey and Cannery Row. It runs on weekends throughout the year and seven days a week from Memorial Day to Labor Day. Driving down to Big Sur? Make sure to visit the restroom before you go as public restrooms are sparse in that area. Visit BigSurVisitorsGuide.com for detailed information and a list of public restrooms. Planning on camping? Book ahead to secure a safe and legal campsite for your tent or RV. And remember, camping is illegal along Highway 1 and non-designated campgrounds. A little research will save you time, money and your sanity!
Shop Local
Take home a meaningful Monterey memento. Not only will you go home with a unique painting or piece of jewelry, you will be supporting local artisans as well. Carmel-by-the-Sea is full of boutique art galleries and unique shops. Consider purchasing local wine, olive oil or honey to savor when you return home. 
Protect & Conserve
You can help preserve the beauty of Monterey County for generations to come by adhering to practical habits. Avoid a #TravelFail and stay on designated trails and keep out of closed parks, trails and private property. Make sure to dispose of waste and recyclables in designated receptacles, and take a moment to pick up loose trash to leave the land better than you found it. Just like at home, conserve water when brushing your teeth or taking a shower, and turn off the lights before leaving your room for the day. And don't forget your reusable shopping bag and refillable water bottle!
Travel Midweek or in the Off-Season
Luckily, it's always ON season in Monterey. No matter the time of year, Monterey County is a great place to visit. Consider travelling during the winter months to see the sights with less crowds and enjoy shoulder season lodging discounts. Or, take a midweek vacation for similar benefits. It's a great way to experience the magic of Monterey County while saving time and money.
Make every moment sustainable on your next trip to Monterey County. Our local residents, businesses, wildlife, flora, lands and seas appreciate it! Find more tips and information at SeeMonterey.com/Sustainable.