Unique Thanksgiving Food & Wine Pairing Ideas from Culinary Experts & Winemakers on The Monterey Peninsula
Hosting a Thanksgiving dinner at-home is a great way for you to celebrate the season of gratitude with friends and family. But, more often than not, the mere concept of planning a Thanksgiving dinner at-home can lead to anxiety, since it's a more labor-intensive meal than most dinners. By planning your Thanksgiving dinner menu weeks in advance, you'll reduce stress and make the process more enjoyable, since you'll be organized well before the big holiday.
To help you create a wonderful Thanksgiving dinner that your guests will love, featured here are unique Thanksgiving Food & Wine Pairing Ideas from culinary experts and winemakers around The Monterey Peninsula.
Thanksgiving Appetizer & Wine Pairing Idea
Before you sit-down for Thanksgiving dinner, offer your guests prepared appetizers to help stave off their appetite, and give them an opportunity to relax and mingle while the dinner is still being prepared.
Chef Bert Cutino, Co-Founder & COO of The Sardine Factory in Monterey, recommends pairing Morgan Chardonnay (or "any of the other great Monterey County Chardonnays") with The Factory's Oysters Rockefeller & Hollandaise Sauce. Below is their delicious recipe.
The Factory's Oysters Rockefeller & Hollandaise Sauce
(Appetizer Serves 8 - 3 per person)
Ingredients:
24 ea        Raw Oysters - Medium Size
2 cups      Local Organic Baby Spinach
½ cup       Green Onions - chopped
1 tbsp       Granulated Garlic
1 ea          Garlic Clove - chopped fine
1 cup        Parmesan Cheese - grated
1 cup        Breadcrumbs (Panko)
2 slices     Bacon - cooked crisp and finely chopped
2 tsp         Parsley - finely chopped
1 tsp         Tabasco
1 tsp         Lea & Perrins Worcestershire Sauce
5 tbsp       Unsalted Butter (1 ½ sticks)
2 tbsp       Pernod
1 lb           Rock Salt – for service of oysters
Procedure:
1. Preheat oven to 450 degrees.
2. Cook spinach down, drain; then add the chopped green onions, granulated garlic and finely chopped garlic clove and put into a food processor and combine mixture till well blended. Set this mixture aside in a bowl.
3. Combine the remaining ingredients; and put into the food processor and mix until it is well blended. Set this mix aside in a separate bowl.
4. Take one half of open shell and lay about a tablespoon of the spinach mixture into the open shell. Then put the raw oyster on top of that mixture. Cover the raw oyster with a portion of the breadcrumb mixture.
5. Do the same with all 24 oysters and bake in a 450 degree oven for about 8-10 minutes, or until golden brown on top.
6. We suggest Hollandaise Sauce for this appetizer, which is below:
12 ea.        Egg Yolks
1 Tbsp.      Vinegar
4 Tbsp.      Cold Water
1 Tbsp.      Corn Starch
Pinch        Salt & White Pepper
Dash         Tobasco
1 tsp.         Lemon Juice
1 Lb.          Melted & Clarified Butter
Mix egg mixture thoroughly before putting bowl over hot water bath in a pot. Mix until eggs are thick and lemon colored then thread warm butter into egg mixture slowly while beating with wire whip. Add the salt, white pepper, Tabasco, and lemon juice and add more to your liking.
For Serving:
7. On a 9-inch plate place some of the rock salt and then place three of the baked oysters on top of the salt. Lightly pour the Hollandaise sauce criss cross on top of the oysters on each plate and serve.  Three oysters to a plate is one serving as an appetizer.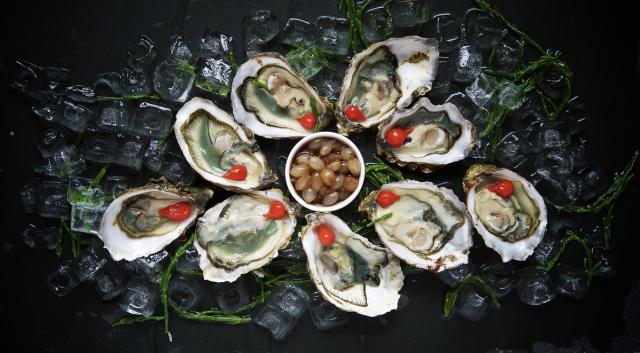 Thanksgiving Entrée & Wine Pairing Idea      
Instead of plating each meal, create a buffet table. This enables you to focus on preparing the food, while the guests have the opportunity to serve themselves the dishes and portions they desire. Since everyone has particular tastes, this makes life easier for both you, as the hostess, and your guests.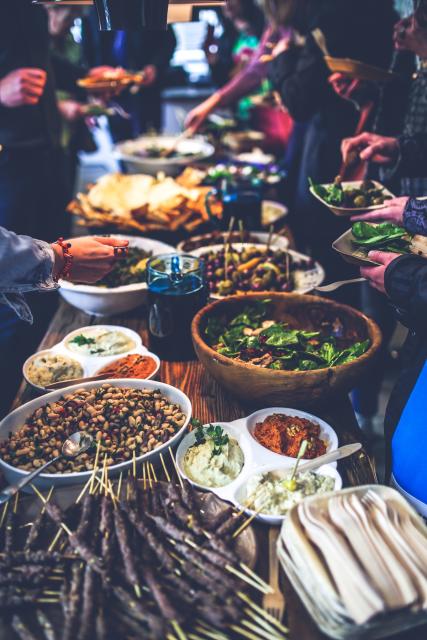 To complement a roasted Turkey or succulent Prime Rib, a wonderful side dish to prepare is Butternut Squash Risotto & Big Sur Chanterelle. Courtesy of Matt Bolton, the Executive Chef at InterContinental The Clement Monterey, featured below is their tasty recipe.
Butternut Squash Risotto
Ingredients:
1 ea          Butternut Squash – diced
1 ea          Medium Yellow Onion - diced                         
1 clove      Garlic - chopped                                    
6 oz          Parmigiano-Reggiano - grated                     
¼ lb          Unsalted Butter                                        
1 qt           Chicken Stock                                           
½ bunch    Parsley - chiffonade
Kosher salt & pepper
Procedure:
Melt butter in pot over medium high heat.  Add onion and cook until translucent and soft. Add garlic and cook until golden. Add butternut squash.  When squash is sizzling hot, add 1 ladle of chicken stock while stirring constantly. Reduce liquid, add more stock until squash is almost cooked through (al dente). Finish with 2 tbsp butter, grated parmesan and chiffonade parsley.
Big Sur Chanterelle
Ingredients:
8 oz            Chanterelle
1 ez            Shallot
1 clove        Garlic
½ bunch      Thyme - picked
2 tbsp         Blended oil
1 tbsp         Butter
Kosher salt & pepper (to taste)
Procedure:
Heat sauté pan over medium high.  Add oil, chanterelles, kosher salt & pepper. Once mushrooms have a glossy sheen about 1 min, add butter thyme, garlic, and shallot.
Serve risotto in warm bowls, with chanterelles and garnished with garden herbs.
When it comes to wine pairing recommendations for this dish, Katie Hoenes, Food & Beverage General Manager and Certified Sommelier at InterContinental The Clement Monterey says, "There are so many sensational red and white wine pairings for this seasonal risotto dish.  Depending on your preference of red of white, there are plenty of varietals to choose from. A rich and full bodied white wine like a viognier or barrel-aged chardonnay pairs extremely well with the butternut squash and creaminess of the risotto. If a red wine is more to your liking a classic pinot noir or Rhone blend would tie together and balance out the earthiness of the dish."
If you are serving a traditional Roasted Turkey for Thanksgiving Dinner, Carmel Valley Winemaker & Co-Founder of Joyce Vineyards, Russell Joyce says that your best wine pairing option is a "Pinot Noir, (as) it's a number one all-around pairing with Turkey. Turkey has subtle flavor and can easily be overpowered by bold wines such as Cabernet. This is why a delicate and feminine wine such as Pinot noir pairs perfectly."
However, if you want to serve both Red and White wines for Thanksgiving, Joyce recommends that "White wines chosen for Thanksgiving should generally have a nice kick of acidity and even possibly a hint of sweetness. German Riesling or Austrian Grüner Veltliner are both great options as they can have a subtle fruit/sweet component, while having bright acidity on the back end of the palate which finishes clean and fresh."
He continues by suggesting that "Red wines chosen for Thanksgiving should be a bit more delicate. Rich dark high intensity red wines such as Cabernet should be avoided. The flavors in a Thanksgiving dinner call for more nuanced red wines such as Pinot noir, Gamay Noir or Beaujolais. These are all wines with a feminine energy allowing the fruit and the food to share the stage equally."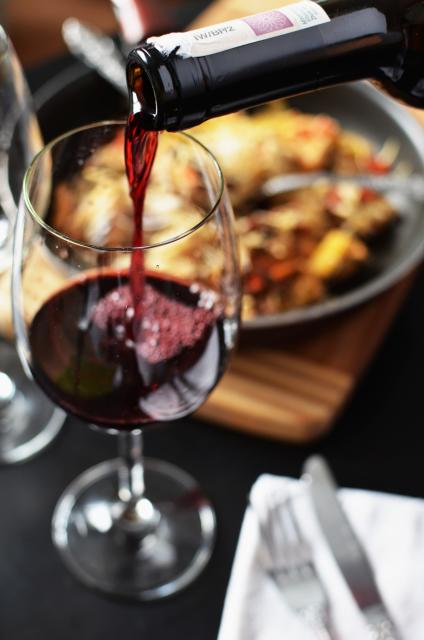 Thanksgiving Dessert & Wine Pairing Ideas
When it comes to serving dessert after Thanksgiving dinner, the first thought that pops into mind is most likely a traditional Pumpkin Pie. Since this signature dessert is always a popular treat amongst guests, it's the ideal dessert to whip up for Thanksgiving.
Joyce recommends pairing Pumpkin Pie with "wines (that offer) a touch of sweetness, but bright acidity. Sparkling, Riesling and Gewürztraminer all come to mind, as they are vibrant and fresh, but can contain a touch of sweetness."
Now that your taste-buds are tantalized, it's time to get started on your Thanksgiving dinner plans. Cheers to a warm and wonderful holiday season!
Don't want to deal with the fuss of creating your own Thanksgiving meal? Here's a list of tasty Thanksgiving dinners offered at Monterey County's finest restaurants.