Who knows Monterey County best? Locals do! That's why we asked restaurant owners, wine makers, artists, musicians, entrepreneurs, and community members that call this place home what they love most about Monterey County!
Whether you're a resident looking for new spots or a visitor looking for some hidden gems in Monterey, meet our locals and hear their recommendations of the best things to see and do in the destination.
Every month we'll share favorite local spots to eat, shop, drink and explore outdoors in our new series, Inside Monterey. Now is the moment to explore an unknown side of Monterey County. Get the inside scoop from the people that live here and start adding these local favorites to your next itinerary.
MEET CHANTERRIA MCGILBRA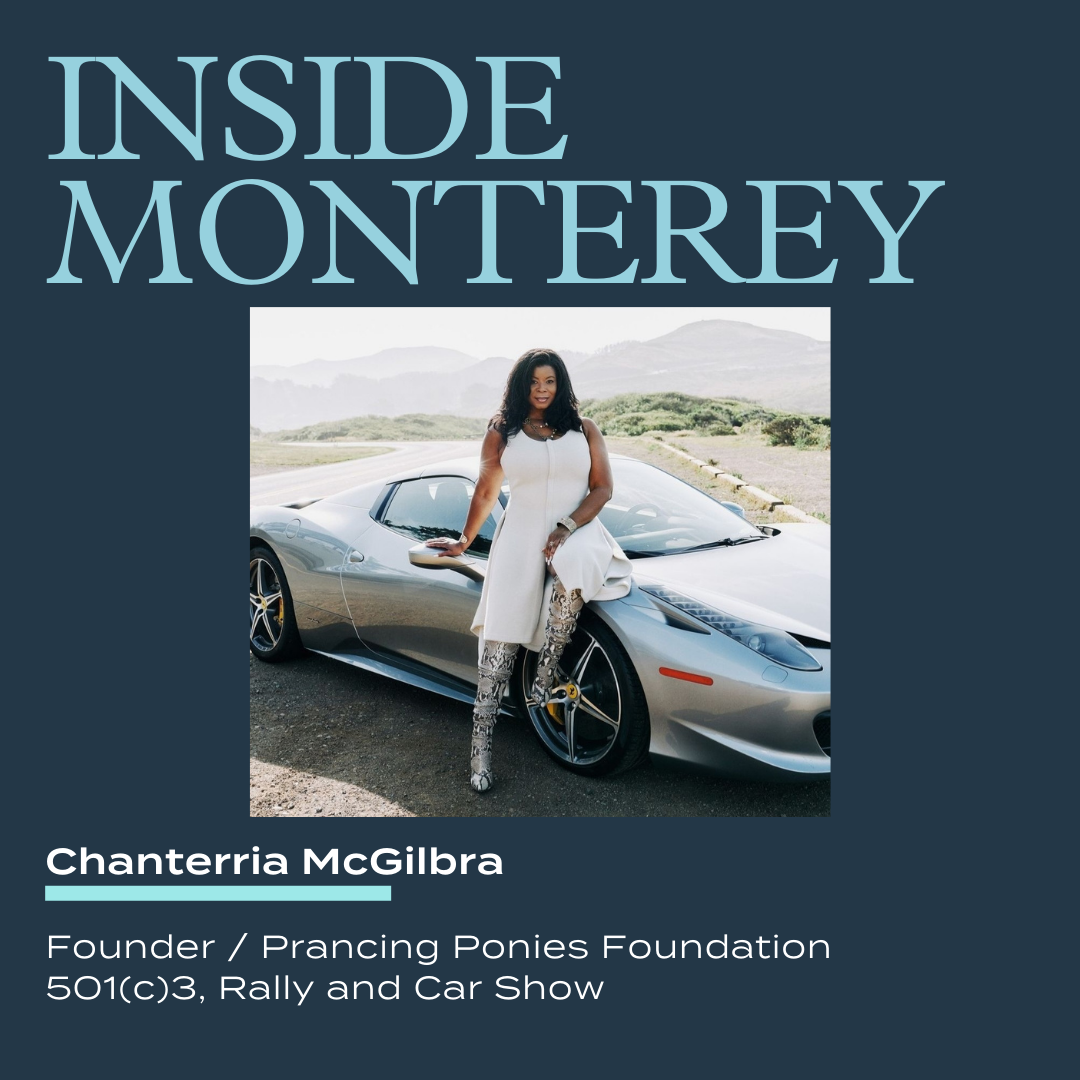 Founder, Prancing Ponies Foundation 501(c)3, Rally and Car Show
This month, in honor of Monterey Car Week, we spoke with Chanterria McGilbra, the founder of the Prancing Ponies Foundation 501(c)3, Rally and Car Show. The Foundation provides funding to enable low-income women to attend workshops, seminars, and conferences they could otherwise not afford. It also provides women in need a stipend to supplement the income sacrificed to better their lives by attending leadership enrichment events. 
Prior to founding Prancing Ponies, Chanterria received her BA from CSU Hayward and her MBA in Entrepreneurship from the International University of Monaco. After graduating, she was recruited as VP of an IT startup in Brussels, Belgium. She then came back to the Bay Area for a position at a biotech startup. She currently lives between Monaco and San Francisco, but spends lots of her time in Monterey County, especially during the world-famous Car Week.  
Chanterria started the Prancing Ponies Foundation, she was adamant about doing something more fun and exciting than the usual fundraising dinner. She remembered back to driving her Ferrari in San Francisco one afternoon when she noticed a group of young girls staring at her. One of the girls said, "Miss, we love your car!" And she replied, "I expect you to get one just like it when you grow up." And that is how the idea of the Prancing Ponies Rally and Car Show came about, to empower women and inspire girls. It is the first all-female car show during Monterey Car Week, and the first all-female Ferrari rally in the world. 
The Prancing Ponies Rally and Car Show will return to Monterey Car Week this year and will take place on Ocean Avenue in Downtown Carmel-by-the-Sea on August 18 from 11am – 4pm. For the first time this year, there will also be a fashion show during the car show. 
FAVORITE THING ABOUT MONTEREY CAR WEEK
All of the amazing events. Car Week creates such a community and it's so great to catch up with everyone, especially after these two years where everything was on hiatus. It's like a big family reunion every year and I'm so excited to see everyone.
FAVORITE CAR WEEK EVENT (OTHER THAN YOUR OWN)
I love the events at the Barnyard and Quail Lodge. This year the 24th annual Ferrari Event will be taking place at the Barnyard and features vintage and new Ferrari automobiles and a chance to talk to both owners and representatives from the Ferrari Owners Club. The nonprofit beneficiary for the event this year is Big Sur Food & Wine, which has arranged a wide representation of local wineries to be featured.
Quail Lodge will be hosting The Quail, A Motorsports Gathering which will feature rare collections of fine automobiles and motorcycles in a garden-party setting, as well as Bonhams and the 25th Annual Quail Lodge Auction. 2022 promises a curated lineup of the highest quality motorcars, marketed to the largest worldwide audience in the business. 
AS A SUPPORTER OF FEMALE ENTREPRENEURS, WHAT ARE SOME OF YOUR FAVORITE WOMEN-OWNED BUSINESSES IN MONTEREY COUNTY?
Local fashion house, Deja Vu will be involved in our Prancing Ponies Fashion Show this year, they are so great. They are located in Carmel and provide unique styles for men and women. We also love Heidi's Salon in Carmel who will be providing hair and makeup for our Prancing Ponies Fashion Show. And of course, I have to give a shout out to Monterey Touring Vehicles who is one of our sponsors, they provide the opportunity to rent classic and vintage cars and drive them around beautiful Monterey County. 
FAVORITE RESTAURANT
Demetra's is a go to for lunch or dinner, they have amazing Mediterranean food. I head to Edwin's for live music and after dinner dancing. And Dawn's Dream is a favorite for wine tasting. 
STAYCATION
Monterey Plaza Hotel is so fun to stay at, it's right in the middle of everything. And InterContinental The Clement Monterey is so great as well.
INSIDER TIP FROM MONTEREY LOCALS
I encourage everyone who visits Monterey County to explore the Salinas Valley and other lesser-known parts of the destination. There are so many hidden gems in the nooks and crannies of Monterey County, so many unexpected treasures to be discovered here! 
Learn more about the Prancing Ponies Foundation 501(c)3, Rally and Car Show and other Monterey Car Week events.