Monterey has a rich Italian history that I'm proud to be a part of. The Italian culture is filled with food, friends and family and olive oil.  Olive oil was an important part of my childhood, so having an Olive Oil business is like coming home.
I grew up on Spaghetti Hill, as the locals call it, which got that name from the rich Italian history in the area. When Italian fishermen returned home from work their wives would cook spaghetti and fry fish (in their garages) for the men to eat for lunch - the smells were amazing and thus - the name, Spaghetti Hill.
I also spent much of my childhood on the wharf where my grandparents had a house right across the street.  It's not there anymore but the memories will always be with me.  I hung out there all the time and played among the rocks and pillars of the wharf.
My grandparents had a very successful business, called Peninsula Fish Market, on Wharf 1.  I was working there by the time I was 9 years old and loved it. I learned a lot from my grandmother who was an amazing businesswoman who shaped my view of what a strong woman can accomplish.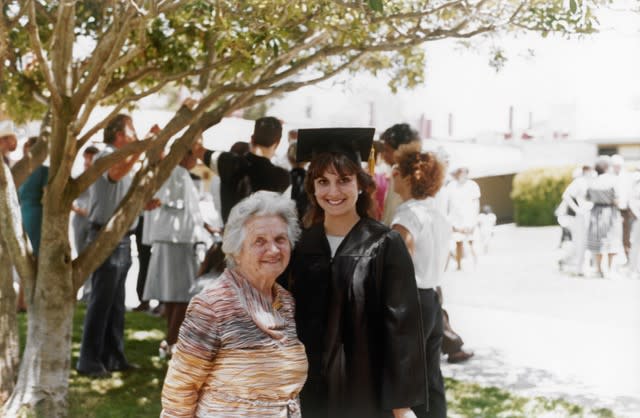 *Me and my grandmother in 1987 - Cal Poly graduation
Watching my family work hard to make a successful business has always motivated me to know that anything is possible. 
As I see retirement on the horizon, (not really retirement – just a new direction) I wanted to plan a life that was fun and adventurous. I wanted to combine my love of travelling to Italy and my love for Monterey into a business that could provide my customers a product that will enhance their life and mine. 
The perfect opportunity presented itself to me - Extra Virgin Olive Oil.  Currently, I am importing extra virgin olive oil and olive wood products from Italy, along with olive oil from California, hand-made aprons, olive oil soaps and lotions that are handcrafted by a small California business.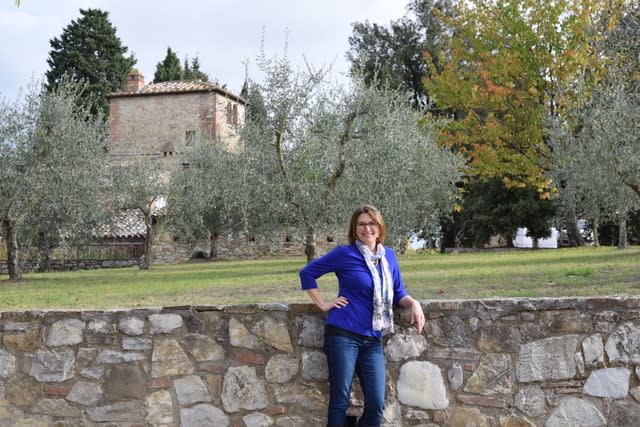 *In Italy on an Olive Oil buying trip
Currently, Ruccello Olive Oil is available online and at private Grove Gatherings, which is a perfect way to experience olive oil tasting, food pairings and learning about the magical properties of olive oil. 
Monterey is a special place filled with history, creative businesses and wonderful food and now you can mix both with delicious olive oil products! Enjoy!