Monterey County is large and offers so many outdoor activities for any skill level or interest. It is the perfect destination for your family's next adventure. Every #montereyfieldtrip will be filled with relaxation, education and memories to last a lifetime. This itinerary will cover 2, 3, and 4 days!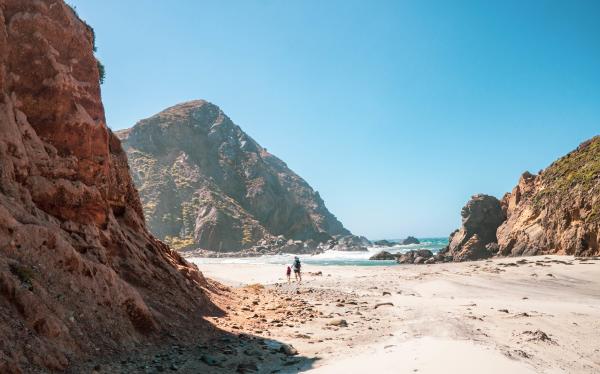 Day 1
Morning
Go Tide Pooling: Encompassing 6,094 square statute miles, Monterey Bay National Marine Sanctuary (MBNMS) is one of the richest, most diverse marine environments in the world; including lush kelp forests and one of the deepest underwater canyons in North America. But something extra special are the tide pools all along the coast. Start your morning watching the sunrise over the bay and be one of the first on the beach finding starfish, anemone, and hermit crabs. Bring some water shoes with good grips for climbing out over the rocks. My favorite place to tide pool is at Asilomar State Beach.
Afternoon:
Monterey Bay Aquarium: Continue your seaward adventure with a visit to the aquarium! The Monterey Bay Aquarium is world renown for not only it's diverse collection of sea creatures, but for its massive scale conservation efforts. The aquarium is home to 200 exhibits devoted to the diverse habitats of Monterey Bay. It hosts more than 80,000 animals and plants representing over 1,700 species of fishes, invertebrates, mammals, reptiles, birds and plants found in Monterey Bay and other marine habitats worldwide. This is a must-do while in Monterey! (The Aquarium is currently closed - please check their website for updated information) OR...
Monterey Zoo:  The Monterey Zoo is committed to conservation and education and is a perfect place to spend an afternoon with your family. The Zoo started as a rescue for animals taken from bad situations and has grown to become a place for visitors to learn about these exotic animals up close.  With a passion to educate people about animals and how to preserve the places they call home, the Monterey Zoo is fun way to spend your afternoon Monterey Zoo was proudly accredited by the Zoological Assoc. of America in June of 2020.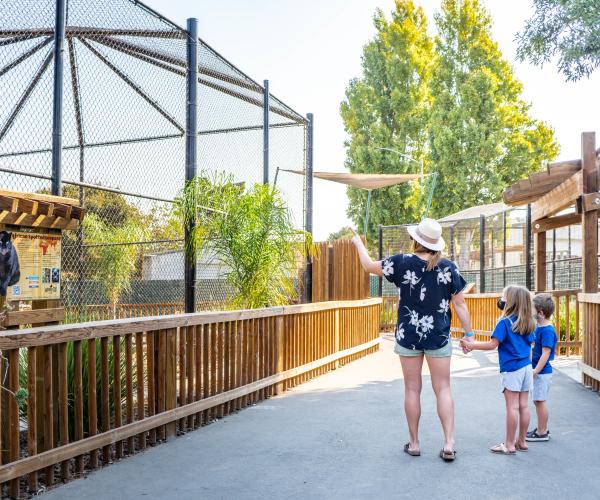 THE MONTEREY ZOO IS A GREAT PLACE TO INTRODUCE THE KIDS TO HUGE CONSERVATION EFFORTS
Evening:
Scenic Drive & Sunset: There are two iconic scenic drives worth doing in Monterey.
17 -Mile Drive: The first is the famous 17-mile drive that takes riders along Pebble Beach and out to the Lone Cypress tree. This drive does cost riders a $10.50 entry fee, but offers many places to stop and watch the sunset over the coast.

Big Sur Coastal Drive: This drive is what many people think of when they think of the California Coast. It takes riders along the Pacific Coast Highway, through a redwood forest, and across the iconic Bixby Creek Bridge. Stop at an overlook with a bottle of wine (or carafe of coffee) to watch the sunset over this rocky coastline. (Be sure to get gas before you get started because much of this drive is coastal with no services.)
Day 2
Morning
Get your morning started with a hike with the kids. The diverse landscape of Monterey County means you've got a lot of choices for the kind of hike you may want to take. Here are 5 suggestions for an easy, but scenic hike in Monterey County.
Garapatta State Park: This coastal state park, located in Carmel just north of Big Sur, has a few easy and very rewarding hikes. We chose to do the Coastal Trail which takes you from the trail head along the rocky coast. The trail is pretty level with options to trek closer to the water or stay up by the hill. Get here early because this is a popular spot!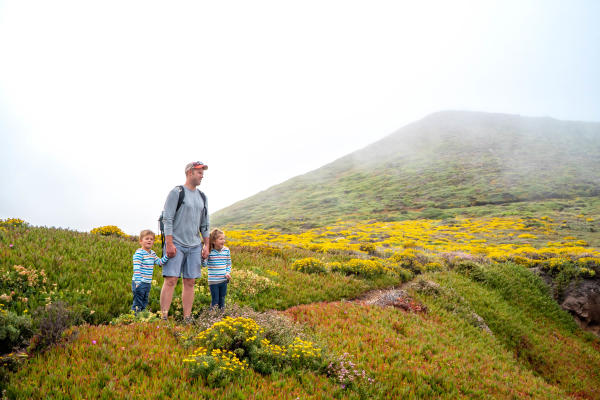 Garland Ranch Regional Park: This park located in the heart of Carmel Valley, and is home to a variety of landscapes; from the willow covered banks of the Carmel River through the cottonwood-sycamore stands of the old floodplain. Atop the northern crest of the Santa Lucia Mountains, the trails encounter open oak savannas and spectacular vistas. We did the Buckeye Nature Trail and took a 0.1 additional Siesta Point trail to get up to an epic overlook. Bring your swimsuit if you'd like to take a dip in Garzas Creek which is along a peaceful, shaded trail that reaches a secluded side canyon of redwoods.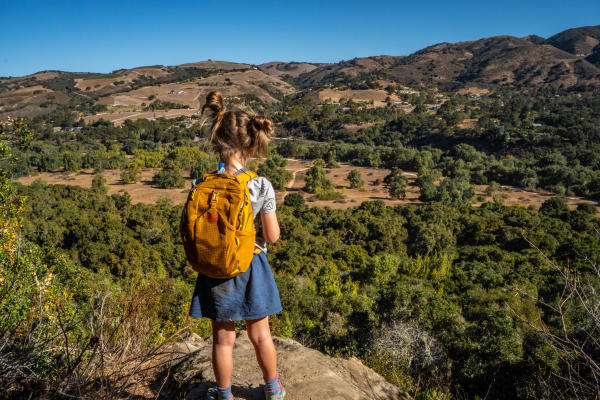 Point Lobos State Reserve: This park offers many easy hiking trails, all with rewarding views. Point Lobos is home to rare plant communities, endangered archeological sites, unique geological formations, and incredibly rich flora and fauna of both land and sea. We chose to do the Mound Meadow Trail over to the Shore Trail and followed that south to China Cove where we saw sea lions and had an epic view of Bird Island! (There is a $10 day pass fee for this park)

Pinnacles National Park: There are two sides to this park, but the West entrance is only about 90 minutes from the Monterey Bay, but still in Monterey County. As a National Park, it boasts some incredible and unique hikes through chaparral, oak woodlands, and canyon bottoms. Hikers enter rare talus caves and emerge to towering rock spires teeming with life: prairie and peregrine falcons, golden eagles, and the inspiring California condor. Head to my Pinnacles National Park with Kids blog post for more information on this American gem.

Freemont Peak State Park: Located on the border of Monterey County, this unique state park is the perfect spot to hike to and watch the sunrise. Fremont Peak trail is an easy hike and is less than 2 miles round trip. On a clear morning, you can see all the way to Monterey Bay from the peak. Pack a lunch and have a picnic at the top! You can see a short video I created of this hike HERE.
Afternoon
After you stretch your legs this morning, it's time to take a break on board one of Discovery Whale Watch's boats. That's right - you're going whale watching. Monterey Bay National Marine Sanctuary is home to whales year round, so no matter what season, you'll see whales! In the summer expect to see humpback whales daily but we can also view blue whales, fin whales, gray whales (finishing migration), killer whales and a variety of other dolphin species. In winter, it's all about the Gray whale migration. Discovery Whale Watch offers daily whale watch trips which narrated by a marine biologist or naturalist who provides educational and interesting information about whales, dolphins, and a wide variety of marine wildlife. They offer 9:00 AM and 1:30 PM trips & you can pre-register online.
Evening
It's been a long day of adventuring, so take this evening to settle in for a slow walk along Cannery Row, dinner and a sunset on the beach.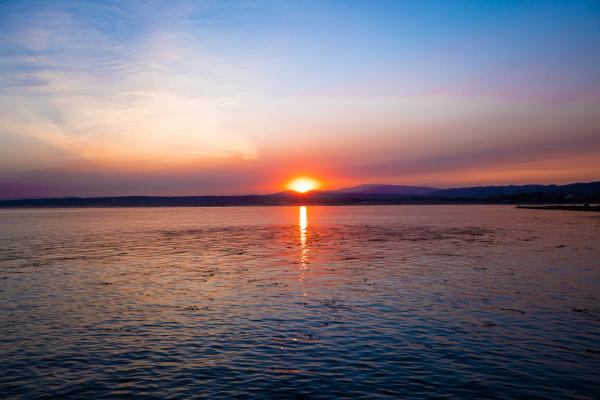 Day 3
Morning
Spend the morning with Adventures by the Sea. This is the premier recreational company on the Monterey Peninsula; providing visitors and locals the opportunity to discover Monterey by land and by sea! Whether you are seeking to spot otters or hit the recreational trails, our shops are truly in the best locations, so you don't have to waste time getting there.
Rent a Surry Bike or E-Bike: Wake up to some fresh sea air as you bike along the Monterey Bay Coastal Recreation Trail on a family surry bike. Or, for the older family, rent an E-bike and adventure down the 17-mile drive trail. You can choose to ride on your own or with a guide. The trail stretches 18 miles Lover's Point all the way to Castroville.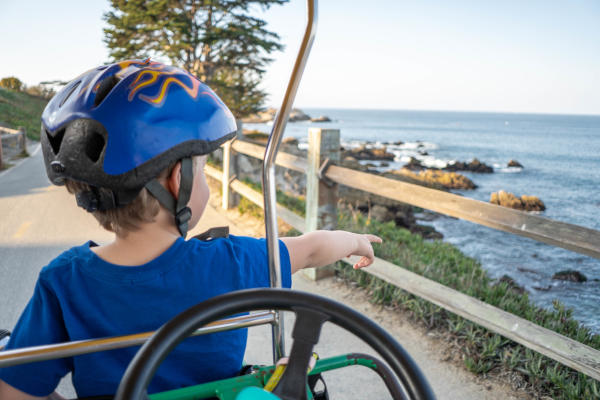 OR
Rent Kayaks or Paddle Boards: If you're wanting to get up close and personal with the sea life in Monterey, it's time to rent a paddle board or kayak. If you're not ready to go it on your own, Adventures by the Sea also offers guided kayaking and paddle board tours!
Afternoon/Evening:
Book an afternoon tee-time at one of the 26 public and private courses (468 holes in all) including courses in sunny Carmel Valley, along scenic Highway 68, and, most famously, along the captivating Monterey Bay coastline. If you're not sure which golf course is right for you, head to See Monterey and compare the courses side by side.
Day 4
All Day
The final day of your Monterey Field trip must be spent exploring the famous wine country on the River Road Wine Trail. The trail is an association of Monterey County winery tasting rooms, located primarily along the River Road / Foothill Road corridor, on the Santa Lucia Highlands bench above the Salinas Valley. The tasting rooms along the trail are charming and intimate. They specialize in limited release vintages and genuine hospitality. Often, visitors will be sampling with the actual winemaker.
On our tour we first visited Wrath Wines. They have a great outdoor tasting room and a gorgeous property. Wrath produces site-driven Pinot Noir, Chardonnay, Syrah, and Sauvignon Blanc from estate vineyard and respected properties in the Santa Lucia Highlands. The staff is so incredibly friendly and I highly suggest bringing home some of their canned chardonnay for your next beach or camping trip.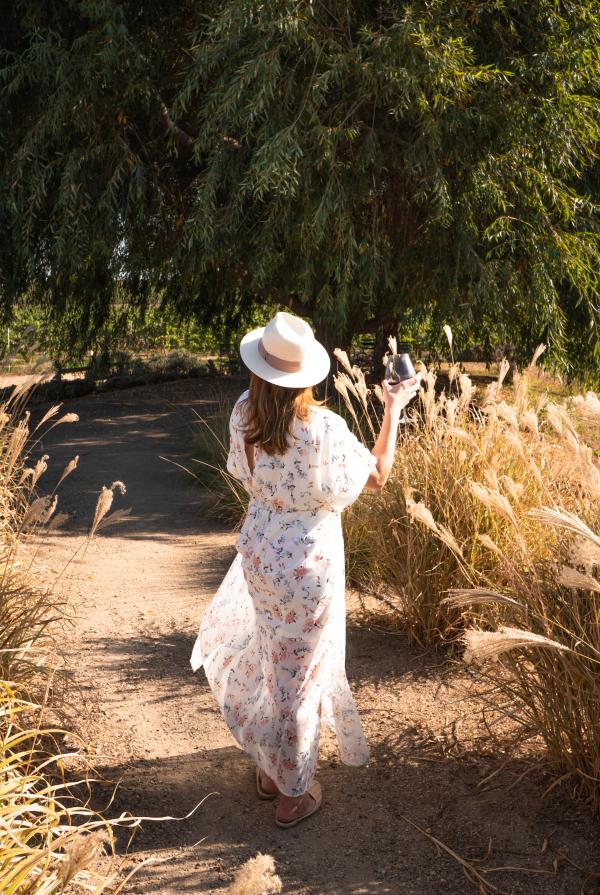 Our second stop was to Pessagno Winery. We were greeted by a cheerful staff and sweet fat farm cat. We sat outside in custom made wine barrel chairs for our tasting while a staff member kept our kids busy feeding the turtles in their pond. This gorgeous vineyard is owned by Ray Franscioni, a third generation Monterey County farmer who is committed to creating wines of distinct character and elegance. I highly recommend stopping in for a full tasting, especially their Central Avenue Pinot Noir or the Red Blend; we came home with a case of each!
Monterey is a fantastic place to bring the kids or getaway on a couples adventure. The dramatic coast lines will draw you in, but it's the culture, diverse experiences and rich history that will keep you coming back. From tide pools, to uncrowded beaches, to locally grown wine, you will come back from your trip to Monterey feeling refreshed and reconnected. It's time for you to give yourself a permission slip to paradise.
To get prepared for your trip in an authentic way, pick up a copy of John Steinbeck's Cannery Row or Grapes of Wrath; both of which were inspired by his time living in Monterey County.