When most people think of the Monterey Peninsula they think of beautiful golf courses, million dollar homes and some of the world's most famous events. Others think of miles of pristine coastline, romantic walks along the water and shopping and dining. But some do not realize the amount of kid-friendly activities available. With as many family friendly activities as there are par fours, Mom, Dad and the little ones can have the time of their lives. Oh, and if the "little ones" are actually teenagers...there is plenty for them to do as well.
The Monterey Bay Aquarium on historic Cannery Row is one of the world's premiere displays of aquatic marvels. The Splash Zone is entirely devoted to kids and kids of all ages and the aquarium as a whole can keep the family interested for hours, but what about the next day?
How about Dennis the Menace Park located by Lake El Estero in Monterey? Hank Ketchum, the legendary creator of the cartoon icon Dennis the Menace made Carmel his home and this park brings the same smile to all who come. Free and open seven days a week, the park is perfect for families and offers a multitude of play structures, tunnels, bridges and a maze. The cornerstone of the park is an actual Steam Engine that can be climbed and played upon, if you're looking for something indoors, try the interactive, hands-on Monterey County (MY) Museum.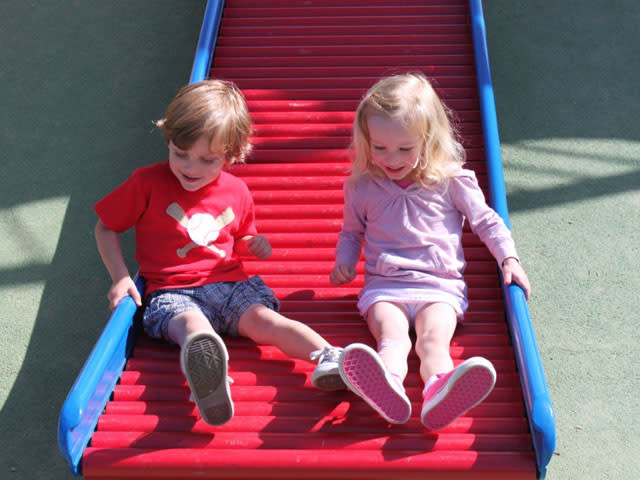 If you are traveling with kids a little older, check out the paddle boats available for rent on Lake El Estero directly behind the park. It's a great time and you can get up close and personal with the ducks, Canadian Geese and swans that make the lake their home (don't forget the breadcrumbs!) Or, for a more radical departure, make a visit to the free skate park also adjacent to Dennis the Menace. With exciting elements to challenge the skills of skateboarders and in-line skaters, this park was created with input from community skaters resulting in a fantastic design overlooking the lake. Between glow-in-the-dark mini golf on Cannery Row, hiking at Point Lobos to kayaking on the Bay, an activity for every member of the family awaits!
Most all of these activities are within walking distance of the Portola Hotel & Spa making a trip to the Peninsula one of ease and most importantly fun! With green grass, picnic benches and the beach just across the street, why not order a delicious lunch to go from Peter B's Brewpub and enjoy a wonderful day!