The Carmel Shakespeare Festival will continue under the direction of Resident Director Kenneth Kelleher with King Lear at the Golden Bough Playhouse's intimate Circle Theatre. The story of the elderly King Lear played by Equity member Julian Lopez-Morillas (Eurydice) has decided to give up his power and divide his realm amongst his three daughters, 'Cordelia' played by Equity member Jennifer LeBlanc (Midsummer), 'Regan' played by Lyla Englehorn (The Winter's Tale), and 'Goneril' played by resident actress Julie Hughett (The Other Place), and give the largest piece of his kingdom to the child who professes to love him the most, certain that his favorite, Cordelia, will win the challenge. The corrupt and deceitful Goneril and Regan lie to their father with sappy and excessive declarations of affection. Cordelia, however, refuses to engage in his game, and replies simply that she loves him as a daughter should. Her lackluster retort, despite its sincerity, enrages Lear, and he disowns Cordelia completely. Lear's friend, the Earl of Kent, played by Jeffrey T. Heyer (Midsummer) tries to defend Cordelia, only to be banished as well. After turning over all his wealth, the evil true natures of the two sisters surface at once. Lear and his few companions, including some knights, a fool, soon realize the co-conspiring against him.
Lear begins with two discount previews on Thursday and Friday, October 20 and 21, at 7:30pm, and opens Saturday, October 22, at 7:30pm, followed by a 2:00pm matinee on Sunday, October 23. Performances continue for a limited run Thursdays through Saturdays at 7:30pm, and Sundays at 2:00pm, through November 6. Performances are in the Circle Theatre of the Golden Bough, Casanova St. between 8th and 9th, Carmel.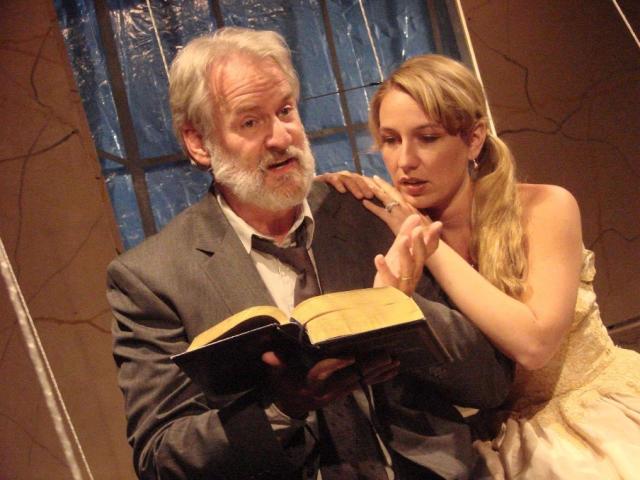 Tickets are available online at www.pacrep.org, in person at the Golden Bough Box-office, Monte Verde between 8th & 9th, Carmel, Tuesdays through Saturdays; 11 a.m. – 4pm or by phone at 831-622-0100. Business hours are Telephone (831) 622-0100 or visit www.pacrep.org for more information.
King Lear is the seventh of nine productions for the 2016 Professional Season. See the list below for other upcoming shows.
Sister Act the Musical, Nov. 17 – Dec. 18, Golden Bough Theatre
Rockin' Wonderland Tribute Concert – Dec. 29 – Jan. 8, Golden Bough Theatre
Our 2016 Season FlexPasses off you the opportunity to save up to 30% off of our regular low prices and gain the flexibility to choose when you attend, what you attend and how often you attend.  Lock in great rates today and choose your specific show dates later.  For more information on the 2016 FlexPasses visit: www.pacrep.org.
Join the PacRep Text Club for exclusive updates, promos and discounts straight to your phone. Text 'PacRep' to 21000 to join.  We will not send more than 6 texts per month and you can opt out at any time.