Discover countless opportunities to tantalize your taste buds with the rich abundance of locally produced foods and wine of Monterey County. No visit here is complete without sampling these delicious "made in Monterey" flavors, fresh from the land and sea.
Reel in Fresh Calamari
A leisurely stroll along downtown's Old Fisherman's Wharf lets you soak up the sights, sounds and smells of Monterey County while watching trawlers unload their fresh catches. And bright lights illuminate Monterey Bay nights once calamari season opens in April, with local fisherman luring these delectable squid from their dark ocean depths. Reap the results of their labors with a visit to Abalonetti Bar and Grill which offers nearly a dozen different squid dishes including their exclusive and very tasty buffalo calamari!
Mouthwatering Mollusks
Monterey is also renowned for the highest quality sustainable farming of abalone. The ocean delicacy used to be exported to Asia because Americans wouldn't eat it. That all changed when "Pop" Ernest Doelter transformed abalone into steaks for his Monterey Wharf restaurant and served them at the 1915 World's Fair in San Francisco.
The Sardine Factory on historic Cannery Row serves steaming bowls of their "world famous" abalone bisque. A succulent, slow-simmered blend of wild steak trimmings, smoked applewood bacon, Madeira wine and scallions.
Dig into the "Salad Bowl of the World"
Thanks to the region's Mediterranean-like climate, Monterey County's Salinas Valley is home to thousands of acres of produce and flower farms. The valley produces nearly 80 percent of the country's leafy greens and spinach along with generous crops of strawberries, tomatoes, broccoli, cauliflower and celery. Bite into these luscious fruits and veggies at local restaurants or one of the destination's many local farmers' markets. Learn more about the "Salad Bowl of the World" and get up close to the local crops with an educational Ag Venture Tour.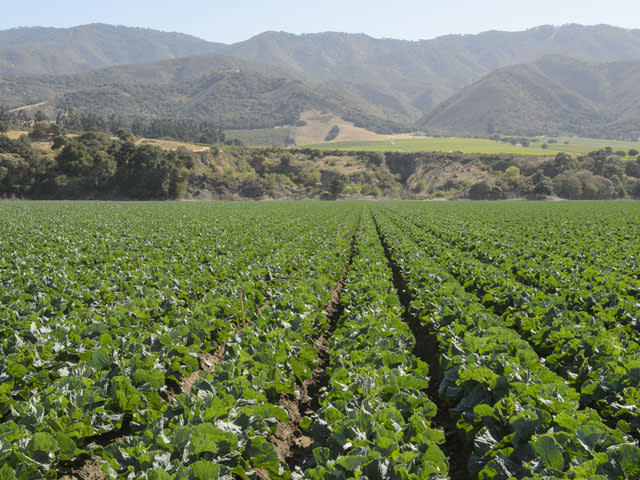 Enter the Heart of "The Artichoke Capital of the World"
Two-thirds of the world's artichokes are grown in Monterey County, with its tiny town of Castroville in particular brimming with purple-flowering artichoke fields. While peak season runs from March to May, you can enjoy artichokes here year-round. Get your fill of this leafy green finger food during the annual two-day Artichoke Festival held in early June. 
Shop for all things artichoke with a visit to Pezzini Farms, finding everything from fire-grilled artichoke hearts and fried artichoke heart mixes to artichoke cookbooks and serving platters. Bit of trivia: Young Marilyn Monroe was crowned Castroville's first "Artichoke Queen" in 1948.
Experience the Magic of Monterey Wines
Warm days and cool nights, Carmel Valley's steep slopes and Salinas Valley's rolling hills all help create Monterey County's vintner magic. There are 40 varietals planted here, with chardonnay and pinot noir among the most popular. Monterey County chardonnays are exceptionally rich in flavor, possessing a nose vibrant with lime, apple, pear and fragrant vanilla with subtle floral notes. Monterey's fruit-forward pinot noirs are driven by cherry, rhubarb and dark cluster fruit with a signature spice component.
Traditional white, hand-lettered signs guide visitors on a wine tasting journey along Salinas Valley's River Road with tasting rooms like Hahn Family Wines and Wrath Wines. And Carmel Valley's wine tasting rooms are only a short stroll from each other, perfect for walking wine tours including Talbott Vineyards, Bernardus Winery and Joyce Vineyards. 
From the freshest seafood and produce to amazing artichokes and delicious wine, your glasses and plates will overflow with the abundance of diverse, must-taste flavors offered in Monterey County.