Tim Wood, Executive Chef at Carmel Valley Ranch, began his culinary career in the Catskills region of New York's Hudson Valley. It was here amongst the area's countless small family farms that Wood learned the importance of local seasonal ingredients — where they come from, how they are grown, and how to be creative with them. This early awareness of quality ingredients planted an initial seed of interest in a culinary career, which continued to sow when Wood enrolled at the Culinary Institute of America at Hyde Park, New York.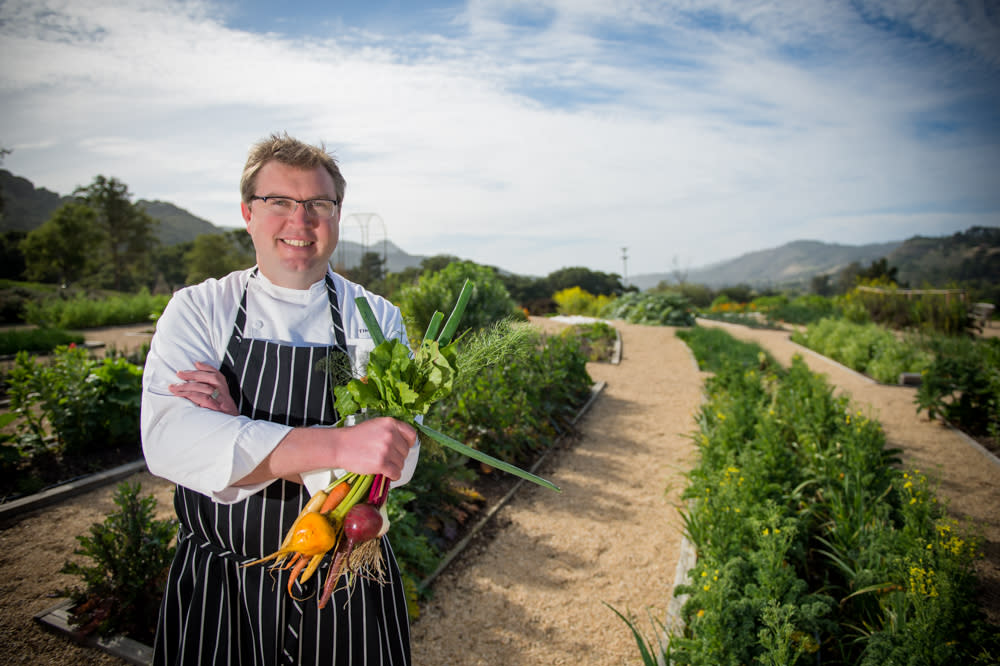 During a three-month cross-country culinary adventure in the spring of 2000, Wood connected with Chef Cal Stamenov at the Bernardus Lodge in Carmel Valley, California, which grew into another key friendship and professional mentoring experience. Chefs Wood and Stamenov worked together, travelling to an array of national and international culinary events. It was during this period that Wood initially became inspired by the wines of the Central Coast, leading him to pursue sommelier certification.
Carmel Valley Ranch is nestled in the heart of California's fertile growing region. The area's rich history of wine growing and sustainable, organic farming is reflected in Chef Wood's fresh, natural and seasonal menus. Fresh seafood comes directly from the waters of the Monterey Coast. Many of the fruits and vegetables featured in Chef's dishes are grown at the Ranch's on-site organic garden, literally picked walking distance from his kitchen.
"The best thing about working in the Central Coast area is the ability to be so closely connected to local products and the people behind them," says Wood when speaking about his overall philosophy. "When you know where your food is from and understand the care that the purveyors grant it, it is easy to extend your hand in friendship and consider them part of your family."
Tim Wood's local perspective on Monterey County
Cocktail to drink if you want to be mistaken for a local?
A glass of Parsonage Pinot Noir
Favorite Monterey Festival?
Big Sur Forages Festival
Best time of year to plan a trip to Monterey?
Late September to early November, the Indian Summer/ Harvest Season
Favorite local shop?
Happy Girl Kitchen
Favorite Farmer's Market?
Monterey Peninsula College Farmers Market on Fridays
Favorite local ingredient?
Chanterelle Mushroom
Not to be missed place to go if you want to be mistaken for a local?
Flanagan's Irish Pub
Favorite place for a cup of coffee?
Pastries and Petals

Favorite breakfast spot?
Big Sur Bakery (wood fired breakfast pizza)

Favorite hike or trail?
Garzas Trail in Garland Park, where my wife takes me when she is trying to get me healthy

Favorite view of the Pacific Ocean?
From my house at the top of Laureles Grade
Favorite outdoor activity?
Gardening
Favorite spa experience, if any?
Lavender Swedish massage at The Ranch
Favorite thing to do with your family?
Make brunch
Favorite place to go for romance?
Wine tasting in Carmel Valley
Favorite place to go to listen to live music?
Baja Cantina
Favorite place to go for adventure?
The whole county is full of adventure
Favorite Monterey past time when not working?
Hiking
Secret only a local would know?
Best pulled pork sandwiches are from Lenny on the Coast Guard Pier at Bay View Deli
Favorite after hours hot spot?
Mundaka

Local joint where chefs go to hang out?
Flanagan's
Favorite place to sip some Monterey wine?
Carmel Valley Village

Favorite afternoon snack place?
A.W. Shucks, Carmel (great oysters)

Favorite happy hour spot?
Sand Bar at The Wharf
Favorite place to go and relax?
Carmel Valley Ranch,Organic Garden
Favorite museum?
National Steinbeck Center in Salinas

What do you do on your day off?
Go for a walk on the beach with my wife