A native of Lebanon, Chef Ghalaini experienced an immersion into the culture of food at a young age with lively family meals and early service lessons at his grandfather's bakery. With an education from the Culinary Institute of America at the Greystone campus in Napa Valley, Chef Ghalaini began his career at the Michelin-rated REDD restaurant under Richard Reddington, where he executed the celebrity chef's style of California French cuisine with a focus on stellar food and wine pairings.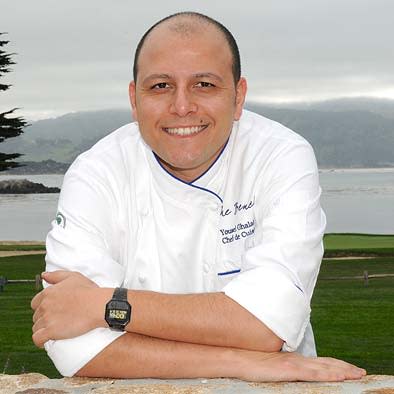 In January 2010, Chef Ghalaini re-energized Bespoke in New Haven, Connecticut, generating praise from local media as well as the regional food section of the New York Times. Other experiences for Chef Ghalaini include opening Go Fish restaurant in St. Helena, California, working for Robert Sinskey Vineyards in Napa and opening Steak 954 at the W Hotel in Ft. Lauderdale, Florida. He comes to Pebble Beach Resorts most recently from Imperial No. Nine at the Mondrian SoHo Hotel in New York City.
At The Bench, Chef Ghalaini utilizes a range of seasonal options as well as local ingredients from Monterey Bay and the Salinas Valley to create a robust, but healthy and sustainable menu for guests.
Using the innovative technique of wood-roasting and open-flame cooking, his recipes include a widerange of international style from Asian to Middle Eastern, Italian to Latin American.
Yousef

Ghalaini's local perspecti

ve

on Monterey County
What is your passion?
Cooking (and eating)!! I also have a passion for hospitality in general.


If you had one day in Monterey, what would you do?
It would be on a Friday...start the morning with a hike up the waterfall trail at Garland Ranch, hit the farmer's market at Monterey Peninsula College for dinner prep, ha

ve

a pizza, prosciutto, and a glass of

Lambrusco

at The Bench overlooking the 18th hole at Pebble Beach Golf Links, go home and take a nap...wake up, ha

ve

an amazing BBQ with some amazing Monterey friends using the farmer's market goodies, and finish the evening walking Del Monte Beach and taking in the Monterey coastline at twilight.


What are your top 5 favorite activities to do in Monterey?
Hiking, drinking coffee on my patio in the morning, a lazy day off at the Monterey Bay Aquarium, a drive down (or up) the coast, and a killer outdoor taco party.


If you had a friend visiting from out of town that had never been to Monterey, what would you advise them to do?
Drive and eat!! (see above)


What are the top 5 things you love about Monterey?
1. The ability to be outside 90 percent of the time
2. The weather
3. The proximity to EVERYTHING (the Bay Area, the mountains, the ocean, the beaches, etc)
4. The availability of the most amazing produce ever all year, and that is no exaggeration
5. The determination of everyone in the hospitality and tourism business here to make Monterey a true food and wine (and golf!!) tourism destination by providing some really amazing options


What are the top 5 things/activities you can't live without in Monterey?
1. Hiking
2. Beach
3. Wine tasting
4. Outdoor dining
5. Driving the coast


What's your favorite Monterey festival and why?
Pebble Beach Food and Wine....no explanation needed


When is the best time to plan a trip to Monterey?
April, May, September and October


What is the place not to be missed place to go if you want to be mistaken for a local?
1. Mundo's Cafe in Monterey
2. Noodle Bar Vietnamese restaurant in Seaside


What's your favorite weekend ritual?
I usually have Sundays and Mondays off... I usually use Sunday to hang out with my "9 to 5" friends and it's usually a gathering for some outdoor eating. Mondays are for road trips and exploration around the area


What is the moment when you knew you wanted to live in Monterey?
The first time I saw the view from The Bench overlooking Pebble Beach Golf Links and

Stillwater

Co

ve




Give us your reasons why you think one should never leave the region?
1. Access to so much of California
2. A great little airport that pretty much can get you anywhere
3. The coast line and the great things that are on it
4. The amazing people and talented chefs who work and live here


What is the one thing you cannot find anywhere else?
The most dramatic coastline


What is your must try activity?
Hiking Garland Ranch or Point

Lobos

State Reser

ve




Best memory you've had in Monterey?
The second or third day after moving into town, a dinner at a friend's house in Pebble Beach on the coast with an outdoor fireplace and a cigar after... it really cemented in my mind that I had made the right decision to move here!


Favorite view of the Pacific Ocean?
1. The view of Monterey past the Seaside exit on Highway 1 heading south
2. The stretch of 17-Mile Drive between The Inn at Spanish Bay and The Lodge at Pebble Beach
3. The entire coastline trail of amazing Point

Lobos

State Reser

ve


4. The elevated stretch of Highway 1 between Point

Lobos

State Reser

ve

and Big

Sur