Named "Top Sommelier of 2012" by Food + Wine Magazine
Native to California, Ronin Wine & Spirit Services Founder Ted Glennon was raised on a family ranch in the Mojave Desert at the foot of the Eastern Sierra Nevada Mountains and the Sequoia National Forest. As a true connoisseur, lover and enthusiast of all things wine, Ted's passion has driven his dedication increasing his knowledge of the ever-expanding industry.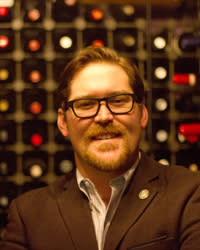 Encouraged by his parents as a way to keep him out of trouble, Ted's career in restaurants began 20 years ago as a dishwasher in a local steakhouse, working his way through every position in the kitchen over the next few years until he finally embarked on a front-of-house career path at the age of 20. As the wine director and restaurant manager of Arterra at the San Diego Marriott Del Mar. Next he accepted a position as the wine director and of the Hotel del Coronado in California, as well as serving as the codirector of ENO, a national company of on-site tasting rooms offering classes and workshops at the resort. After many years of hard work and studying, Ted received his certificate for Advanced Sommelier from the Court of Master Sommeliers in October 2010.
In 2011, Ted joined the opening team at Restaurant 1833 in Monterey, seizing the opportunity to take all his years of experience and pour his heart and his focus into one special restaurant. For his hard work and ability to curate a list that showcases both local Central Coast gems and prized European bottlings sourced from collectors, Ted was recognized by Food & Wine magazine as a "Top Sommelier of 2012." Restaurant 1833 was nominated as "Best New Restaurant in America 2012" by the James Beard Foundation. Ted was a integral part of Pebble Beach Food and Wine Festival and launching the successful Los Angeles Food and Wine Festival.
In September 2013 Ted launched "Ronin Wine and Spirits" a company offering industry insight and services for restaurants and new wine and spirit brands as well as classes, seminars, tours of the California wine regions. "The idea was simple: among our team we have done everything in this trade from building restaurants, to bringing brands to market, yet we all come from a place of hospitality and we will always offer custom tailored, exceptional experiences in your office, in your home, in the vineyard."
Ted Glennon's local perspective on Monterey County
Cocktail to drink if you want to be mistaken for a local?
Barrel aged Negroni at Restaurant 1833
Best time of year to plan a trip to Monterey?
October
Favorite local shop?
Pavels Backerei and Happy Girl Kitchen
Favorite Farmer's Market?
Old Monterey on Alvarado
Favorite local ingredient?
Local mushrooms – poricinis from Pebble Beach and Chanterelles from Big Sur
Not to be missed place to go if you want to be mistaken for a local?
Grasing's in Carmel
Favorite place for a cup of coffee?
Happy Girl has blue bottle coffee – one of my favorites
Favorite breakfast spot?
Home and Katy's Place
Favorite hike or trail?
Point Lobos
Favorite view of the Pacific Ocean?
On the way to Post Ranch for lunch as the sun comes up
Favorite outdoor activity?
Hiking
Favorite spa experience, if any?
Accista Spa
Favorite thing to do with your family?
Aquarium
Favorite place to go for romance?
Big Sur
Favorite place to go to listen to live music?
Henry Miller Library in Big Sur
Favorite place to go for adventure?
Big Sur
Favorite Monterey past time when not working?
Light jog along the Monterey Peninsula
Secret only a local would know?
Secret mushroom hunting spots!
Favorite hot spot after hours?
Restaurant 1833
Local joint where chefs go to hang out?
Cantinetta Luca
Favorite place to sip some Monterey wine?
The collection of tasting rooms in Carmel-by-the-Sea is pretty cool
Favorite afternoon snack place?
Moto Sushi
Favorite happy hour spot?
Esteban's
Favorite place to go and relax?
Cruising the vineyards with the local winemakers
Favorite museum?
I am still hunting for a favorite, but the self guided Path of History tour takes you through our historic adobes
What do you do on your day off?
Hangout withfamily, cook at home and work in my garden