All Weekend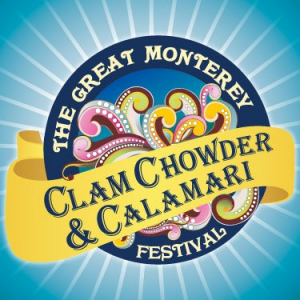 Can't get enough of all of the clam chowder and calamari on Old Fisherman's Wharf? This Memorial Day weekend check out the first ever Great Monterey Clam Chowder & Calamari Festival at Custom House Plaza near the famous wharf. Not only will the inaugural family fun event feature the best in seafood but there will be plenty of live music, arts and crafts, cooking demos from local chefs and more! Saturday and Sunday from 11am-7pm and Monday from 11am-6pm. 4 Custom House Plaza, Monterey. Free event. Check out the new and improved Golden Bough Theatre in Carmel-by-the-Sea; the cast over there performs Fiddler on the Roof all weekend long! The classic Broadway musical featuring Tevye the Milkman and his five daughters will include favorite songs like "If I Were a Rich Man", "Sunrise, Sunset" and "Tradition". Thursday-Saturday at 7:30pm and Sunday at 2pm, Casanova Street and 8th Avenue, Carmel-by-the-Sea. $7-$38. The Monterey County Fairgrounds hosts the 3rd Annual California Roots Music & Arts Festival this weekend. The down-to-earth festival will feature rock, reggae and new roots jams on three different stages with acts including The Dirty Heads, Tribal Seeds, Thrive, Top Shelf, Seedless and One Drop. Aside from plenty of live music there will be a Kid's zone, live paintings, displayed art and more. Saturday-Sunday, 2004 Fairgrounds Road, Monterey. $50 for a one-day pass and $80 for a two-day pass.
Friday
Members of the Rats to Riches car club show off their hot wheels at The Barnyard in Carmel today. Swing by and check out their prized possessions while enjoying other activities like a 50/50 raffle, music, food and more! 5pm-8pm, 3618 The Barnyard, Carmel. Free event. Pair a glass of vino with live folk and blues music at Pierce Ranch Vineyards this evening. The wine tasting room up the street from Cannery Row hosts local band The True Troubadours for a relaxing night out on their patio. 8:30pm, 499 Wave Street, Monterey. $10. Start off your three-day weekend off at London Bridge Pub. Rex Wheeler will be jamming acoustic rock music all night long. 9:30pm, 256 Figueroa St., Wharf #2, Monterey. Free event.
Saturday
Head over to Moss Landing and stop by the Haute Enchilada for a special artist reception. Charlie Kamrath showcases "Wood & Water" which features woodcuts, mono-prints, ceramics and paintings. Annette Dion McGowan also shows off her acrylic paintings and her recently self-published book "The Art of Tasting Wine." 4pm-7pm, 7902 Moss Landing Road, Moss Landing. Free event. The crazy crew of the Evangenitals are stopping by Fernwood Tavern in Big Sur tonight for an incredible, and free, show! Don't miss their fun and entertaining spin on folk and Americana flair. 9pm, 47200 Highway One, Big Sur. Free event. Monterey's favorite duo band A Band of Ninjas is ready to get the party started at London Bridge Pub! The cover group rocks out some of the best diddies from the '80s, '90s and today. 9:30pm, 256 Figueroa St., Wharf #2, Monterey. Free event.
Sunday
Take in the west side of Garland Ranch in Carmel Valley with guides from the Monterey Peninsula Regional Parks District. This afternoon hike takes nature enthusiasts through the Acorn Trail, Live Oak Loop and Maple Canyon for fantastic views of the park. The 3.3 mile hike is expected to last three hours. Don't forget to bring water, snacks and to wear good shoes. 1:30pm, Garland Visitors Center, Carmel Valley. Free event. Monterey's favorite reggae master Tony Miles plays this afternoon at the Mucky Duck. Come on over, it's not like you have to work tomorrow! 4pm-8pm, 479 Alvarado, Monterey. Free event.