Photo by Richard Green
Jaclyn Backhaus' Rollicking History Pageant Plays at The Western Stage Oct. 26 - Nov. 10, 2019
Self-proclaimed "History Nerds" (a category to which I proudly belong) know the struggle. Whether you're watching a well-intentioned play, a period television series, or a historical re-enactment, there is nothing more cringe-worthy than a blip in historical accuracy. The hem of a dress or a hairstyle not appropriate for the time. A prop or set dressing years ahead of its time. Or the worst of all, poorly researched, badly chosen vernaculars. Those of us who love history indulge our fantasies of time-travel by seeking entertainment laced with the veil of a by-gone era. Enjoyment is directly dependent on accuracy, which is of course, a lofty expectation, so we are very often dismayed by the most insignificant detail. Our kind suffer from the desperate longing to have lived in another time, the constant yearning to know EXACTLY what it was like "back then"…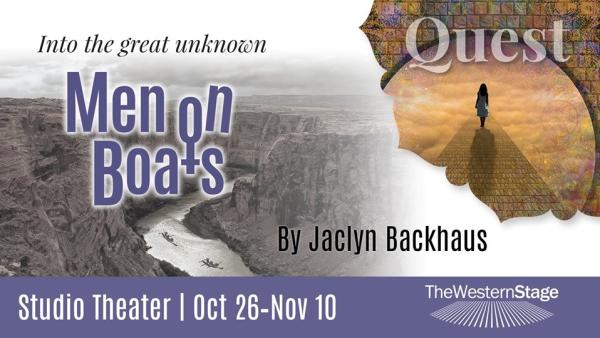 "Men on Boats" is NOT what you would call historically accurate; however, it is brilliant in the way that it pays a certain respect to the events and entities of the past, while giving it a fresh, modern spin. History Nerd Approved. Author, Jaclyn Backhaus, doesn't TRY for accuracy. That is, the style of the play is an admission to the fact that we can't really depict such a story with pinpoint accuracy. I mean, how in the world would you expect to go about traversing the Grand Canyon and coursing rivers in a 99-seat black box theater anyway? Instead, "Men on Boats" tells its story from the perspective of a contemporary reader filtering accounts of another age through her own modern-day sensibility. It's not unlike what Lin-Manuel Miranda is doing with his hip-hop musical, "Hamilton." The characters speak in a 21st-century vernacular while portraying 19th century men, weaving the modern point of view into the historical events. The tone is comic, but never cute or camp. And ultimately, the play respects its bold if fallible pioneers, in all their natural bravery and fearfulness.
By the way, there isn't a man in the 10-member cast of "Men on Boats." While the real life explorers were a band of white males, the cast is made up entirely of anything but, as stipulated by the playwright. Ms. Backhaus' script is packed with action, and the actors commit to their roles with such sincerity, that there is no room for any nudging references to a gender gap; however, the at times obvious distance between performers and their roles helps bridge the distance between then and now. This gender bent casting gives female-identifying (and non-gender conforming) actors the opportunity to play roles they wouldn't normally get – and play them well. It becomes quite apparent that grasping the artificial masculine constructs of the 1860's would be equally as difficult for a male actor than for any other. The men in Backhaus' play are rendered in a carefully exaggerated style that both teases and cozies up to the clichés of the archetypal hero adventurer.
The story stays close to "The Exploration of the Colorado River and Its Canyons," Powell's published record of the historic journey he organized for the United States government. We follow Powell, a stately one-armed army major, and his expedition crew as they wend their way through perilous waters to create the first official map of the region. Along the way, they bond, scrap, joke, reminisce and argue about directions, rather like any group traveling together. The stakes, though, are mortal. Several of the team come close to death when boats capsize. Food rations and surveyor's instruments are lost to the river. The play begins with 10 men in four boats. By the end, that ratio is six to three. How this occurs is brought to infectiously vivid life, making "Men on Boats" an action-packed play.
Cast list: Niki Moon (John Wesley Powell), Christina Moore (William Dunn), Jennifer Foreman (John Colton Sumner), Monica LaVelle (Old Shady), Florence Paget (Bradley), Christina McGovern (O.G. Howland), DeAnna Diaz (Seneca Howland), Anna Schumacher (Frank Goodman), Kristin Brewer (Hall), Micaela David (Hawkins)
 "Men on Boats" Performs Oct. 26, 27 (ReActions), Nov. 1, 2, 3, 8, 9, 10 in the Studio Theater at The Western Stage. Fridays and Saturdays at 7:30 p.m. Sundays at 2:00 p.m. Tickets at www.westernstage.com/tickets or (831) 755-6816. Word to the wise, Studio shows sell out quickly due to our healthy group of seasonal subscribers, but a small percentage of them frequently make last-minute cancellations or don't attend at all, leaving a handful of open seats. We recommend purchasing stand-by tickets prior to curtain. Our front-of-house team will find you an open seat or your money back! Call the Box Office to learn more about stand-by procedure: (831) 755-6816 (Wed – Sat, 5:00 – 8:00 p.m.) or email westernstage@hartnell.edu.
*The views and opinions expressed in this blog belong solely to the author and do not necessarily represent those of The Western Stage*