Monterey County Auto Week Events
Monterey Auto Week continues throughout the weekend! For a full list of auto shows, driving events, auctions and art click here.
Car Shows
Multiple car shows will lead up to Sunday's final and main event, Pebble Beach's Concours d' Elegance. The weekend is full of auto shows featuring exclusive vintage autos, Italian made vehicles and a show dedicated to the not so fancy motors.
Laguna Seca Golf Ranch will transform into an Italian paradise. Concorso Italiano will feature over 800 Italian made cars and a presentation of the new Fiat 5o0 and 500c. 10520 York Road, Monterey, 9am-5pm. $125 in advance, $130 at the gate. The seventh Motorsports Gathering will feature the finest in automotive design and takes place today on the rolling lawns of Quail Lodge Golf Club. Tickets include a gourmet lunch, fine wines, access to sponsor tents and entry to the Bonhams & Butterfields auctions. 8205 Valley Greens Drive, Carmel. 10am-4pm. $400 in advance.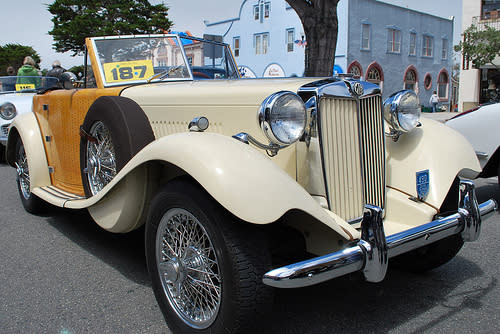 Take a step back in time and visit Lighthouse Avenue in Pacific Grove where over 200 vintage vehicles will line the street during the Pacific Grove Auto Rally. Lighthouse Ave., Pacific Grove, 1pm to 5:30pm. Free admission. Enjoy an evening with over 50 Ferraris during the Annual Ferrari Event at Barnyard Shopping Village in Carmel. Spectators can sip local wine and devour tasty treats from restaurants within the Barnyard. 4pm-7pm, Carmel Rancho Blvd., Carmel.
Are you sick of looking at all of the fabulous and high-end vehicles in town? Then head over to Concours d'LeMons at Laguna Grande Park the in Seaside on Saturday. The self-proclaimed "eyesore of Pebble Beach Automobile Week" will judge cars in categories such as Needlessly Complex Italian, Rust Belt American Junk and Soul-Sucking Japanese Appliance. 440 Harcourt Avenue, Seaside. 9:14am. Free admission. And the moment you have all been waiting for, the Pebble Beach Concours d'Elegance. 200 of the finest automobiles will convene on the 18th fairway in Pebble Beach for a truly elegant event. 2011's Pebble Beach Concours d'Elegance will feature Mercedes-Benz, Stutz, Rolls-Royce Silver Ghosts, Ferrari 250 GTO and Italian motorcycles.10:30am-5:30pm, Pebble Beach. $175 in advance.
Car Auctions
Several car auctions will be held throughout Monterey County for those visitors with deep pockets. Bonhams and Butterfields offers up classic vehicles and memorabilia at Quail Lodge Golf Club on Thursday, August 18 and Friday, August 19. Mecum will auction several investment-grade vehicles at the Hyatt Regency Monterey Hotel and Spa on August 18-20. Fine classic cars and unique sports cars will be auctioned at RM Auctions' Sport & Classics of Monterey at the Portola Hotel & Spa, August 18-20. The best sport and muscle cars will be auctioned off at the Monterey Marriott on Thursday, August 18 through Saturday, August 20. And last, but certainly not least, the Pebble Beach Auction is one of the premier automotive auctions and takes place on August 20th and 21st.
Other Auto Week Events
Mazda Raceway Laguna Seca will be in motion with historic car races throughout the weekend. The Rolex Monterey Motorsports Reunion is one of the best vintage motorsports events in North America. This year's event will feature Jaguar and highlight the Ferrari GTO 250. 8:30am-4:30pm, Friday-Sunday. 1021 Monterey-Salinas Highway, Salinas. Various ticket prices. On Friday and Saturday nights car enthusiasts can Dine in DiVine at Chateau Julien. Dinner reservations begin at 6pm where guests will enjoy a prix-fixe Basque menu, with choice of entrée and wine, followed by a dessert lounge and vintage car display. Friday's car display will feature Tesla and Alternative Fuel Vehicles and Saturday night will feature Alfa Romeo. 6pm, 8940 Carmel Valley Road, Carmel. $63
Friday
The Monterey Plaza Hotel and Spa hosts RST (Rutlegde, Smith & Tindel) tonight on the lower terrace of Schooner's. 5pm-9pm, 400 Cannery Row, Monterey.
Grab your cowboy boots and head to the Monterey County Fairgrounds for a special performance from Trace Adkins. Tap into your inner cowboy and sing along to his country hits including "Just Fishin," "Honky Tonk Badonkadonk," and "Ladies Love Country Boys." 7:30pm, 2004 Fairgrounds Road, Monterey. Tickets are $20-$65. Santa Cruz locals Ancestree play reggae and roots music tonight at Jose's Underground Lounge. 8pm, 638 Wave Street, Monterey. Cheeky Spanks will be kickin' it old school at Bullwacker's tonight. The classic rock, oldies and blues band will be playing hits from the '70s and beyond. 8:30pm, 653 Cannery Row, Monterey. No cover. Don't miss Rex Wheeler at London Bridge Pub tonight. Bring your friends and enjoy Rex's smooth electric acoustic tunes. 9pm, 256 Figueroa St., Wharf #2, Monterey. No cover. Fernwood Tavern presents Five Eyed Hand tonight. The four-man group will play unique jams with a blend of jazz, rock, folk and funk. 9pm, 47200 Highway One, Big Sur. No cover.
Saturday
The Next Blues Band will provide live entertainment tonight out at the Del Monte Center. Get your shopping done and groove to the blues! 5pm-7pm, 1410 Del Monte Center, Monterey. Free admission. The Carmel Art and Film Festival presents a special preview screening and wine reception for the award winning documentary "Boys of Bonneville – Racing on a Ribbon of Salt" today at the Sunset Center. The film is narrated by Grand-Am driver Patrick Dempsey and showcases archival racing footage as well as interviews with car enthusiasts Jay Leno and Andy Green. 5pm, Sunset Center, San Carlos Street and 9th Avenue, Carmel-by-the-Sea. $10. The Monterey Jazz Festival and the Monterey Bay Aquarium bring you another great night of entertainment at "Evenings the Bay". Monterey Jazz Festival regular Stu Reynolds will show off the saxophone skills that have led him to open for artists such as Carlos Santana, Branford Marsalis and more. 6pm-8pm, 886 Cannery Row, Monterey. Free with aquarium admission. A Band of Ninjas makes another appearance on the patio at Bullwacker's tonight. The acoustic rock duo will cover hits from musicians like Ben Harper, Alice in Chains, Bob Marley and The Killers. 8:30pm, 653 Cannery Row, Monterey. No cover. London Bridge Pub will host Hot Club de Watsonville tonight. The gypsy swing group uses their skills on the accordion, violin, acoustic guitars and string bass to play tangos, bossas and boleros. 9:30pm, Wharf #2 256 Figueroa Street, Monterey. Free admission. Popular Santa Cruz band, Five Eyed Hand returns to Big Sur's Fernwood Tavern tonight. Don't miss their funky beat with inspirations from jazz, psychedelic rock and folk. 9pm, 47200 Highway One, Big Sur. No cover.
Sunday
No sleeping in this Sunday morning! It's time to hit the trail with the Monterey Peninsula Regional Park District. Today's hike will take you to one of the highest points in Garland Park, aka the "top of the world". The intense 4.8 mile hike is expected to last 4 hours. Don't forget your hiking boots, water, lunch and snacks. 9am, East Garzas Trail, Carmel Valley. Grab a drink and cool off at the Big Sur River Inn this evening. Jackson Stock and Friends will enhance your relaxation by providing fantastic jazz music on the patio. 1pm-5pm, Highway One at Pheneger Creek, Big Sur. No cover. Don't miss another opportunity to sneak into the Monterey Bay Aquarium after hours. Tonight's "Evenings by the Bay" will feature several talented jazz musicians including Gary Meek, Eddie Mendenhall, Dan Robbins and Kim Edmundson. 6pm-8pm, 886 Cannery Row, Monterey. Free with aquarium admission.