Click here for the most up-to-date list of Thanksgiving dinners.
Why suffer the stress of trying to please everyone's palate this Thanksgiving? Start a new tradition with a family Thanksgiving meal at one of Monterey County's best restaurants.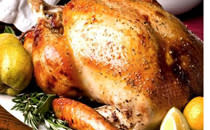 Big Sur Thanksgiving Dinners
Have a great Thanksgiving dinner served with a side of fantastic views at the Big Sur River Inn Restaurant. Dishes include herb roasted turkey with cornbread sage stuffing, maple marshmallow yams, garlic mashed potatoes, fresh cranberry relish, pumpkin pie and home baked apple pie. 12:00pm-9:00pm, $40 for adults and $21 for children 12 and under. Call 831-667-2700 to reserve a table.
Carmel Highlands Thanksgiving Dinners
Pacific's Edge restaurant at the Hyatt Carmel Highlands offers an amazing four-course prix-fixe menu this Thanksgiving. Dishes include dayboat scallops, butternut squash agnolotti, yellowfin tuna carpaccio, rib chop and roasted organic turkey, of course. Dessert options include pumpkin cheesecake, caramel pecan tart or chocolate ganache. 4:00pm-8:00pm, $95 for adults, $45 for children 5 to 12, children under 5 dine free. Call 831-622-5445 to reserve.
Carmel-by-the-Sea Thanksgiving Dinners
Mission Ranch Restaurant hosts a three-course Thanksgiving feast to ease your appetite. Starter options include roasted butternut squash soup or mixed greens with cranberries. Entrees include fresh salmon, roasted pork loin or free range turkey. Dessert choices include pumpkin pie, pecan pie or apple-cranberry strudel. 1:00pm-7:30pm, $47 for adults and $25 for children 12 and under. Call 831-625- 9040 to reserve; there is a 3-day cancellation policy. L'Auberge's award-winning restaurant, Aubergine hosts a fabulous Thanksgiving dinner menu as well as Thanksgiving To-Go. Those dining in the restaurant will enjoy a delectable feast prepared by Executive Chef Justin Cogley with items like whole-roasted cauliflower, Carnaroli risotto and Maine lobster. Wine pairings are also available for an additional $59. The To-Go dinner offers a juniper-orange spiced brined turkey and all sorts of sides and desserts. 2:00pm-9:00pm, $99 per person. Call 831-624-8578 for reservations. Enjoy a traditional family Thanksgiving dinner at Merlot! Bistro in Carmel-by-the-Sea. A full turkey dinner will be accompanied by butternut squash soup, clam chowder or a Waldorf salad. For dessert you can chose from pumpkin pie, apple pie or an ice cream sundae. 12:00pm-2:00pm, $28.95 for adults and $13.95 for children 12 and under. Call 831-624-5659 for reservations.
Carmel Valley Thanksgiving Dinners
Bernardus Lodge hosts a delicious gourmet Thanksgiving Day buffet. Dine on traditional Thanksgiving favorites made with sustainably sourced, local and organic produce and naturally raised meats, as well as several special creations from Chef Cal Stamenov. There will also be wine tasting and hot apple cider by the fireplace. 12:00pm-3:30pm, $75 for adults, $32 for children 5-12 and free for children under 5. Call 831-658-3400 to reserve; there is a 3-day cancellation policy. Edgar's at Quail offers both a three course prix-fixe menu and a la carte options this Thanksgiving. The prix-fixe menu is $32 and includes options such as roasted pumpkin soup, pomegranate salad, slow roasted turkey, sausage and apple dressing, pumpkin pie and apple pie. 2:00pm-9:00pm. Call 831-620-8910 to reserve. Enjoy a farm-to-table type of Thanksgiving meal this year in the Clubhouse at Carmel Valley Ranch. Chef Tim Wood serves up a buffet style feast featuring apple cider brined Diestel turkey breast, honey lavender cornbread, smoked duck, maple butternut squash soup, pumpkin pie and much more. Unlimited mimosas will also be available for those 21 and older. 11:30am-4:30pm, $45 for adults, $25 for children 5-12 and free for children 4 and under. Call 831-620-6427 for reservations. Carmel Valley Ranch is also offering to take your traditional turkey dinner "To-Go." An apple brined Diestel turkey will come complete with green beans, mashed potatoes, bread stuffing, cranberry sauce, pumpkin pie and more. Two family-style sizes are available, 4-6 servings is $225 and 7-14 servings is $425. Call 831-620-6427 to reserve.
Marina Thanksgiving Dinners
Enjoy a great Thanksgiving prix-fixe menu, as well as other dining options, at Kula Ranch Island Steakhouse. For the first course of the prix-fixe menu, choose from a tossed green salad with ten-year aged raspberry wine vinaigrette, toasted macadamia nuts, sun-dried cranberries and crumbled blue cheese or butternut squash soup. Then dig into an entree of tender slow-roasted turkey, mashed potatoes, gravy, candied yams, house-made stuffing, blue lake green beans. For dessert, choose between pumpkin pie with Chantilly cream or a pumpkin creme brulee. A limited appetizer and entree menu will also be available. 2:00pm-8:00pm, $26.95 for adults and $9.95 for children 11 and under. Call 831-883-9479 to reserve.
Monterey
The Monterey Plaza Hotel and Spa is always a great destination for a holiday meal. The Monterey Bay Buffet in the ballroom has over 40 items, including seafood, oysters, cured meats, cheese and fruit, salads, cold cured meat, candied yams, smoked salmon and the traditional turkey. 12:00pm-7:00pm, $55 for adults, $23 for children. Call 831-646-1700 to reserve. Prefer to have your Thanksgiving dinner on your own turf? The Monterey Plaza also offers a full Thanksgiving dinner for 12 to-go! The dinner includes a 12-14 pound turkey and all the fixings. All you need to do is warm it up! $135, last day to order is November 21. Call 831-646-1700 to order. The Sardine Factory offers a special four-course prix-fixe Thanksgiving menu. The first course is squash and apple bisque, which will be followed by a Tuscan lettuce salad. The entrée includes roast Diestel turkey with sage dressing, mushroom gravy, cranberry orange relish, Yukon gold and sweet potato gratin, fresh green beans and baby carrots. For dessert, enjoy pumpkin pie or crème Brûlée. 1:00pm-8:00pm. $45 for adults, $43 for seniors 60 and older, $19 for children under 12 and free for children under 5. The Sardine Factory will also offer items from their regular menu. Call 831-373-3775 to reserve. Jacks Restaurant at the Portola Hotel & Spa offers an indulgent Thanksgiving Feast. Guests will start off with cream of wild mushroom soup and a mixed lettuce salad with blue cheese, candied pecans and roasted beets. The entrée will include roasted turkey, sourdough stuffing, yams, green beans, whipped potatoes and cranberry sauce. Several delectable desserts will also be available to round out the meal. 12:00pm-4:00pm, $49 for adults, $39.95 for seniors, $19.95 for children ages 6-12 and children 5 and under eat free. For reservations call 831-647-4805. The Beach Resort celebrates Thanksgiving with a special holiday buffet. You can expect all of the traditional fixings including roasted turkey with herb gravy, Angus prime rib, assorted pastas, salmon, mashed potatoes, marshmallows yams, seafood and tons of desserts. 11:00am-4:00pm , $33 adults, $28 seniors and $15 for children 12 and under. For reservations call 831-899-4544. The Monterey Marriott will be hosting a Thanksgiving buffet including all of your holiday favorites. 10am-4pm, $40 for adults. To reserve call 831-649-4234. Enjoy beautiful views of the Monterey Bay while dining on a delectable Thanksgiving dinner at the Chart House on Cannery Row. Regular menu items will be available as well as a special Thanksgiving meal with all of the traditional fixings. 11:00am-9:00pm, $25.99 for adults and $12 for children. Call 831-372-3362 for reservations. The Fish Hopper has created a Thanksgiving menu with a variety of dishes to choose from. Guests have their option of several items including lobster bisque, crab and shrimp stuffed halibut, Mediterranean rack of lamb and more. A traditional Thanksgiving dinner is also on the menu. Call 831-372-8543 for reservations. Paradiso Trattoria serves up a Thanksgiving dinner with a view! Dine on turkey, mashed potatoes and pumpkin pie with incredible ocean views. 11:00am-close, $29.95 for adults and $14.95 for children. For reservations call 831-375-4155. It's not all steak and prime rib at The Whaling Station on Thanksgiving day. Stop on by and try their traditional Thanksgiving dinner. 4:00pm-close, $39.95 for adults and $16.95 for children. Call 831-373-3778 to reserve.
Pacific Grove Thanksgiving Dinners
Fandango Restaurant's great Thanksgiving menu includes duckling pate, Basque salad, and a choice of entrees including roasted turkey, roast New York strip, grilled salmon, Virginia baked ham, tortellini and a variety of traditional desserts. 12:0 0pm-7:30pm, $34.95 for adults, $16.50 for children 12 and under. Call 831-372-3456 to reserve.
Pebble Beach Thanksgiving Dinners
Pebble Beach's Stillwater Bar & Grill cooks up a grand Thanksgiving Day Buffet. The buffet will include an oyster bar, a cheese station, a carving station and a dessert station. Stillwater classics like lobster mac and cheese and slow-roast suckling pig will also be served. 11:00am-5:00pm, $85 for adults and $42.50 for children ages 5-12. Call 831-625-8524 for reservations. The Bench serves their regular menu as well as seasonal specials for Thanksgiving. Classics like wild salmon, stuffed eggplant and artisan flatbreads will be available. 11:00am-10:00pm. Call 800-654-9300 for reservations. Peppoli's at The Inn at Spanish Bay serves up Italian cuisine on Thanksgiving Day. Choose from menu items like butternut squash gnocchi, filet mignon with balsamic reduction and classic lasagna. For a traditional Thanksgiving dinner order the Tacchino Tradizionale which includes organic Heritage turkey and all of the fixings. 4:00pm-9:00pm. Call 831- 647-7433 for reservations. Roy's at Pebble Beach puts a Hawaiian spin on Thanksgiving Dinner. Guests can enjoy original creations like Kona lobster bisque, coconut crusted Mahi-Mahi and BBQ baby back ribs. 11:30am-10:00pm. Call 831-647-7423 for reservations. STICKS includes additional seasonal specials to their regular menu for the holiday. Guests can enjoy fresh roasted turkey with stuffing, mashed potatoes, gravy, cranberry relish and traditional pumpkin pie. 11:30am-9:00pm. Call 831-647-7470 for reservations.
Seaside Thanksgiving Dinners
Admire Monterey Bay and one of the county's most beautiful golf courses as you dine on a great Thanksgiving buffet at Bayonet and Black Horse. The buffet includes three different kinds of salad, roast turkey and all your favorite side dishes, as well as treats for the palate like roasted prime rib, sautéed salmon, pasta shrimp cassoulet, butternut squash risotto and more. 11:00am-5:00pm, $29.95 for adults, $13.95 for children 6-12 and children 5 and under eat free. Call 831-899-5954 to reserve.