Monterey County has enough romantic events this Valentine's Day weekend to fill the calendar of any ardent couple. Romance your love all weekend long with dreamy dinners, enchanting events and tours made for amour.
Friday, February 7
Chocolate & Wine Tasting Benefit
Chocolate and wine; need we say more? Join the City of Monterey Library for their 9th annual Chocolate & Wine Tasting Benefit from 7pm-9pm. Sweethearts can sample a variety of local wines, Prosecco and Ports as well as sugary treats including cookies, brownies, cupcakes and chocolate, of course! Tickets are $30 in advance and $35 at the door. For more information call 831-646- 3745.
Saturday, February 8
River Road Wine Trail Valentine's Passport
Warm up for a romantic Valentine's Day with the Valentine's Passport event on Saturday, February 8! Indulge in wine, chocolates, and special discounts when you get this passport to eleven of Monterey County's best wineries. You'll get to taste special vintages and rarely-tasted wines at every spot, eat great appetizers, and listen to live music. All guests receive a souvenir glass and a special gift. You'll even be entered into a drawing for a special prize! Passports are $30 until February 1 and $45 after. Learn more at the River Road Wine Trail website.
Thursday, February 13
Maddox Presents: Blush
Sport your prettiest pinks and head to Cibo's in downtown Monterey for an evening of rose colored elegance. Singles, couples, friends, and colleagues - all are welcome to partake in this cerise wonderland beginning at 7:30pm. There will be an array of appetizers, signature pink cocktails and live music from DJ Estaban until 1:30am. Tickets are $10 in advance and $20 at the door.
Friday, February 14
Valentine's Prix-Fix Dinner at Jacks Restaurant
Jacks Restaurant at the Portola Hotel & Spa cooks up a Valentine's dinner that is sure to woo your sweetheart. The four-course menu includes items like braised short ribs, lobster bisque, filet mignon and while and dark chocolate mousse. $39.95 per person. Call (831) 649-2698 for reservations.
Valentine's Prix-Fix Dinner at Peter B's Brewpub
For a more casual Valentine's dinner, head over to Peter B's Bewpub. The four-course prix-fix menu includes dishes like clam chowder, BBQ scallops, pizza and ice cream sundaes. $25 per person. Call (831) 649-2699 for reservations.
Special Valentine's Dinner Menu at Sardine Factory
The Sardine Factory will be serving up a special four-course prix fixe menu for lover's on February 14th and 15th. Choice of entrees include filet mignon, Maine lobster and swordfish. $75 per person. Call 831-373-3775 for reservations.
Valentine's Day Dinner at Aubergine
Aubergine has planned an over-the-top Aphrodisiac Tasting Menu of sumptuous dishes, brilliant wines and decadent desserts for Valentine's Day in Carmel-by-the-Sea. $175 per person and an additional $125 for wine pairings. Call 831-624-8578 to reserve.
Bay of Pines Valentine's Day Dinner & Entertainment
Enjoy a romantic five-course dinner at organic eatery Bay of Pines in downtown Monterey. Menu items include options like lobster bisque, filet mignon and chocolate chip bread pudding. Dinner includes one glass of champagne is $90 per couple. Stay afterwards for free live music from Dave Holodiloff playing 6pm to 9pm and Rock-Paper scissors playing 9pm to 12am. Call 831-920-3563 for reservations.
Saturday, February 15
Barrel Tasting at Chateau Julien
Need a great date idea? How about barrel tasting at Chateau Julien? Winemaker Bill Anderson shares a selection of aging wine straight from the barrel. Afterwards, stick around and set up a picnic near their vineyards for a truly romantic afternoon. Tasting tickets are $15 in advance and $20 the day of. You can also book a private tour of the entire estate throughout the weekend.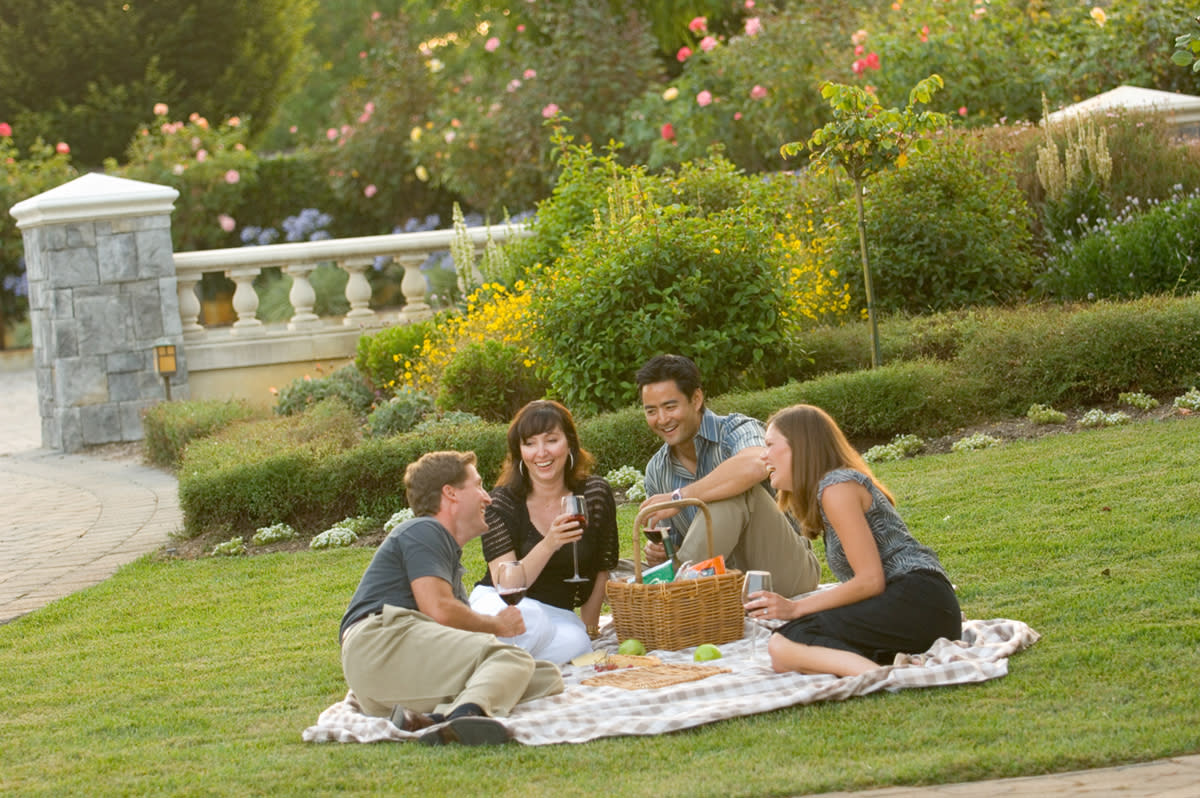 Bernardus Valentine's Sweethearts Luncheon
Enjoy a romantic lunch at Chef Cal Stamenov's grand wine country buffet at Bernardus Lodge in the heart of Carmel Valley. Savory items include grilled organic vegetables, artisan cheeses, local seafood and new release Bernardus wines. There will also be a live music and plenty of desserts like red velvet cupcakes and cinnamon bread pudding. 11am-2pm, $95 per person inclusive of tax and gratuity. Call 831-658-3550 for reservations.