All Weekend
Don't forget that Sunday is Father's Day! Take good ol' Dad to Monterey this weekend and check out SummerFest Arts & Crafts Faire at the Custom House Plaza. Over 50 artisans and craft-makers will have their works on display and for sale. The weekend event also includes live entertainment and plenty of food for Dad! 9am-5pm, 20 Custom House Plaza, Monterey. Free admission. Carmel-by-the-Sea's Circle Theatre presents the story of Eurydice. The modernized twist on the Greek myth of Orpheus will take Eurydice through a journey of life and death. Saturday at 2pm and 7:30pm and Sunday at 2pm. Monte Verde St. and 8th, Carmel-by-the-Sea. $7-$35.
Friday
The Money Band will perform tonight at the Monterey Plaza Hotel & Spa! The band will play some rockin' jams from the '50s, '60s, '70s and today at this free summer concert series. 5pm-9pm, 400 Cannery Row, Monterey. Free admission. Head over to the Monterey Museum of Art La Mirada for the Celebration of Black and White Opening Preview. The preview party will feature Edward Weston: American Photographer Landscapes, Portraits, Still Lifes, Nudes and will include his vintage popular prints as well as rare images not widely exhibited. Guests are encouraged to wear black and white attire. 6pm-8pm, 720 Via Mirada, Monterey. $10 for MMA members, $15 for military/students and $25 for general public.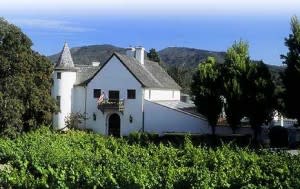 Carmel's Chateau Juilen will host a special Wine and Cigar Dinner tonight in the Wine Estate's Conservatory. Dominican cigars will be paired with a tasty meal and of course Chateau Julien wines. 6:30pm, 8940 Carmel Valley Road, Carmel. $95, $75 for members. It's Jazz June at Hyatt's Fireplace Lounge! Tonight bassist Brian Bromberg will perform along with Eddie Mendenhall on piano and David Morwood on drums. 7pm-11pm, 1 Old Golf Course Road, Monterey. No cover. Forever the Day will bring down the house tonight at Jose's Underground Lounge. This group isn't your average rock band; their mission is to help the planet and save the habitat and ecosystem in which we live. 7pm, 638 Wave Street, Monterey. The Terry Shehorn Trio will perform tonight at Santa Lucia Café. Terry and his crew will cover popular songs from the '60s and '70s using keys, bass and drums. 7pm, 484 Washington Street, Monterey. No cover. Tonight is the last night to catch a performance of A Number at Circle Theatre in Carmel-by-the-Sea! The tragic and dramatic science-fiction production is told by a father and his sons and addresses the dark issues in human cloning. 7:30pm, Monte Verde St. and 8th, Carmel-by-the-Sea. Tickets $7-$35. Cheeky Spanks will rock out tonight at Bullwacker's! Come out and see why the Monterey County Weekly crowned this cover band as the Best Band of 2009 and 2010. 8:30pm, 653 Cannery Row, Monterey. No cover. Rex Wheeler will play at London Bridge Pub tonight! Bring your friends and check out Rex's electric acoustic tunes. 9pm, 256 Figueroa St., Wharf #2, Monterey. No cover.
Saturday
Take to the trails today with the Monterey Peninsula Regional Park District as they head out on the Waterfall Trail to the Mesa. This 2.5 mile trail is one of the most popular in Garland Ranch Regional Park which winds up to Mesa Pond. Be sure to bring water and snacks and wear good shoes! 9am, Garland Visitors Center, 700 W. Carmel Valley Road, Carmel. The Monterey Bay Greenhouse Growers presents the 2nd Annual Monterey Bay Greenhouse Open House today. Participating farms will open their doors to the public and offer family-friendly tours and activities. The event will provide visitors with an opportunity to meet with local farmers and learn about the types of flowers, plants and produce that are grown locally. 9am-4pm, Monterey County. Free admission. Bullwacker's will host blues band Misterioso featuring Charmaigne Scott tonight on the patio. 8:30pm, 653 Cannery Row, Monterey. No cover. Michael Annotti will jam tonight at London Bridge Pub. Michael plays to a tune of reggae, soul and alternative. His influences include Billy Joel, Ray Charles and Bob Marley to name a few. 9:30pm, 256 Figueroa St., Wharf #2, Monterey. No cover. AquaJones will rock out tonight at Jose's Underground Lounge! The 4-piece rock band plays a blend of funk, rock and soul. 10pm, 638 Wave Street, Monterey.
Sunday
Run in the Name of Love today in Carmel-by-the-Sea! The special 5K and 2K runs will allow participants to honor a special someone in their lives (maybe Dad?). Runners in the 2K run are encouraged to bring their furry friend along for the views. Both runs will begin at the Sunset Center, wind through a breath-taking course and end at Scenic Drive and Eighth Avenue. Awards and raffle will begin at 10am at the Del Mar parking lot at the base of Ocean Avenue. Proceeds will benefit two youth programs, Just Run and Classroom Connections. 8:30am, Sunset Center, San Carlos Street at Ninth Avenue, Carmel-by-the Sea. $25 for 2K and $35 for 5K. Dick Whittington and the MJF Faculty All Stars will perform at Big Sur River Inn this afternoon! Veteran jazz pianist Dick Whittington will be accompanied by Monterey Jazz Festival All Stars for a relaxing afternoon on the patio. 1pm-5pm, Highway One at Pheneger Creek, Big Sur. No cover. Celebrate Father's Day with a special Sleep Under the Sea slumber party at the Monterey Bay Aquarium. Families will be in for a night of bonding with special activities including a late night snack, a nature movie and a continental breakfast. 7pm, 886 Cannery Row, Monterey. $75 general, $50 for aquarium members and groups of 12 or more.