Who knows Monterey County best? Locals do! That's why we asked restaurant owners, wine makers, artists, musicians, entrepreneurs, and community members that call this place home what they love most about Monterey County!
Whether you're a resident looking for new spots or a visitor looking for some hidden gems in Monterey, meet our locals and hear their recommendations of the best things to see and do in the destination.
Every month we'll share favorite local spots to eat, shop, drink and explore outdoors in our new series, Inside Monterey. Now is the moment to explore an unknown side of Monterey County. Get the inside scoop from the people that live here and start adding these local favorites to your next itinerary.
MEET GREG & MADIGAN AHN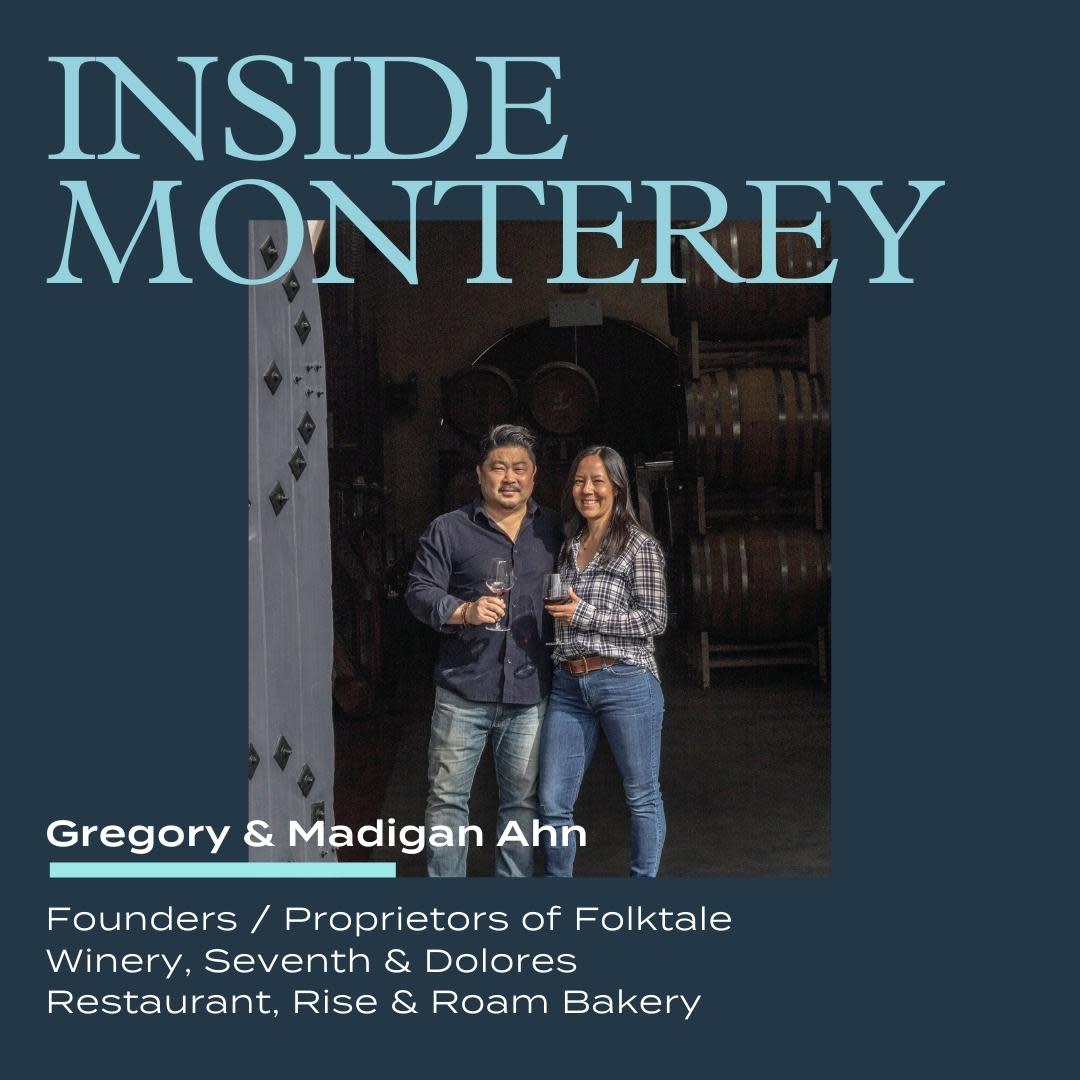 Founders / Proprietors, Folktale Group 
Folktale Winery, Seventh & Dolores Restaurant, Rise & Roam Bakery 
Gregory and Madigan Ahn are the founders of the Folktale Group, which encompasses Folktale Winery, Seventh & Dolores, and a growing family of businesses in beverage, food, and hospitality. Founded in 2009, the Folktale Group has grown to encompass 8 national winery brands, over 400 acres of vineyard, 4 restaurants, a national sales & distribution company, and the development of a new craft spirits portfolio. Based in Carmel, CA, the vision of all Folktale Group businesses is to "Make Life More Joyful!"  
Folktale has received many accolades. It was ranked 4 consecutive years to Inc. Magazine's Top 500/5000 List of Fastest Growing Private Companies in America. Folktale Winery was named the 2016 California Winery of the Year by the California Travel Assoc. Seventh & Dolores Steakhouse was named Top 100 Restaurants in America by Wine Enthusiast Magazine in 2019.  
Greg and Madigan live in Carmel, California with their 3 children. Being in the food and beverage industry, they know good food, below are some of their favorite Monterey County places to eat and drink (outside of their own). 
FAVORITE RESTAURANT
One of our favorite Monterey County restaurants to go to for dinner is La Balena in Carmel-by-the-Sea. The owners of La Balena source the best ingredients and Italian wines, and present with a true Italian philosophy. When I go there, the food and wine transport me back to Italy.
FAVORITE BAR WITH A VIEW
If we want to grab a drink with a view, we're heading to the Sunset Lounge at the Hyatt Carmel Highlands (preferably at sunset). The view at this place is stunning and they have a creative cocktail menu. There's also live entertainment on select nights!
FAVORITE COCKTAIL BAR
For craft liquor and cocktails, I'm in love with mezcal, so Cultura is where I head for a great mezcal cocktail. They also have amazing tacos and chapulines.
FAVORITE PLACE TO ENJOY A STAYCATION
The brand-new Villa Mara in Carmel-by-the-Sea is gorgeous! This Monterey County hidden gem is perched above the bluffs of Carmel Beach and tucked away in the Carmel Point neighborhood, just steps from the beach, it's an ideal spot to relax and enjoy the ocean. Their 16 guest suites have been curated with vintage and custom-made furniture. 
FAVORITE PLACE FOR BREAKFAST & COFFEE
For a relaxing morning we love to go for a morning walk on Carmel Beach and enjoy the view. Then we head to Stationaery for breakfast and coffee. Their dishes are seasonally driven and sourced locally with a unique twist.  A popular item is their avocado toast made with Ad Astra bread, avocado, Meyer lemon, radish, sprouts, Monterey Bay seaweed, and red pepper flakes.
INSIDER TIP FROM MONTEREY LOCALS
Big Sur is our happy place, where we go to decompress. Weekends have become too congested, so we like to go in the middle of the week. Lunch with a view, or tucked under the redwoods, a few hours in Big Sur can reset your whole perspective.
Learn more and visit Greg & Madigan's Monterey County establishments - Folktale Winery, Seventh & Dolores Restaurant, Rise & Roam Bakery.