What to do on a foggy Monterey day? Find the sunshine in Carmel Valley with MST's Grapevine Express! The Grapevine Express is an inexpensive and hassle free way to truly un-WINE'd in Carmel Valley's plentiful wine country. The Grapevine Express leaves every hour and has 13 designated stops throughout Monterey, Carmel and Carmel Valley for only $4 roundtrip.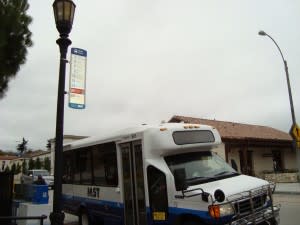 On a cloudy day in downtown Monterey I decided to head for the hills of Carmel Valley. I checked the MST schedule online and I took the bus that left at 10:20am to have plenty of time to enjoy the warmth of the valley. I quickly made my way to the Monterey Transit Plaza and waited for my bus to arrive. I was surprised when a mini-coach pulled up with my bus line number on the front, #24 to be exact, as I was expecting a typical public bus. I paid my $2 bus fare and off we went at exactly 10:20am. The inside of the bus was very clean and comfortable and held only 4 other passengers at the time. I thoroughly enjoyed the scenic drive with stops at Carmel's Barnyard Shopping Village, Mid-Valley Center and Chateau Julien. I was also impressed with the punctuality of the bus and its consistent timed stops.
After a relaxing 45 minute drive we arrived in the heart of sunny Carmel Valley village. I was like a kid in a candy store with so many wine tasting options. Luckily I had done my research beforehand and saw Parsonage received rave reviews. That day they were sampling eight different wines, all of which were fantastic, especially the Rocco Reserve Syrah.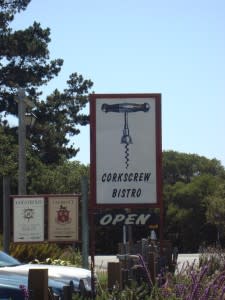 By now I had built up quite the appetite and headed to the Corkscrew Café for lunch. The Corkscrew Café is known for their fantastic outdoor seating area which of course I had to indulge in. The rustic yet classy patio was shaded but had plenty of space to soak up some rays.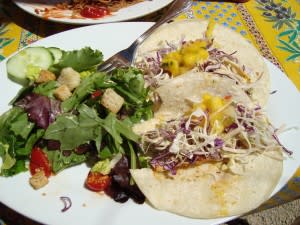 I opted for the fish tacos and lavender ice cream to cream finish off the meal. The extra tint of lavender made it feel as though you were eating a creamy flower, different but delicious! I can see why Rachel Ray decided to feature the quaint restaurant on Food Network's TV show $40 a Day. I checked my bus schedule and found that I still had 30 minutes before I had to head back to misty Monterey. Delighted to have some extra time I headed to the Boekenoogen tasting room and borrowed their patio while tasting three other fabulous red wines.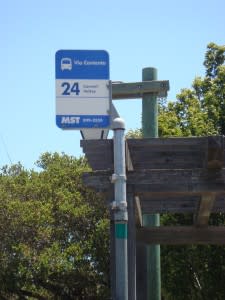 At exactly 2:15pm MST's friendly mini-coach pulled up to the curb to officially end my day in the sun and my wonderful experience in Carmel Valley.