PacRep Theatre is celebrating the return to the Forest Theatre with The Wizard of Oz live on stage. After being dark for two summers after decades of deferred maintenance, as well as to meet ADA standards, the theatre is back up and running.  The re-opening of this historic site in American lore, is returning audiences to Carmel's own unique version of "Oz" - a magical location, hidden in a forest, with an impressive history - having hosted many of our country's most important literary artists -- the early Bohemians of Carmel-by-the-Sea. From Jack London and Mary Austin to Robinson Jeffers and Robert Lewis Stevenson, these 'sprites and spirits' made the Forest Theater what it is today.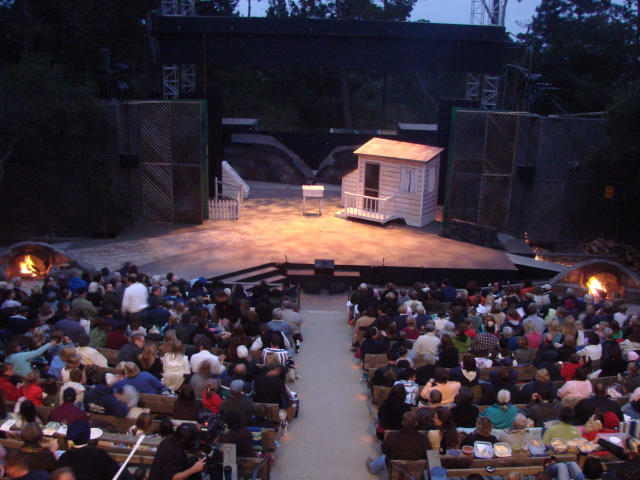 Based on the classic MGM movie musical with music by Harold Arlen and lyrics by E.Y. Harburg, The Wizard of Oz is one of the greatest and best loved family musicals of all time, featuring a host of song favorites including "We're Off to See the Wizard", "Follow the Yellow Brick Road", "If I Only Had a Brain", and the immortal signature song, "Somewhere Over the Rainbow". PacRep's production features flying effects by ZFX of Las Vegas, all under the direction of PacRep's Executive Director, Stephen Moorer with Musical Direction by Janet Perl and choreography by Devin Adler.

The story follows school girl Dorothy Gale (Katie Hazdovac) who lives on a farm with her Aunt Em and Uncle Henry, but dreams of a better place. After being struck unconscious during a tornado, Dorothy dreams that she, and her dog Toto, are transported to the magical Land of Oz. There, the Good Witch of the North advises Dorothy to find the Wizard who will help her return to Kansas. During her journey, she meets a Scarecrow (Mikey Perdue), Tin Man (Dale Thompson), and Cowardly Lion (John Bridges), who join her, hoping to receive what they lack themselves (a brain, a heart, and courage, respectively). All of this is done while also trying to avoid the many plots of the Wicked Witch of the West, in her attempt to get the ruby slippers that Dorothy received from the (recently squashed) Wicked Witch of the East.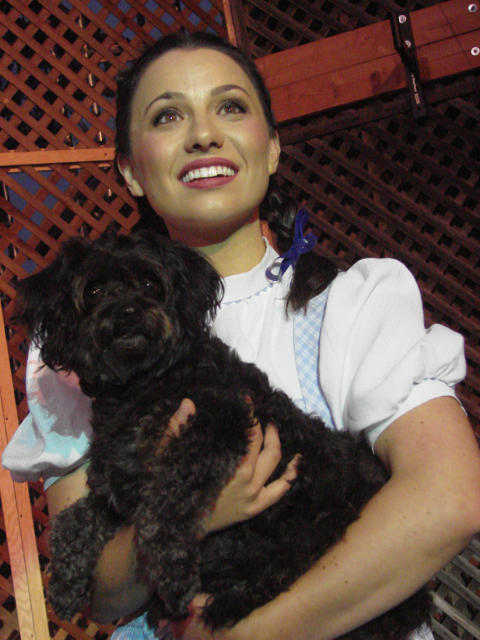 Insider Tips:
Doors open 90- minutes prior to show time and we encourage attendees to arrive at least 60-minutes prior for the best seating selection - although all of the seats in the 500-seat auditorium are good.
Pack your own food and beverages, we actually encourage it.  We always have desserts and drinks available for sale.
If you are coming at night, bring a jacket or sweater and blanket.  
If you are coming to a matinee, bring sunscreen, sunglasses and layer your clothing.  You never know what the weather will bring in Carmel.  
Take advantage of our "Two for One – Sweet Thursday" discount offered on general admission tickets for regular Thursday night performances throughout the run at the Outdoor Forest Theater.  
The Outdoor Forest Theater is located at the corner of Mountain View and Santa Rita Street, in Carmel-by-the-Sea.
The parking lot - it is very small so the majority of our attendees park on the street in the neighborhood surrounding the theater.  You may want to bring a flash light at night.
General admission single ticket prices for regular performances are $36 with discounts available for seniors over 65, students, children, teachers, and active military. You can also purchase tickets at the Pacific Repertory Theatre Box Office, located at the Golden Bough Playhouse on Monte Verde Street between 8th and 9th Avenues, Carmel-by-the-Sea.  Business hours are Tuesdays through Saturdays; 11 a.m. – 4 p.m. Telephone (831) 622-0100 or visit www.pacrep.org for more information.
Sunday, August 21 - September 25 - 3:00 p.m. - Matinees
Thursday, August 25 - September 22 - 7:30 p.m. - "Sweet" 2 for 1
Friday/Saturday, August 26 - September 24 - 7:30 p.m.
The Wizard of Oz is the fifth of nine productions for the 2016 Professional Season. 
There are still four shows left:  
Twelfth Night – Sept. 29 – Oct. 16, Outdoor Forest Theater
King Lear – Oct. 20 – Nov. 6, Circle Theatre
Sister Act the Musical, Nov. 17 – Dec. 18, Golden Bough Theatre
Rockin' Wonderland Tribute Concert – Dec. 29 – Jan. 8, Golden Bough Theatre
Our 2016 Season FlexPasses off you the opportunity to save up to 30% off of our regular low prices and gain the flexibility to choose when you attend, what you attend and how often you attend.  Lock in great rates today and choose your specific show dates later.  For more information on the 2016 FlexPasses visit: www.pacrep.org.