The Portola Hotel & Spa's onsite craft brewery, Peter B's Brewpub, reopened its doors to eager patrons on Wednesday, June 16th after 15 months of closure. A month prior while the brewery was still shut down, Natalie Mika started as new Head Brewer and quickly set to work, prepping for the grand reopening with some big plans of her own. Natalie has been brewing at Monterey's original craft brewery, Peter B's, since 2019 and is thrilled to take the reins.
"I fell in love with beer when I was in Belgium. After returning to Monterey County and finishing a season with a winery in Soledad, everything just fell into place," said Mika.
A Monterey County native, Natalie is a self-proclaimed lab nerd and has experience with fermentation science since 2013. Originally coming from a background in wine, she graduated from California Polytechnic University with a degree in Wine and Viticulture before finding herself working with vintners from Argentina to New Zealand. 
Natalie credits good timing and good people for her journey and new position at Peter B's Brewpub. "Brewing found me for sure," says Mika. "A friend [in the wine industry] shared the ad for the Assistant Brewer position when I got back from a couple years of "harvest hopping" life where I would work a vintage in the northern hemisphere and then a vintage in the Southern Hemisphere, just traveling in the off seasons."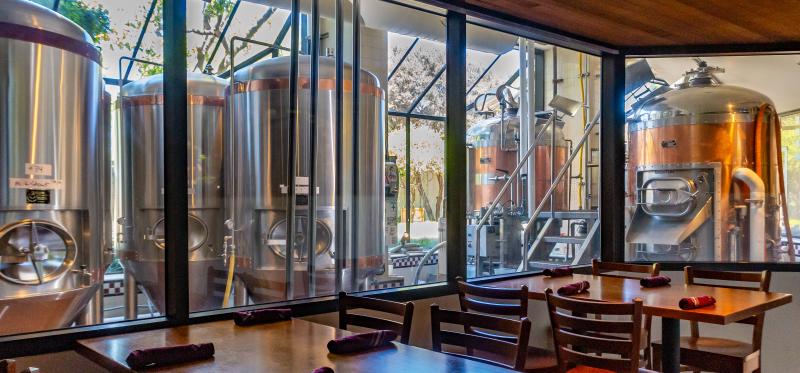 Brian Hein, Food & Beverage Director at Portola Hotel & Spa, can't wait to see where Natalie steers Peter B's. "Natalie was our Assistant Brewer in 2019, brewing along with Justin Rivard and creating the Witbier Triple Berry Threat and Hazy DDH IPA Sequester Necter, in addition to the Peter B's favorites Legend of Laguna IPA and our Belly Up Blonde Ale. We expect Natalie will be an incredible Head Brewer as she taps into her creative genius to develop a multitude of craft beers for you all to enjoy." 
Come see what Natalie's been concocting over at Peter B's Brewpub, now open Wednesday–Sunday, 4pm–10pm, serving happy hour from 4pm–6pm and late night happy hour from 9pm–10pm. It's a great place to watch a game with sports playing on 18 HDTVs. Peter B's also has a pet friendly patio where your pup can order some eats from the Bark Bowls menu. So bring your friends (and your furry friends) and enjoy an evening at this newly reopened Monterey favorite.