If there was ever anyone who would be the acid test for a relaxation location, it's me. Some people politely call me Type A; massage therapists call me a goldmine. Stress is my best buddy and muscular tension is a constant way of life. But now I've found a place where that tension is almost instantly replaced by tranquility – Carmel Valley's new Refuge.
Refuge is nestled in a warm corner of Carmel Valley, past golf courses, quail, deer and the occasional egret. The country lane leading to the facility instantly puts one in a more tranquil state of mind. The staff at Refuge was friendly and warm and made me feel instantly comfortable. Since I would be in a swimsuited state, the ban on cameras also made me feel much more comfortable, but meant I couldn't take any photos myself. Fortunately, Axel Binneboese of Refuge was kind enough to send me images to illustrate my experience.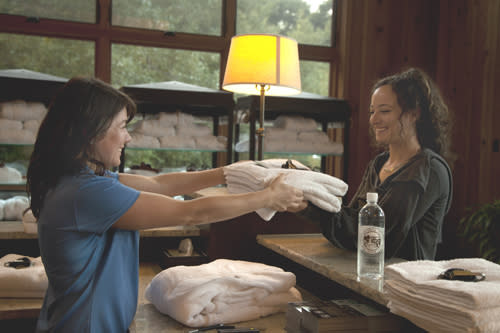 The lobby is airy and inviting. The attendant immediately greeted me, gave me my robe and towels and showed me the winding path back to Refuge, where another attendant quietly explained to me how to get the most from my Refuge experience. Though visitors can do whatever they choose, Refuge has been designed for an order of experience that maximizes relaxation. My guide recommended that I first spend time in a sauna, then dip into one of several cool or cold pools, then relax either indoors or outdoors and then enjoy a warm or hot pool. For maximum relaxation, visitors should perform this cycle three to five times.
Refuge shares space with the Carmel Valley Athletic Club, but the facility has been cleverly designed to ensure that the noise of the tennis courts is obscured. Every one of the many beautifully designed, naturalistic pools at the facility is backed by a rocky outcropping down which water flows into the pool. The calming sound of the beautiful waterfalls that cascade down into the hot and cold pools provides a quiet but constant audio buffer, making it seem like you've been teleported to a different property entirely.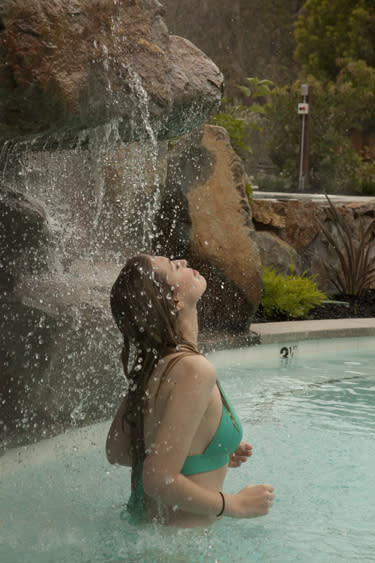 I kicked off my first cycle with the steam sauna. Though it seems like a plain white room, subtle colored lights shift through the spectrum, providing a hypnotic visual experience. The steam has a hint of eucalyptus, the perfect thing to open the lungs and the sinuses. After ten minutes, I could feel tension beginning to slip away. The next step was to plunge into a cool or cold pool. It may seem crazy to go from hot to cold so quickly, but it's been a bathing tradition since the times of the Romans and possibly before. The cool tubs have a sign with one snowflake nestled among the rocks surrounding them, while the cold tubs show two snowflakes. While the Romans with their tepidariums would have started with the cool tub, my Lithuanian ancestors ran straight from the sauna into an ice-covered lake and back again. I decided that in order to honor my ancestors, I had to be hardcore and visit the cold pool. When my guide described it as "the temperature of an icy river," she wasn't kidding! She had recommended that I dunk in at least up to my neck for the full experience. Though the guide recommended 10-60 seconds in the cold pool, I managed about three seconds before I ran out. I knew that somewhere, my ancestors were rolling in their graves at my lack of dedication.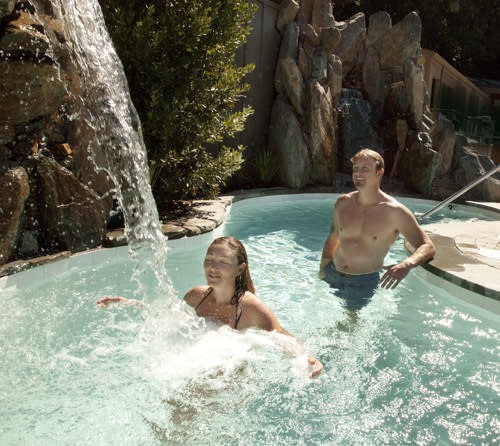 As I sat in an Adirondack chair in the sun, relaxing next to a fire pit, I could feel the cells in my body subtly vibrating in time with each other. My guide had said that I would feel energized by the cold pool experience. I did, but it was energy without the tension that usually accompanies it. In fact, despite the stimulation I felt like I could almost fall asleep in my chair. After a dip in a luxurious hot pool, I went through the cycle again, with variations. The dry sauna smells of cedar and features water buckets from which visitors can ladle water onto the hot rocks in the Eastern European tradition. This time I managed to hold myself in the cold pool for ten seconds before I fled to the indoor relaxation area, which features zero-gravity chairs, tranquil music and stunning floor-to-ceiling views of the hills surrounding Carmel Valley. I finally dipped into a warm pool, which was just as enjoyable as the hot pool.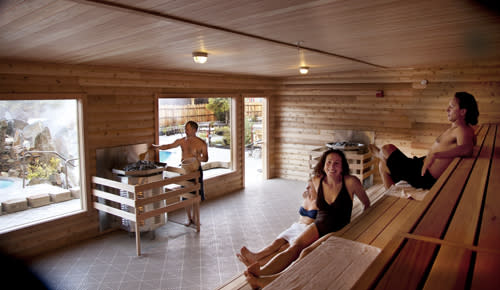 The space is large, and it's easy to experience solitude. I did notice an older couple dipping in a hot pool at the beginning of my experience, and toward the end I saw a young couple lounging in the same hot pool. Or did so much tension slip away that the couple seemed forty years younger?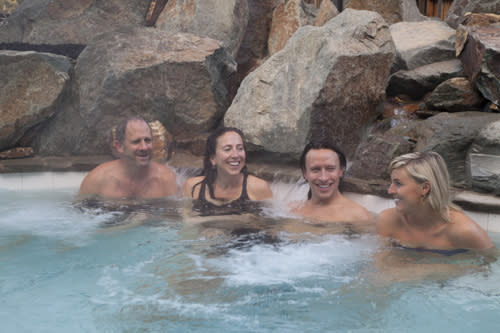 It's possible; I certainly felt at least ten years younger at the end of my second cycle. By the time I finished my third cycle, I was more relaxed than I've been in years. And since they're open from 10am to 10pm on every day of the year, I know I can go back at any time to experience that again. Perhaps next time, I'll even book a massage session. Driving home in my little Toyota felt like floating on a cloud, and even twenty-four hours later my muscles feel loose and liquid. Their slogan – "You won't realize what it means to be relaxed until you try Refuge" – is nothing less than the truth. Refuge 27300 Rancho San Carlos Road Carmel, CA 93923 831-620-7360 Admission is $39, or $99 with massage. Open 10am–10pm every day.