If you are looking for a true vine to wine experience then Chateau Julien is the place to check out while on your tasting journey through Monterey County. Here you can not only taste some exceptional blends but you can also take a tour through their working vineyards, view the wine Chai and literally stop and smell the roses.
Just a few miles from Carmel-by-the-Sea, along Carmel Valley Road, sits an off-white Chateau that looks like it came straight out of France's Loire Valley. This grown-up fantasyland is a dream come true from husband and wife duo Bob and Patty Brower. The old-world structure is a replica of a home located on the French-Swiss border that the Brower's drooled over while on a European vacation which now plays host as Chateau Julien's tasting room.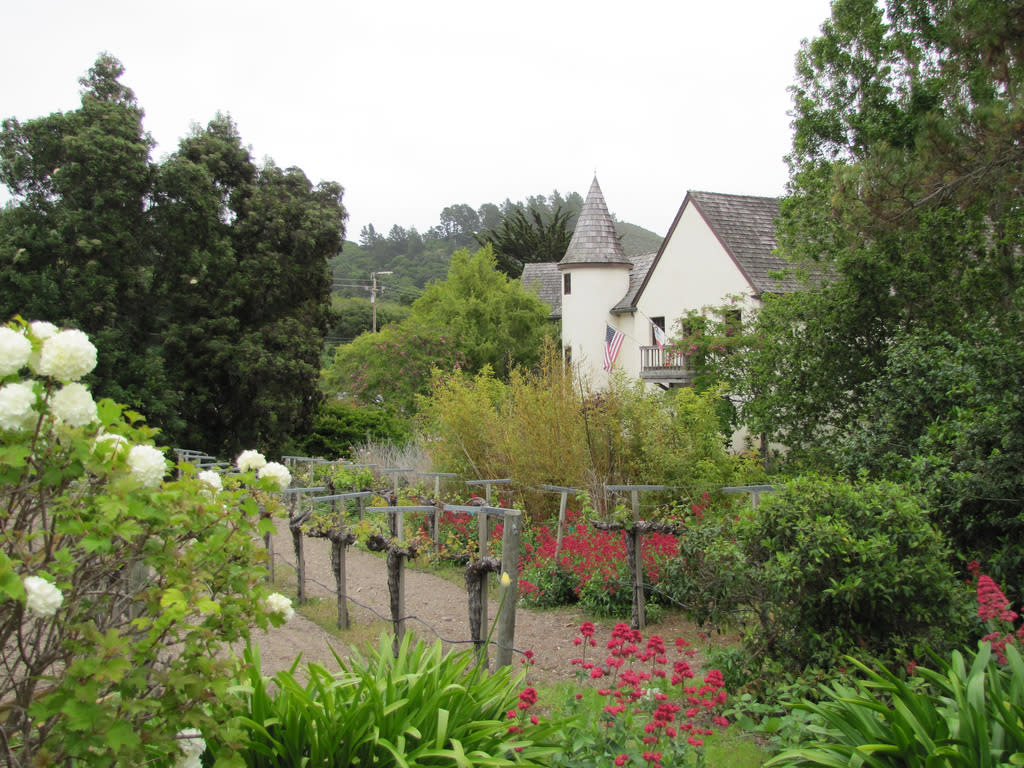 Wine tastings are available Monday-Friday from 8am to 5pm and Saturday- Sunday from 11am to 5pm for $15. Public tours are also offered daily and are complimentary with a purchased wine tasting. Did we mention that this is the only full capacity winery on the Monterey Peninsula open for tours?
Melinda, my guide for the day, had me start with a white blend appropriately named French Kiss. Fresh floral and melon had me sold at first sip and I could easily envision myself with a glass, or two, on a hot summer day.
After this little warm-up I was poured a glass of their Royalty Red, their most popular wine, before embarking on a walk through the vineyards and property.
We first headed to the wine estate's Chai (pronounced "shay") which houses over 1,000 American and French oak barrels. The building is built 30 feet underground to keep the wine cool as it "matures" and would also make for killer party venue. I could easily envision a classy wedding reception or my upcoming 27th birthday party amongst the decorative casks.
Just on the other side of the Chai are six acres of Sangiovese grapes. Rows and rows of vines are nestled on the valley's floor making for quite the backdrop to Melinda's overview of the grape growing process as we wound back up to the Chateau. Once back in the main tasting room I enjoyed a dose of their Reserve Merlot. The rich and bold tannins made for the perfect way to end a di-Vine day.
Even wine drinkers can appreciate this 45-minute guided tour. The immaculate gardens and aromatic roses make this a noteworthy stop for just about anyone. Check out their calendar of events for concerts in the garden, special wine dinners and more.